Are you a drummer looking for reliability, performance and control over your sound?
Electronic drum kits made their first appearance in the world of music in the 1980s. They have since then gotten better each day. They have become vital in both live settings as well as recording studios. With the best electronic drum set, you have a guarantee of unique music experience.
Electronic sets take care of every type of player. There are electronic drum kits for beginners who need to rehearse often without much noise. They also come with teaching software. If you are an intermediate drummer, there are also great options for you.
Also, if you are a pro drummer, there is an electronic drum kit for you. You will enjoy the reliability and total control whether recording or live performance.
What's more? The best electronic drum sets come with better sound and expression technology. Their technology makes them ideal for quiet home practice. Besides, they have many outputs. The outputs allow you to connect each kit to a separate channel.
To get the best electronic drum set, you have to know what you want. Depending on your situation, some qualities can be deal-breakers for you. Others will make your music life very easy. Here is a review of eleven best electronic drum sets.
Best Cheap Electronic Drum Set – Comparison Chart
Image
Product
Alesis Drums Turbo Mesh Kit – Seven Piece Mesh...
RockJam, Eight-Piece Electronic Drums Adjustable...
Image
Product
Alesis Drums Turbo Mesh Kit – Seven Piece Mesh...
Image
Product
RockJam, Eight-Piece Electronic Drums Adjustable...
Last update on 2021-01-18 / Affiliate links / Images from Amazon Product Advertising API
Best Cheap Electronic Drum Set – Reviews
The Alesis Turbo Mesh is an excellent entry-level electronic drum kit. Besides, it is very affordable, and its parts are of high quality.
This beginner-friendly kit comes with seven-pieces and mesh drumheads. It has a very light steel hardware frame. Moreover, you can easily fold this kit and store it.
Other hardware features that come with it include cables, a drum key, and power supply. It also comes with drumsticks.
Its snare and tom pads are 8″ in diameter. You can easily tune all its four pads since they have tension rods.
Another feature of this electronic drum kit is the cymbal pads, which are 10″ in size. Although not very advanced, they are quite suitable for a beginner.
This set also comes with an electronic foot pedal controller. It also has a very simple module. The module has only a few buttons as well as ten preset kits.
Other accessories that you will get along with this kit are a metronome, drum coach, and 40 free lessons.
This electronic drum kit allows you to connect your phone, tablet, or laptop as you play your favourite bit. It has an aux input.
However, the sounds produced are not that good. They are a bit dull and may sound lifeless.
Rock Jam Mesh Head is also a mesh head that comes with eight configuration pieces. They include 9-inch diameter mesh drum pads, two cymbals and, a 9-inch diameter mesh snare pad. It also has a control pad with a 10-inch diameter hi-hat.
It comes with many demo songs that you will find helpful when training. It also features 30 original electronic drum kit voices.
Rock Jam's most robust feature is compatibility with other devices. You can connect this drum set to other devices using the USB MIDI output. It supports both headphones and auxiliary cables.
As much as it may appear like other superior models, this kit is not for advanced musicians. The features have limits, and the price is low. It is a useful model your kids can use to train to beat the drums.
The design set is quite appealing and looks professional. The full set includes drum sticks and two bass control pedals as this is an out of the box model.
It is quite easy to install because of the accompanying rack.
Best Electronic Drum Set Under 500
Alesis Surge Mesh is an electronic set that comes with drumheads and mesh pads to support an ultra-clear and natural response. It uses four-post chrome racks, as it also supports an easy assembly and disassembly.
Additionally, this comes with a kick drum tower and drum pedal. The entire kit consists of a power supply, drum key, drum cables, and connection cables.
It has a mesh snare pad and dual-zone mesh drum pad. The kit also consists of a crash wire choke, ride cymbals and, Hi-Hat. The drum module comes with an internal sequencer for recording all your practicing sessions if you want.
The module has 60 pre-install play-along tracks, 385 sounds, and 40 kits. Besides, you can also connect it with your Mp3 players using the AUX input. The kit will also support all MIDI and USB connections.
The Alesis brand is familiar with delivering suitable drum kits. It is top with its inventions, and this electronic drum kit shows the advanced steps they take.
Read full review: Alesis Surge Mesh Kit
The Donner DED-200 Electric Drum Kit is easily one of the most professional and rich in design drum kits that you can also get in the market today. It has a good user experience because of all of the premium qualities that come along with this drum kit.
Even though most people think of it as a beginner set, there is much you can do with this set and enjoy your time. It has 30 preset demo songs. It also has 225 authentic sounds for you to use while playing your drum kit.
The sound modules are for you to use as you get to learn to pound the drum kits at your own pace. The overwhelming price is a disappointing factor, though. However, if you are willing to pay handsomely for an outstanding quality drum set, this would be the ideal choice.
The drum set features a real acoustic drums sound that will improve your skills as a drummer. Not everything about this brand is challenging. The connections are easy to set up.
Alesis Nitro Mesh is the best entry-level drum set in the market today. If you are looking to buy a new drum set, there are a few things you have to know. Like the pieces that come with it. In this case, Alesis Nitro Mesh is a seven-piece mesh drum set. It will come with four drums and three cymbals.
The difference lies in the mesh, which makes this series a pro series at an affordable price. The ability to pick on the slightest of strokes is impressive, and the rebound makes your drum stick bounce back to its natural position. It saves you energy and makes you get the feel of playing an acoustic drum set.
The modules have some great sounds. Alesis Nitro Mesh comes with ten modern and classic ready to pound the drum kits with an additional 30 tracks for you to play along. It also has over 100 perfectly curated sounds you can use in your drumming sessions.
Read Full Review: Alesis Nitro Mesh Kit
Best Electronic Drum Set Under 1000
Roland V Electronic Drumset is a drum kit electronic that has double mesh pads. These drum pads will deliver great tune tension and a natural crisp acoustic response. It is a set that is suitable for places with a restriction or a specified mechanical noise level.
Most people find the drum set to be comfortable after the first use. It is straightforward and borders well with both expert drummers and beginners. The drum kit has modules also, which will let you enjoy up to 15 preset kits as you produce a real-life acoustic drumming chord. It is inclusive of 256 notes of polyphonic sounds.
The complete kit includes ten interactive training functions, helping you gauge your progress. Most people find this feature useful as it motivates them towards daily drumming rehearsal sessions as progress shows.
The drum kit consists of a control pedal, dual-zone snare pad, rand, kick drum. It also has Hi-hat, a stable stand, and three single-zone tom pads. The double mesh heads will give you the best acoustic drums chord from your toms, as well as adjustable tension. You will have the same feeling as if you are playing on real kits. The wide array of presets will make you dance to different kinds of genres.
The Alesis Command Mesh Kit offers value for money if you are one who is looking for a good electronic drum set. Some consider it an entry-level drum set while it is a mid-range drum kit.
The Command Kit some extra features that make it the best value for your money. This brand will give you a module that gets you as close to the superior Crimson II module.
Another great advantage of the Command Kit is that it has double mesh pads. You will get 10-inch mesh pads together with an 8-inch mesh head bass drum. Having mesh heads on the bass drum is not standard popular for most models, and this is what makes this drum kit deliver a near-perfect acoustic drums' chord.
It is a bonus considering such a feature is on an electronic set that appeals to professionals. Many people who have experience with the Alesis Command kit see this model as a fusion between the Alesis Crimson II and the Alesis Forge. The Crimson II comes with an all-mesh pads setup, while the Forge Kit has an all rubber drum pad set up.
Read full review: Alesis Command Mesh Kit
Yamaha DTX522K is a model that is suitable for the professional drummer. It is an excellent kit for people who enjoy the great qualities of this drum kit. The DTX522K features over 400 wave ROM and over 690 sounds.
You will find this module also very responsive as it produces a high-quality acoustic drum chord. Because of its diverse library for sound, all music genres are available, making it the best for advanced drummers.
The drum set uses the solid drum rack, which makes it easy to transport and set up in different locations. It includes a pedal bass drum pad, with two cymbal pads, and three tom pads.
The hi-hat pad comes with a unique pedal controller. The kit has a three-zone pad, which gives the effect of a smooth feeling and a rebound.
The DTX522K set comes with Samson's SR950. It is the best professional headphones for studio references, and it will always give a real-life studio experience.
Read full review: Yamaha DTX522K
The Roland TD-17K has an 8-inch diameter dual-zone PDX-8 mesh snare, CY-5 as a hi-hat pad, two chokes CY-8 cymbal pads (crash & ride), and three single-zone PD-8A rubber tom pads. Most users feel that this model is an upgrade version. It is a fusion between the previous versions of Roland.
The hi-hat pedal borrows its features from the previous version Roland FD-8 that is now known for mail functions after some years. It is a new hi-hat control pedal made out of quality metallic components.
It comes with a sensor technology that is wear-proof. If you have this brand, the pedal will never fail you and you as it is also insanely quiet.
The KD-10 comes with a twin cloth mesh head. The importance of mesh heads is that they reduce noise. However, there are no changes to the rebound effect.
The noise emission effect is an improvement from previous versions. It makes this model very friendly in terms of noise control. The manufacturers focus on keeping producing apartment-friendly drums and bass kicks.
Best High-End Budget Models
If you intend to use the Roland TD-25KV for practicing at home, this will be a waste of time and money. It is true because practicing on the best electronic set needs a standard setup. You need two cymbals, a bass drum, snare, two drum pads, and a Hi-Hat. You will need to hook it to a line if you want to hear yourself playing via headphones, an amplifier, or in-ear monitors.
The TD-25KV does meet advanced requirements that other electronic drum kits of low price can have. It means you will use lots of money to buy extra cymbal. From logic, the TD-25KV has a metronome so that you can train your timings.
It has a recording function that lets you play and hear yourself later for your evaluation. It also has a coach feature on which you can emulate preset beats and get score basing on your performances. However, the downside is that lower price electronic drum kits can do this as well.
But if you want the professional look of a drummer, then this set will give it to you. Its appearance is bold.
Alesis Strike kit is one of the best in the market and a top money brand. It has a large head that gives it an authentic-looking body. The surface area should mimic the feel and chord of acoustic drums. When you take a look at the cymbals, they are not a full size. The crescent shape takes no quality away from these sets of the best electronic drum.
The kick drum will give you excellent resistance to the kick pedal. You will feel it and see that it is a high strength for this drum set. It responds to a hit by sounding like the real drum set. The look is not deceptive all.
The set comprises of an auxiliary input that can be of use when you need to connect tune to an external speaker or amplifier.
It comes with a drumstick that rebounds well on the electronic drum kits giving you an enjoyable experience.
It can record training sessions. It is a plus because then you can review and see if you are making progress. However, everything is not easy. The set up is a little confusing for beginners.
Read full review: Alesis Strike Pro
BUYER'S GUIDE
Benefits of Electronic Drum Kit
From the 1980s, electronic sets are gaining popularity and significant market share. Their fame is more so evident in the present times. Millions of beginners, professionals and trainers across the globe are using them.
The good news about kit electric is that they evolve with technology. The present models are user-friendly and easy to use, unlike earlier models.
You can never go wrong with the best electronic drum kits. It is the ultimate tool that you need to achieve your personal goals as a drummer.
Whether doing it for fun or as a profession, electronic kit never disappoints. It has tons of incredible benefits, as discussed below.
1.Practice
Electronic drums, also e-drums, are the most appropriate for practice sessions. For many years, drummers across the globe had to limit their play sessions. This was before the introduction of electronic drum sets. They would only rehearse at particular times of the day at specific places.
However, with the coming of electronic drums, drummers can now play anywhere, anytime. These drums are preferable for rehearsing due to their low volume and small size.
3 Incredible Reasons for Practicing on Electronic Kits
It Allows You to Practice Quietly
Unlike acoustic drums, the electronic set has a volume knob. Also, it allows you to use and headphones or earphones while playing. As such, you can play as loud as you want, and nobody else will hear the chord.
You can plug the kit into an amplifier or speaker for others to hear.
These characteristics make the kit ideal. You can rehearse in environments where volume has to be minimal.
The only audible chord in an electronic set is that of the stick hitting cymbal pads and drum. Also, when the kick pedal beater hits the kick pad, others can hear the chord. Nonetheless, other beater-less kick pedals produce a volume close to a whisper.
Therefore, you can comfortably do late-night practice in an apartment without disturbing people.
The volume knob gives you total control over the sound, thus protecting your ears from damage. On the contrary, this is impossible with an acoustic set when playing loud cymbals.
Also, the use of headphones or earphones in an e-drum encourages creativity and innovativeness. It gives you a chance to try a variety of musical styles secretly.
You Get Access to Built-In Training and Timing
Most electronic kit modules also have built-in timing and training exercises. These tools not only challenge you to better your skills, but they make practice enjoyable.
Usually, the built-in features include:
Training Modes – This package has exercises meant to make you a fast and better player. They help develop your timing and play with dynamics. Also, they make reading drum music notation easy and fun.
Metronome – It is the most commonly used tool of an electronic set module. To play along with the metronome, you should either hear the click and/ or see it. As such, you can determine your pace comparing it with that of the beat.
Play-Along Songs – The module's memory comes with recorded songs with which you can play along. Besides, you can hook up your music player if you want specific songs.
The songs in most modules are hip hop, rock, pop, Latin, jazz, metal and EDM.
They Come in Compact Sizes
The best electronic kit is smaller than an acoustic set. Therefore, you can set up your E-drum in a room that has limited space. Besides, you can store it in a closet or even under the bed after use.
Another benefit of the electronic drum is that it is adjustable to your height and other specifications. For instance, you can bring tom mesh pads closer to each other and low to the ground.
In acoustic sets, the toms sit on top of the bass drum. They cannot go lower than that.
2.Portability
If you are a drummer who does a lot of travelling, an electronic set is ideal for you.
The drum is incredibly light, thus more portable than acoustic sets. As such, you can always carry it along wherever you go.
The e-drum is ideal for carrying on vacation or weekend visits. This set ensures that you continuously enjoy your hobby every moment of your life.
An electronic set is convenient to store as you travel. You can pack it in a case or soft bag. It takes up less space at the boot of your car.
The latest version of Roland's e-drums, TD-4KP V-Drum, is incredibly portable. You can simply collapse the entire set and carry it under your arm.
You can carry it as it is or with a CB-TDP carrying case. The case has kick pedals, detachable pouches for hi-hat and pockets for beaters and sticks.
These portable features make the best electronic drum kits preferable for frequent rehearsals. They are ideal for garage studios, youth retreats, small stage gigs and Christmas musicals.
3.Volume Control
The most significant shortcoming of acoustic drums and cymbals is their high volume. On the contrary, an electronic set and cymbals produce very little or zero noise.
Unlike acoustic kits, electronic drums have volume knobs which ease volume adjustment. As such, electronic kits are suitable for churches, small stages and anywhere high volume is aa nuisance.
In a home environment, you can monitor the volume of your e-drum using headphones. Consequently, you can practice even late into the night in a shared apartment. Moreover, you will not inconvenience the peace of other people nearby.
Extreme volume and excessive noise not only inconvenience the people around but also the player.
Usually, cymbals and percussions produce unnecessary sounds which are hard to control. However, the volume control knob makes it possible to regulate the chord outcome. Besides, the use of headphones in an electronic kit is far more beneficial.
Roland and Yamaha are the leading manufacturers of electronic kits. Their products are high-tech with excellent quality and features.
The latest white-padded Yamaha DTX kit is the quietest in its category. Also, Roland's e-drums with mesh heads have excellent quietness.
These two models are ideal if you live in an apartment with people below or above you.
However, if you are working on a tight budget, Alesis have great budget-friendly electronic kits. Besides, their models are all-mesh toms and snare.
In the market, you will encounter a low price electronic drum kit with mesh pads. These are, however, not appropriate if you live in an apartment where silence is a requirement.
Tips to Make Your Electronic Kit Quieter
Buy an electronic set that has a silent kick pedal, with no beater.
Use thick foam interlocking tiles on the floor under your kit. Doing so reduces noise from the drum that travels through the floor.
Use thinner sticks
Buy chord isolation feet and mats and put them under your stands and pedals. These noise eaters reduce drum noise travelling through the floor.
Use a fluffy bass drum beater, or wrap a thick towel around your bass drum pad.
While using cymbal, hi-hat, or snare stands, make sure that your feet are as wide apart as possible. Doing so reduces the amount of chord penetrating through the floor downwards.
4.Sound Quality
When it comes to sound quality, electronic kits are much better than their counterparts. Apart from quality, you get a wide range of digital sounds in e-kits.
Each component has a wide array of bass and snares drums, cymbals, hi-hats and tom-toms. Also, the ability to change sounds with ease make them fit for different music genres. You can play a music style that requires more than just conventional configurations with e-kits.
The availability of different sounds allows you to experiment with different beats and frequencies. It is easy to set electronic drums to sound like acoustic ones.
With the best electronic drum kit, changing the chord of your kits is by the touch of a button. With hundreds of chord effects at your disposal, you can change your drum's chord to anything.
You can tune it to be like a top-notch studio acoustic kit. It can be like a funky rock kit or a vast arena hip-hop kit.
Besides, you can creatively come up with your chord within seconds. Another fantastic feature of electronic kits is that you don't need microphones and preamplifiers. The lit automatically produces professional soundtracks while playing live or recording.
An electronic set produces top-notch, studio-quality sounds and effects at no extra price.
Navigating through an electronic drum module is practical and easy. You only need to know which buttons to press to tune the kits and cymbals.
Most modules have tons of internal sounds which you can customize according to your needs.
5.Easy Recording
When playing your e-kits, you can hardly tell if you are playing on time. As such, recording yourself alongside a metronome or pre-recorded song helps in keeping track of your speed.
For this purpose, getting an electronic set that has a built-in recording feature is preferable. Alternatively, you can use a USB MIDI to connect the kit to your computer or sound mixer. This process is straightforward and works right away.
Also, you can download a recording software app and connect it to your module. Doing so allows you to record an excellent video using your phone's camera and the drum module.
Recording and playback are exceptional and exclusive qualities of the best electronic drum kit.
Playback enhances the quality of music. It adds sounds of other instruments to the original drum beats.
You can connect the drum pad with an MP3 or CD player. As such, jamming becomes possible, and this greatly improves the skills of a drummer.
You can access the playback music on your phone or PC via a USB device. Then, you can play them along with your beats, which will help horn your skills.
6.Computer Connectivity
For optimum functionality, you must connect your e-drum to a Digital Audio Workstation (DAW). However, before you can use it, you need to connect it to your computer. As such, you need to install driver software.
After configuration, connection and installation of the module, you can enable it as a MIDI controller.
Electronic kit modules only connect to your DAW via a USB or MIDI. USB is the most preferable because it carries a MIDI message to and from your computer. It also powers the module.
You can use MIDI cables to send MIDI data from your drum module. However, this method does not power the module.
If you are using the MIDI cable, first connect the MIDI OUT port on the module. Then, connect it to the MIDI IN on your interface.
7.Audio Input / Outputs
When recording the module in a DAW as an audio track, a virtual drum instrument is vital. Alternatively, you can record the sounds to an audio track from your module.
For the recording, you need TRS and TRS cables and an audio interface. To record sounds to an audio track to your module, you need to:
Connect two of the TRS cables from the module's main outputs to your interface' input.
In case your interface has one input, plug a cable from the L output of the module. Then, connect it to the input of your interface.
Create an audio track, Stereo. Do an update on the input routing to make sure that it matches with the module inputs.
Enable the record function on the audio track and press record.
If you fail to see the input or output, set the audio interface as the primary audio device. Also, make sure that you select the correct outputs and inputs.
Accessories for Electronic Drum Set
Electronic drum accessories are vital for perfect drum playing. They complement your electronic drum and improve playing experience. So, you have to be specific about what you want for you to choose the best accessory. For instance, drum monitors only amplify your kit and not expanding your set up.
We shall disclose various electronic drum accessories here and their significance as well.
Drum Sets Amplifiers
Amplifiers are essential in showcasing the power and versatility of your electronic drum set. So, while choosing an amp, it is crucial to check some essential features.
The amplifier's strength is essential. It enables it to provide a high-quality tune for your kit. You can use an amp from any manufacturer. But, you should make sure it is compatible with your kit before purchasing it.
You should use drums amplifiers for best results. Although bass and guitar amplifiers work for drum kits, they don't give the perfect sound.
The passive speakers require an amplifier for them to produce great sounds. When using your kit for professional purposes, you need a passive speaker and an amp. This combination gives you the tune control.
So, you should always make sure the two are compatible.
Powered speakers are also an option. They have in-built amplifiers; hence you need a lesser set up. Also, you will have to deal with fewer cords while using such speakers.
Besides, you don't have to know about modifying the amplifier setting for the perfect sound. But, active speakers are ideal for beginners, or while playing for fun.
About the AMP research you can read this article: Best Amp for Electronic Drums with the buying guide.
Drum Headphones
Choosing the best headphones for your electronic drums can be challenging. In the current market, there are many product lines and brands. For you to choose right, you should consider various features.
Frequency response is vital for drums' headphones. It helps you separate professional headphones from the standard ones. For a fantastic experience, you need a headphone that can handle a range of 10-22,000 Hz.
Such headphones help you hear more chord details. Besides, they assist you in mixing, recording, and mastering the drum tracks. Besides, when doing live sessions, such a frequency range will assist you in setting up the EQ.
Durability is crucial, as well. While drumming, thus, around are always on the move. As a result, you need a pair of durable headphones that can handle such. You should check for headphones with sturdy cups that won't crack after falling. Also, detachable cords are essential for easy replacement when they spoil.
Checking the headphones type is vital since they vary on their performance. The difference in performance affects your sound experience. Over-ear headphones are ideal for all-purpose use. But, on-ear headphones are suitable for jam sessions or lengthy practice routines.
Your headphone's driver size has a significant effect on the tune they produce. Big drivers capture a more comprehensive chord spectrum. As a result, you can enjoy composed music more.
Besides, your headphone should be comfortable and portable. These two features will make your headphones more convenient.
Drum Sticks
You need to consider a variety of factors while choosing the best drumsticks. Selecting the right wood is essential. Every drum stick wood gives you a different feel. This difference is due to how it flexes, absorbs, or transmits vibration.
Hickory wood is impact resistant and flexible as well. Maple is lighter, thus can accommodate a larger diameter. It sounds sweeter and brighter on cymbals and drums. But it is not durable.
Although oak drum sticks are heavy and dense, they transmit vibration more. Oakwood sticks are durable and have a darker, more significant and cymbal sound.
Laminated Birch sticks are heavy and durable. They produce a deep tune from cymbals and drums.
Drum sticks come in various shapes as well. Barrel shapes have a flat and wide contact surface. As a result, they produce a dark and robust contact sound. A corn tip shape has a large contact surface that creates a mysterious but full cymbal sound. Ball tips create a bright contact sound.
Oval tips produce a tune that is between the ball and barrel tips.
The stick thickness affects the drum tune as well. You can know the width by checking the model numbers. Sticks label "A" are thin compared to the B's. The higher number symbolizes smaller sticks. Therefore, a 7A stick is thinner compared to a 5A stick.
So, while choosing a drumstick, you should try them out first. Such practice will give you the stick feeling. Such tests will assist you in making the right decision.
Make sure you also check out our guide to the Best Drumsticks for Electronic Drums.
Drum Stool/Throne
Drum thrones are essential since that's where you sit on while playing the drums. So, you should make sure your stool is comfortable enough. While playing the drums for an extended period, you need relaxation.
Also, you should make sure it has a backrest to support your back. Well designed and cushioned backrests help you minimize the chances of you having back pains.
The drum stool should be stable as well. While playing the drum sets, your body must make some movements. So, you need a firm throne to keep you intact. As a result, you become more stable, thus minimizing your chances of falling.
Besides, your seat should be of a suitable height. Due to the height difference, a throne with height adjustability feature is excellent. Such chairs enable you to adjust it to your most preferred height.
We have also reviewed the 5 Best Drum Throne, so check them out as well.
Pedal
The drum's kick pedal is critical for any drummer. So, you should always make sure your bass pedal is perfect. The use of a metronome is one technique you can use to boost your bass drum. However, you must use it correctly for an ideal bass.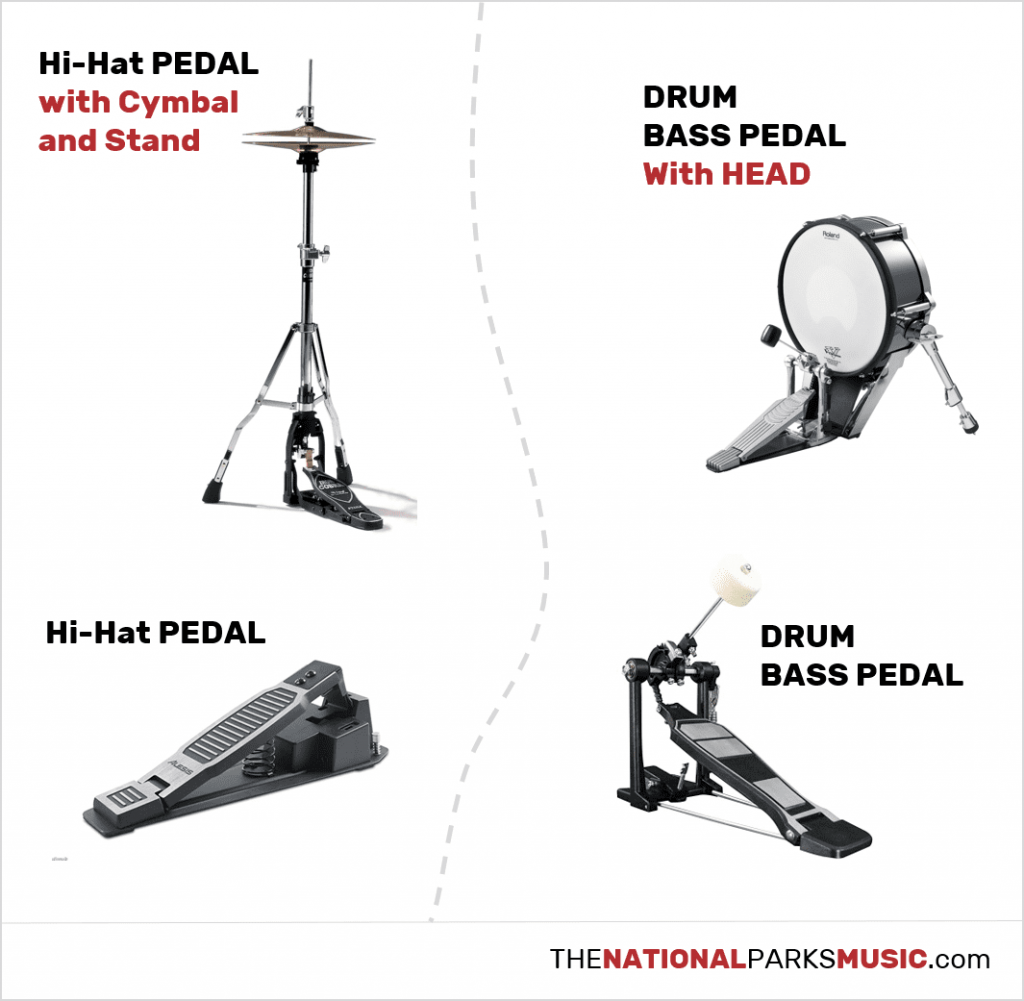 Bass Drum Pedal
The drum's kick pedal is critical for any drummer. The Sonor drum company was the first to introduce its first drum pedal in 1900. However, it was not until 1909 that the drum pedal became workable. This pedal is what eventually gave birth to the modern drum kit.
To operate a drum pedal, you press the footplate, which in turn pulls down a belt mechanism. The action causes a forward movement of the beater or the mallet into the drumhead.
In most cases, you will get a beater head of rubber, wood, or felt. A rod-shaped metal shaft holds the beater head in place. Besides, a metal frame holds both the beater and the pedal. Every time you press the footplate, a tension unit determines how much pressure is needed to strike as well as recoil amount upon release.
If your drum kit has a double bass drum pedal, the operation is the same. However, it will have a second footplate to control a second beater on the same drum. A shaft attaches the second footplate to a different beater mechanism.
Hi-hat (Cymbals) pedal
Tow cymbals and a foot pedal combine to form a Hi-hat, usually mounted on a metal stand. To have a Hi-hat, you need to fit on a stand a matching pair of small or medium-sized cymbals.
Whereas the bottom cymbal is usually fixed, you mount the top one on a rod. Consequently, when you press the pedal, the top cymbal moves towards the bottom one. This Hi-hat is what you can call "closed" or "closed hi-hats").
Originally, a Hi-hat pad was simply a sock cymbal, which consisted of two similar cymbals. A foot apparatus, which was hinged and spring-loaded, acted as the support for mounting the cymbals.
The main aim of inventing the sock cymbal was to enable a drummer to play multiple percussion instruments concurrently. With time, drummers raised the cymbal to a height of 3′ (76 cm). At this height, they referred them to high sock cymbals. They then evolved to become the Hi-hat that we know today.
To play the cymbals, you press the pedal, which closes them together to produce a "chck" sound. Alternatively, you can also strike them with a stick. You can do it while they are closed or open, alternately to create a shimmering effect.
The Hi-hat can produce a range of dynamics ranging from a very quiet "chck" sound to a very loud sound. All these is determined by how hard or soft you strike them, and whether they are closed or open.
The drum's kick pedal is critical for any drummer. So, you should always make sure your bass pedal is perfect. The use of a metronome is one technique you can use to boost your bass drum. However, you must use it correctly for an ideal bass.
Besides, you have to choose the most suitable way for you to beat the bass drum. While playing it with your heel up, you get more power. But, when you pound it with your heel down, it gives a more resonant tone. You should develop both techniques for many advanced playing patterns.
You require perfect coordination for better drums playing skills.
You should coordinate your bass drum foot with other limbs. Such coordination gives you the ability to apply various drum patterns. So, you should always practice attaining the best drumming skills.
Drum mic
Drum mics help in capturing the drum sounds. So, excellent drum mic set up is crucial for a perfect sound.
You should insert a cardioid dynamic mic in the bass drum. Such positioning helps in capturing the punch and attack of your bass drum. But, the mic should be well balanced with the cardioid condenser mic placed outside.
Your hi-hat mic should be the ATM450. Also, it should have a pad on and 80Hz roll-off engaged as well. As a result, it mitigates the leak of the bass drum entirely. You should have another ATM650 hyper-cardioid dynamic mic outside the rim. Underneath, there should be an ATM450 cardioid condenser to help in picking up the snare. Make sure you have a hi-hat stand.
On the two toms, cardioid condenser mics are essential. They should be AE3000s, and they should have 10dB pads on as well. But, you should place them 3 inches above the drum. Also, they should face straight down.
You should place An AT4041 mic above the ride. However, the cymbal side shouldn't touch the mic element. AT4050 condensers can suit as overhead mics. They should be well spaced and should have no roll-off or pad.
Drum Heads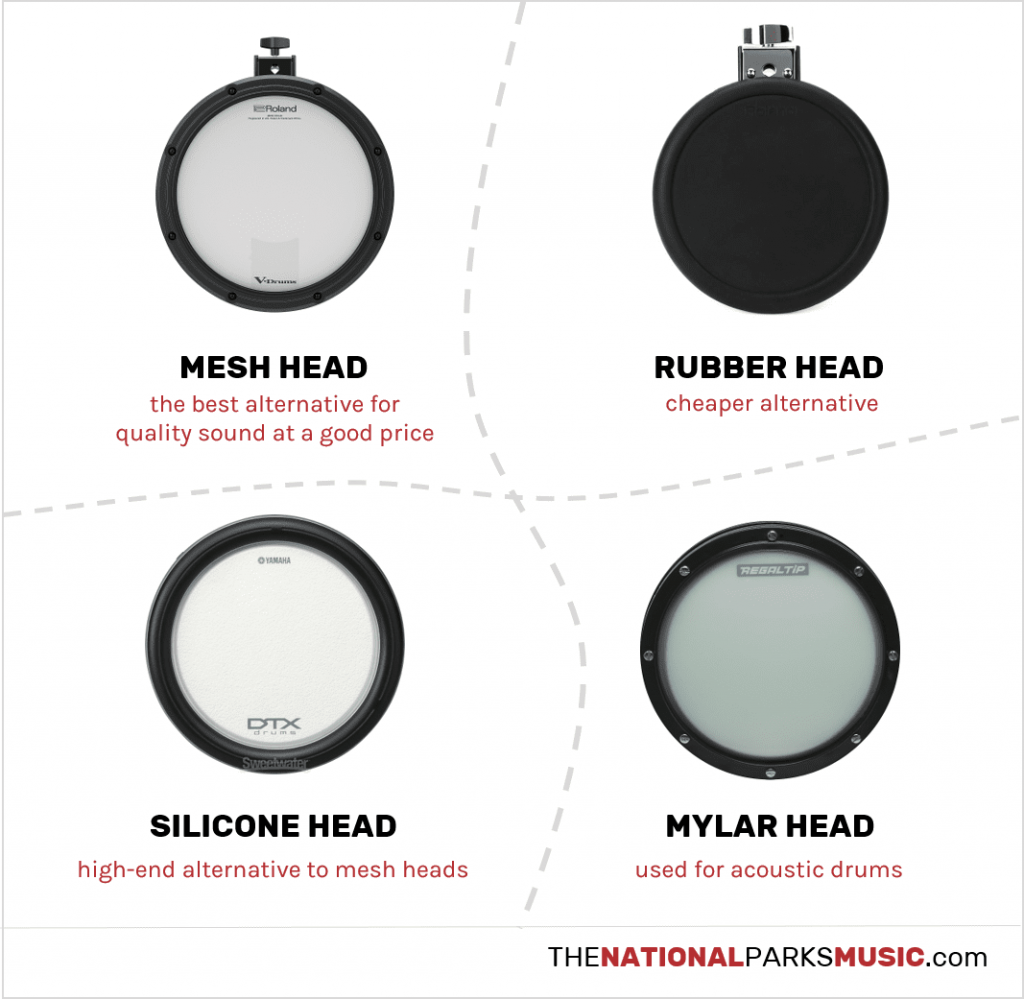 Mesh Heads
Mesh heads are essential for your drum. They give you a realistic and wide range of tension settings. As a result, you have a variety of choices.
Besides, these drum heads can eliminate any noise issue. This functionality makes your drumming quieter. As a result, you can practice for a prolonged period. You are lesser disturbed by the noise while using mesh heads.
Another advantage for these mesh heads is that they damage your ears less. Besides, they allow you to hear other musical applications better.
Silicone Heads
If you are looking for a high-end alternative to mesh heads, the silicone heads are your choice. They produce a deep sound even on a smaller drum.
You can also find the Yamaha DTX Silicone electronic drum heads. They are available on some Yamaha sets, and are the most preferable for some drummers. They are less bouncy compared to the mesh heads.
However, silicone heads also have their downside. Firstly, the silicone rubber may not stick very well on some plastics. Also, the 100% RTV silicone may feel a little bit sticky when done. With time, however, they lose the stickiness.
Mylar Heads
Other drum heads you can consider using are the mylar heads. They are the other drum set heads that are common. You will find them mostly in single-ply and double-ply heads. They are most vital in producing a 'smack" sound.
The most durable Mylar heads in the world today are the 7-mil Mylar. You will find them mostly in the double-ply heads.
The only downside of mylar heads is that they can be considerably louder.
Rubber Heads
Rubber drum heads are economical. They are affordable due to their low price. Also, they are compact, thus fits perfectly in an apartment. As a result, you don't feel space-challenged when adding electronic sound to your drum.
Consistency is crucial while playing drum sets.
Most drum players like identical rebound and responses as they pound different pads. Rubber drum head pads give you this consistency, hence improving the sound.
Drum Triggers
Most modern drummers use drum triggers more often for contemporary music performances. One of the reasons for this use is limitless sound opportunities.
The triggers allow drummers to enjoy various drum playing styles. As a result, the triggers give you the freedom to venture into many musical avenues. When you incorporate acoustic drum kit triggers with a live performance, your drum can have any sound.
Due to the ability to expand on musical horizons, the trigger gives you more opportunities. It enables you to find new sounds. As a result, drummers have a wide range of sounds. So, they can enhance greater performance, thus making it more enjoyable.
Due to the velocity sensitivity, a trigger can sense how hard you play. As a result, the output sound characterizes how you play. So, you can adjust and achieve a similar sound, regardless of velocity applied.
Another benefit of a drum triggering function is the clean production. It enhances the creation of the studio-quality output in live acts. The tuneproduced is more precise and punchier. As a result, it gives drums a great tunedespite the venue.
Besides, good drum sounds produce a great performance. Also, it makes live performances better due to the fantastic original drum sounds.
Drum practice pad
Finding a perfect drum plastic pad is essential. It enables you to practice with ease, thus attaining effective results. Loud drums, such as the acoustic drum kit, can be disturbing to other individuals. Therefore, to find an excellent drum practice pad, you should consider various factors.
Portability, size, and weight are some of the essential qualities to consider. Most drums are large and bulky. As a result, it is hard to move around with them. If you have a portable practising pad, you can move around with it as you practice.
Frequent practice sharpens your skills. So, small size and light training pad are essential.
Feel, and volume is essential. Some of the practising pads give you real drums feeling while practising. However, some other pads may create various resistance levels for training purposes. So, it is essential to choose the most suitable pad for you.
The material used determines the kind of feel you will experience. Pads made of rubbers, woods, and plastics offer resistance. Also, the material used affects the sound quality and volume. When you want to pound a quiet sound, soft pads are essential.
Skill level is a crucial determinant of the best training pad. If you do most of your practices during free times, a standard pad is okay. You only need to ensure that the volume and the feel are right.
But, if you want to be a professional drums player, higher-performing pads are essential. The design of some pads allows you to flip them for different feel and sound. Such is suitable for vocational training. Also, other pads offer you multiple surfaces.
Drum bags
Protecting your drum is essential. A drum is a significant investment that you can't watch it go to waste. So, you need to have a drum bag for adequate safety of your drum.
But, there are many drum bags in the market. So, selecting the best can be a challenge.
A hard casing is one of the things you should consider. You can get them from plastic or fibre materials.
Some of these hard casings have linings while others don't. Cases with form linings offer the best protective solutions.
Soft bags are light and tight, thus offering a perfect fitting. Due to the reduced weight, you can easily carry your drum in such a casing.
Hardware cases are the most suitable in terms of durability. They have reinforced wheels for smooth movements. Also, they have tough materials and sturdy embroidery. As a result, they last longer and offer your drum the best protection.
Because of the high price for cymbals, proper protection is vital. Besides, their fragile nature requires a quality bag or case. So, you should look for a casing that will hold your cymbals safe. Also, the packet should facilitate easy transportation.
Metronome
Most individuals face a lot of challenges while learning a new drumming skill. Finding the right timing is one of the hardest things to maintain. So, the use of a metronome is vital for helping you improve your practice.
You should use the metronome to help you overcome your weakest areas. Besides, the use of metronome can help you perfect the areas that you face some problems.
The metronome also helps you slow down the challenging passages. As a result, you can avoid mistakes as you overcome challenging bars. Frequent practising enables you to identify the challenging sections and isolate them.
The metronome enables you to train at different tempos as well. As a result, it makes it easy to follow along with all the rhythms. Besides, the metronome allows you displace beats. So, you can use it for great sounds while having fun.
FAQ About Electronic Drum Sets
Electronic drums are excellent for places of worship, entertainment joints, and home use. Here are the most frequently asked questions about electric drum sets.
Conclusion
In conclusion, the onset of electronic drum sets has completely revolutionized the music experience. Drummers, whether beginners, intermediates, or pros, have an opportunity to enjoy music as they like.
Besides, for both live performance and recording in the studio, electronic drums will give total control over your sound. The best electronic drum set will even allow you to tune individual drums as you please. Other advanced kit types will also allow you to design your drums.
From our review, the winner in Best Cheap Electronic Drum Set category is Alesis Drums Turbo Mesh Kit. It is a high-end and affordable drumkit, suitable for entry-level beginners. This seven-piece drumkit has mesh drumheads, a drum key, drumsticks, and cables. It is easy to fold and store.
In the category of Best Electronic Drum Set Under 500, Alesis Surge Mesh Electronic Drum Kit wins. It produces an ultra-clear and natural response with the help of drumheads and mesh pads. The module has 40 kits, 385 sounds, and 60 pre-install play-along tracks. Also, you can connect it with your Mp3 players. The drum kit also supports all USB and MIDI connections.
Lastly, the winner in Best Electronic Drum Set Under 1000 category is Roland TD-17KV Electronic Drum Kit. This drum set is an upgraded version of the previous Roland models. It is high-tech and uses sensor technology, which is wear-proof. The most distinguishing feature of this set is its quietness. It has a twin cloth mesh head, which incredibly reduces noise.