Acquiring a drum set for kids can be one very special gift for your child. It can be what will provoke the musical capabilities of your child.
The primary task, however, is getting the right one for your child. I found it such a huge task to choose one since the market is flooded with hundreds of models of them.
In this this article. I will help you choose the drum set best for your young one.
The good news, however, is that a drum kid comes with adjustable drum hardware. As such, they can fit children of different ages and sizes.
The other challenge that you may face is the numerous varieties in the market. The market is flooded with hundreds of models of them.
In this article, I will discuss some of the best drum sets for kids in the market. I have grouped them according to different age sets.
Read this article carefully and then decide which one best suits your kid.
---
ACOUSTIC DRUM VS ELECTRONIC DRUM SETS
Will you buy an acoustic or an electronic kit? This question bothers many parents once they realize their kids are interested in drumming.
Each of these two types has its pros and cons. However, several factors may determine the kind of junior drum kit to go for. 
Where you live may influence your choice of an electric kit. If you are living in an apartment, you may opt for an electronic kit.
Acoustic kits are quite noisy, and this may cause disturbance to your neighbors. On the other hand, electronic drum kits are relatively quiet. Besides, you can also use earphones to ensure zero noise.
Again, electronic drums are the best if your kid is highly interested in drumming. It comes with more features that you will not find in traditional kits.
They feature a drum module, which controls the drum sounds as well as the headphone volume. They also have a play-along feature that is great in helping your child to learn drumming.
However, if you live in your house, an acoustic junior drum set may be the best option if you don't mind the noise. Acoustic drums offer sound quality that is close to the real drums.
Moreover, acoustic drums offer your kid a more solid foundation when they start their drumming lessons.
Factors that determine the right drum sets for kids.
Several factors are critical when choosing the correct drum sets for kids. Here are a few of them that guided me to buy a kit for my toddler.
The physical size of the kit. You should ensure you get the correct size drum. The drums, the hi-hat cymbal, the drum throne, and the sticks should be of the right size. Avoid big e-drums such as Roland, Yamaha and Alesis, which are made for adult drummers.
Are you planning to have a professional teacher train your kid? If yes, you may need to seek advice from them on the best drum sets for kids. A professional recommendation will enhance the efficacy of the lessons.
I taught mine at home. For this I also had to consider that different ages will have different needs when it comes to junior drum sets for kids:
Drum Sets for 3-Year Old Toddlers
Children of ages 3 and below are called toddlers. A Toddler drum kit comes in very simple design that is very easy to use. Most of these drums for kids of ages 3 and below look like children's toys rather than a real kit. Again, most of these are 3-piece junior drum kits.
3-piece acoustic junior drum sets are the most essential for such a toddler. These starter kits look like real acoustic kits. However, they are highly scaled-down in terms of features.
Despite that, they are high-standard kits for your toddler. You can use them to teach your kid the fundamentals of how to play drums effectively.
A good example of such junior drum sets for kids is the Prextex Kids' Electric Toy kit and the VTech KidiBeats Kid s Drum Set. Another such drum set that fits this category is the Remo KD-5080-01 Kids Percussion.
These junior drum sets play like a real drum set. They are a great way of helping your child to become a pro drummer early in life.
However, there are several precautions you should consider before you buy your child a drum set.
If you go for acoustic kits, keep in mind that they are usually very loud. The sound may not be very comfortable in the ears of your kid.
As such, you may need to acquire some hearing protection equipment for the child. Ensure that the child has them on every time they play the drums.
Also, some of these 3-piece junior drum sets have some small metallic parts, such as nuts and bolts. If not well supervised, a toddler may detach some of these and even swallow them.
Consequently, it is crucial to supervise your toddler every time they are practicing how to drum.
Here are three best kits for this age group:
Even your youngest kid can still enjoy the drumming experience. Best Choice Products is famous for the making of quality children toys. As such, this 3-piece beginner drum set is ideal for kids. It is an amazing model that comes with everything that a child may require.
This 3-piece beginner drum set is very colorful and child-friendly in all aspects. It is a perfect electric kit to give children a classic feel of how the real drum pads look.
Besides, it is also a very pocket-friendly drum pad. You need not break your bank for your youngster to have that drummer experience.
This starter kit is all-inclusive. It comes with a cymbal, and left/right snare drums. To ensure kids are comfortable as they enjoy its thrill, it also comes with a drum stool.
Just like the real drum sets, this one also comes with built-in sounds. It has five buttons that play different background music for children to play along with. Even more thrilling is the fact that kids can modify the sound effects using the four light-up buttons.
This electronic drum set best for kids also comes with two drum sticks. It also has a working microphone, and that means your child can sing and rock the drums simultaneously.
You need not worry about noise; this drum set for toddlers also comes with volume adjustment buttons. As such, your child can play it either loudly or softly. This electric junior kit is for kids of three years and above. Concerning power, this simple electronic set runs on rechargeable batteries (3 AA).
---
This is among the best drum sets for toddlers who are below the age of 3 years. As a set, it includes three drum pads and a hi hat cymbal. Each drum pad and the hi-hat have their unique sounds that enhance the toddler's sensory development.
This toddler drum set also comes with two drumsticks that the toddler can use to tap the drum pads and the crash. What's more, the kit features nine melodies that entertain the toddler. The melodies are in different styles such as rock, pop, dance, and music.
But that's not all it has! The kit also has alphabets that teach the toddler about the alphabets in the English language. Some lights glow with each pronunciation of the alphabets. The lights make the alphabets glow, allowing the toddler to play with each letter.
Your toddler may also learn how to count since the kit recites numbers each time the toddler taps on the drum pads. There are four ways a toddler can play drums. The first way is when the toddler makes unique songs from the 16 drum sounds.
The second method revolves around hitting the drum pads for counting fun. The third method is a freestyle, where the toddler taps on the drum pads and hi-hat cymbal for their unique sounds. Lastly, the fourth playing method lets the toddler play with the alphabetical lights.
This is an excellent kit that enhances a toddler's sensory development. As such, it is the best drum set for toddlers on the list.
---
There is something that makes the Remo KD-5080-01 percussion snare stand out from the crowd. Besides its ideal 10-inch size, the drum produces a realistic sound that rivals professional, high-quality drum.
This is something that most people don't expect from drums made for toddlers. But yes, the drum produces an acoustic sound that you'd get from high-end professional drums. The drum owes its impressive sound performance from its quality materials.
The drum shells make the drum very durable and enhances the sound it produces. The drum also boasts a pre-tuned Skyndeep drum head that vibrates with each strike to enrich your auditory system with rhythmical sounds.
It is terrific, thanks to the vibrant Rainforest finish. Its 10-inch size makes it compact-sized for portability reasons. Although it comes with two drumsticks, you can also play it by hand. If you have a toddler taking drumming classes, this floor tom might be an ideal choice.
Besides, it gives your child the chance to make music. Older children may also play the drum since age doesn't have to be a limiting factor here. Its impressive build and sound quality makes it the best drum for toddlers.
---
Drum Sets for 3-6 Year Old Kids
The kits for this age group also look more like toys. Most of them are also 3-piece junior drum kits.
However, these 3-piece kids drum sets come with all that your kid requires to get started. Take note that these toy sets are not as robust as real kits.
They also act as a good introduction to playing drums for children. Again, your kid will outgrow them with time.
These toy drums are quite cheap, with most of them going for under 100$. Moreover, most of the toy sets for this age group are made of plastic.
Consider the kits in this category as temporary drums because they lack critical features. However, they help your kid develop skills and explore whether playing drums is what they want to do.
some electric kits for this age group include:
Mendini electronic kit includes three drums. This kid drum set toy also comes with two wood drum sticks for tapping the drums. This toy drum set for 3 year old comes with a 13 x 8-inch Bass drum, an 8 x 6-inch tom drum, and a 10″ x 4-inch snare drum . The floor tom and the snare drum are mounted for easier access when striking them with the wood drum sticks.
There is also an 8-inch hi-hat cymbal with a cymbal arm to enrich the sound of the drum set. This is the best kit for kids between the age of 3-6 years.
Not many drum sets come with a drum throne. But this one does. The padded drum throne is comfortable to prolong the playing time. The kit produces an acoustic sound that matches the sound from a professional drum set.
The attention to quality is also incredible, making the kit highly durable. The user manual is easy to understand. Therefore, your kid will have no learning curve when looking to start playing the drums right after gifting him/her. However, your kid may need help assembling each component of the drum set.
---
If you're looking for the best drum set for 6 year old kids, Alesis Compact Kit 4 (full review) set might be ideal. There is no need to look further, especially with this electronic junior drum set within your reach.
Its design makes it ideal for tabletops, and it has four velocity-sensitive drum pads. The built-in speaker is powerful and produces quality sounds. In case you need a noise-free environment, you can always let the kid use the headphone output on this drum set.
This is a great kit for educational needs. There are 50 play-along songs in this electronic kit. Additionally, you get 70 acoustic voices and ten voice effects. The LCD screen shows the notes that the drums are producing. As such, this is an excellent educational electric drum set for kid.
There are simple buttons for controls on this drum set for kids. Some of the buttons work to start or stop the acoustic voices from the drum set. At the same time, other buttons are for coach and game functions. Therefore, using this musical instrument is a total breeze and eliminates the learning curve.
---
If you are planning to gift your child a drum set, the Paxcess is a good drum set for 4 year old. It is not only child-friendly but also one of the smallest electric drum pads for children.
This kid electronic set is both professional and portable. It comes with 1 Snare drum, 3 Toms, and a bass drum. Moreover, it also encompasses 1 Hi-Hat and 2 Foot Pedals. As such, it is also the best drum set for 5 year old.
Thanks to its portability, your child is not limited to playing the drums inside the house. He/she can go with it anywhere and at any time. To further help your child learn faster, it comes with 8 Demo songs for your child to play along, and 3 Rhythms.
Besides that, these best electronic sets come with a rechargeable battery. The battery that powers it is of 2400mAh. Once you have charged it, it can last for up to 10 hours of playtime. That is quite a long time for your youngster to enjoy themselves as much as possible.
Another fantastic feature is the presence of a built-in headphone jack. If you need silence in your house, your child only needs to put on the headphones. By doing that, your house will be as quiet as you want it. At the same time, your child will be fully rocking him or herself to the fullest.
On the flip side, if noise is not an issue to you, this electronic junior drum kit has built-in duo speakers. The speakers are of high quality, and they will give you a fantastic bass effect. They are also powerful enough; hence, no need to connect them with external speakers.
This toy drum set for 5 year old kids also has a standard midi output jack and a USB midi out jack. To further enhance your child's experience, you can connect it to a computer using this feature. Your child can then produce music or even play games.
---
Drum Sets for 6- 9 Year Old Kids
Kids in this age bracket have most likely shown interest in drumming. Consequently, you can introduce them to junior acoustic drums.
Junior drums usually feature smaller sized drums. Some of these sets will have 16-inch bass drums, and their toms will be 6, 8, or 10 inches. The small sizes ensure that your kid can easily reach each drum.
Junior drum sets are very different from those for toddlers. These ones may feature everything found in an adult drum set. The only difference from an adult drum is that the junior drums are smaller.
Here are two of the best drums for children of this age group:
If there is one drum set with more educational value on the list, it is this electronic kit by Alesis. It includes 60 drum lessons to help your kid learn drumming in a short time.
It is a complete drum set for 7 year old kids and comes with everything your kid needs to start tapping right away.
This best set includes three 10-inch cymbals, two drum sticks, a drum throne, headphones for a quiet play, and connection cables. It also has four drum kit heads and a drum key. The four mesh drum heads are sensitive. This makes sure your kid gets excellent sound feedback, even with slightest strikes.
What's more, the drum set produces an acoustic sound that creates a realistic drumming experience. The drum owes its impressive sound performance to its redesigned mesh drum heads that maximizes the responsiveness.
There are also plenty of built-in sounds. The drum boasts over 100 acoustic sounds and 10 drum kit sounds. The intelligent Dynamic Articulation technology makes sure you get an acoustic sound that matches sounds from an acoustic drums.
The included headphones give incredible sound and eliminate noise pollution. Your kid can play the drums all day without anyone complaining about the noise. The drum set is high-quality and will probably last longer since the racks are sturdy. As such, it can handle prolonged performance from 6 to 9-year-olds.
---
Most drum sets tend to have more pieces that may complicate things a bit. But this best drum set for kids only has three playable parts, making the drumming experience fun. Although it is scaled down, it still has incredible performance that will nurture your kid's drumming talent.
The 3-piece junior kit includes a 14-inch bass drum, an 8-inch snare drum, an 8-inch tom and a key. There is also a 10-inch ride cymbal that diversified the sound of the drum. As such, this drum set features all drum types your kid needs to practice drumming and hone their skills.
Unlike other toy drum set kids, this 3-piece junior kit is a real drum set with incredible acoustic sound. Therefore, it creates a realistic drumming experience. As you'd expect from a practical drum set, this 3-piece drum set also comes with a drum throne.
The 3-piece junior kit also includes two drum sticks for an excellent playing experience. The padding on the throne is generous to keep the kid comfortable throughout the playing session. The bass drum pedal enriches the acoustic bass sound that the drum produces.
The hardware is high-quality and sturdy. The two features of the hardware guarantee impressive performance and durability. If you're looking for a drum set that will serve your kid for years to come, then this drum set could be what you are seeking.
---
Drum Sets for Children 9 Years and Above
Children at this age group are usually ready to move on to a full-size drum set.
Fortunately, you can lower the components of the full-size drum to suit the size of your child. You can lower the drum throne as well as the snare drum, which comes with a stand.
You can also reposition the toms and the hi-hat cymbals to ensure your child is comfortable. Keep adjusting these components of the full-size kit until your kid has fully grown.
This is an electronic kit with eight playable surfaces. It is a bit advanced, and it is the best set for kids who are at least 9 years old. The playing surfaces include an 8-inch dual-zone snare pad, three 8-inch tom pads, and three 10-inch cymbals.
The last surface has control buttons for tuning the drums and cymbals. A high-quality Aluminum rack holds every drum and crash cymbal in place for an easy reach. The snare stand also makes the electric set very durable besides guaranteeing incredible setup and performance.
From this drum set, you get 385 sounds and 60 play-along tracks that enhance your kid's drumming experience. The drums produce an acoustic sound, thanks to the natural response from the mesh drum heads.
This best drums for 10 year old kids and above also has a performance recorder that comes in handy when looking to replay the sounds you made. The AUX input makes sure you can connect the electric set to a media player for more robust sound. The fantastic bass sound comes from the two pedals: kick drum pedal and hi-hat pedal.
The drum keys are labeled for a hassle-free control and tuning of the pads and cymbals. This makes sure your kid has less curve in their learning experience.
This is the best electric set that provides educational values to kids aspiring to be drummers. As such, it is an ideal drum set for older kids. It also comes with a key.
---
This is a complete set that has everything you need to start your drumming experience. At a glance, the 5-piece drum kit includes high-impact kicks and snare and high-quality hardware for durability. The drums have 9-ply polar drum shells for elegance and impressive performance.
From the 5-piece kit, you get a 16 x 22-inch bass drum, 5.5 x 14-inch snare drum, 16 x 16-inch floor tom, and two rack tom drums (8 x 10-inch and 9 x 12-inch).
The hardware that comes with this 5-piece kit includes a crash cymbal stand, snare stand, Hi-hat stand, rack tom holders, and kick pedal. This is another of the best drum set that also includes a drum throne for a comfortable playing experience.
This 5-piece kit also comes with two maple drumsticks, and that's why I mentioned it includes everything your kid needs to start drumming right away! It produces an incredible sound that matches the sound from a professional drum set.
This makes it ideal for kids taking drumming lessons. This 5-piece drum kit the best drum set for kids who are at least nine years old with all the incredible features.
---
This is an electronic kit. This best drum set includes an 8-inch snare pad with dual-zone mesh, three tom pads, 6 inches each, three choke-able 10-inch cymbals with dual-zone pads. But that's not all. There is also a bass drum pad and a Hi-hat controller pedal.
The ride cymbal pads include crash, Hi-hat, and Ride. The pads have dual-ply mesh heads that have adjustable drum hardware for adjusting the tension. As a result, you can achieve a quiet but realistic drumming experience.
This starter kit includes built-in melodies and sounds. Fortunately, that's what it has. The drum has 256 polyphony notes and 15 pre-set sounds. Therefore, this drum set offers educational values to 9-year-old kids.
The key controls have labels that make using the drum set and playing the pre-set sounds easy. There are also 10 onboard coaching functions come in handy to help you keep track of your drumming progress. Although this is one of the best drum sets for older kids, it doesn't come with a drum throne. But it still performs exceptionally well, especially with its two drum sticks.
---
Buyer's Guide for Kid Electronic Drums
Electronic drums work incredibly well with kids, regardless of age. They are better, cheaper, and safer to begin with.
Shopping for a child's electric drum can be very challenging. You have to be vigilant to avoid buying a toy in the name of an electronic kit.
Here are key factors to consider before you buy a drum set for kids.
Your Budget
Before you go shopping for a drum kit, determine how much you want to spend. The good thing about electric kits is that they are readily available in varying price ranges.
Ideal drum sets for kids should not exceed $300. It is recommendable to buy a cheaper model for kids. Children outgrow their beginner sets with time. As such, it is not reasonable to make a huge investment in something that will require regular upgrading.
Do appropriate research and compare different drums and their feature. Then, choose a drum kit that is within your budget range. Also, ensure that it compliments your child's personality and level of interest in learning drums.
The Child's Age
Age is one of the major factors that influence the choice of a drum. It determines the quality and type of drum to buy.
For instance, you cannot buy a professional drum for children under six years of age. Children in this age bracket need a toy-like junior drum set for fun. As the child grows, their commitment and desire to learn drums increase.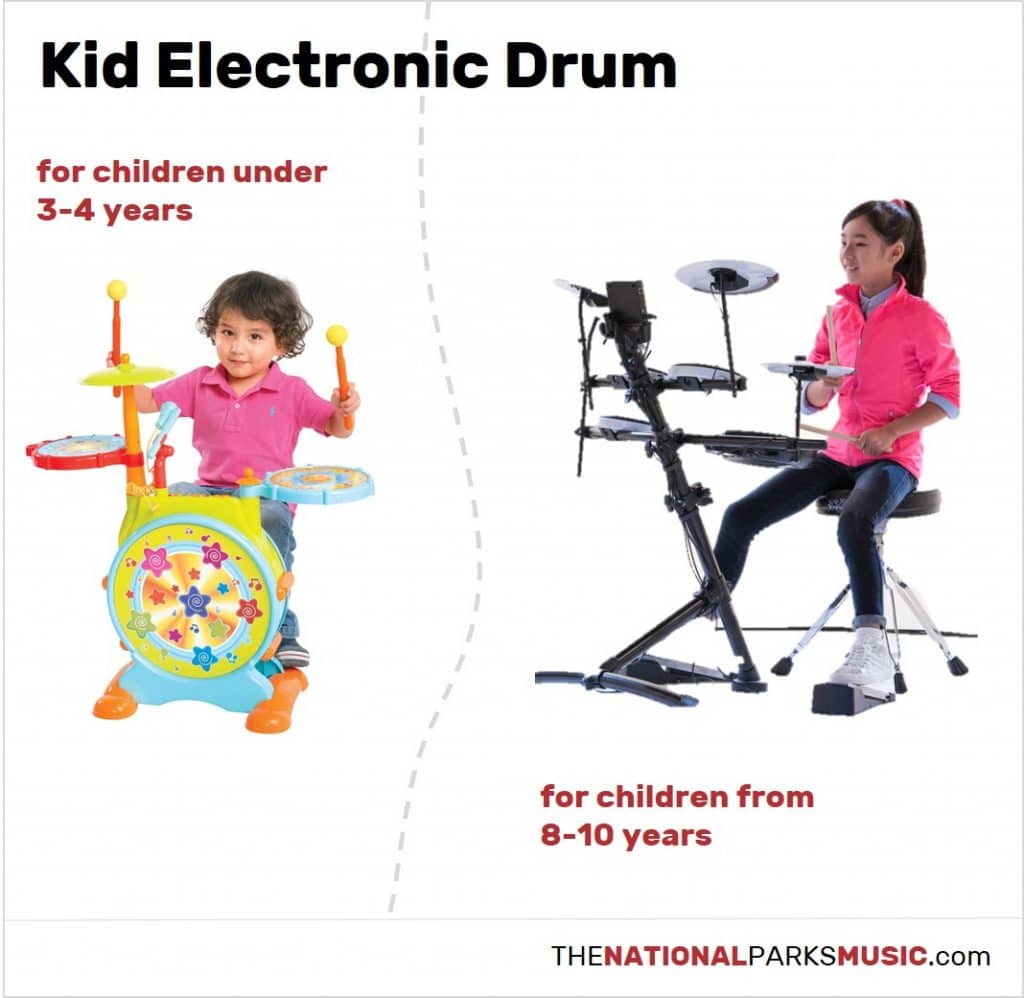 They want something more real, and so, the need for an upgraded version arises. For older kids and teenagers, an adult drum set is appropriate.
Children love something they can learn and play with ease. If it is too hard to use or too shallow, they quickly get discouraged. Consequently, their interest in drums gradually dies.
If you are not sure of which set to buy, consult with a professional. You can also check customer reviews on the product to determine age suitability. You can pick any of the products from our review above based on your child's age.
The Drum's Structure
Drum pads come with different pieces of drum kits and controllers. The kits can be as much as 15 and as low as three.
The choice depends on how skillful you want the child to be. However, too many drum kits can be overwhelming to kids below six years. Also, fewer pieces are not motivating or challenging for a grown-up child who wants to be a professional.
The three-kit set is appropriate for beginners. It is compact, manageable, and has the necessary features. You can always upgrade it as the child grows.
Also, ensure that the drum is sturdy enough. If your child likes it, they are likely to play it all day long. Therefore, the construction should be long-lasting. An Aluminum structure is preferable as it is sturdy and durable.
Sound Level
Electronic drums are more silent than acoustic drums. However, the level of sound varies from one electric kit to another.
Some sets come with built-in speakers and headphones. This feature helps to minimize the level of noise. Therefore, ensure that you go for the most silent set for your child.
Additional Accessories
Buying accessories separately from the drum kit can be very costly. As such, you should look out for kits that come with all the accessories you need, including a drumstick. Doing so eases assembling and makes the product ready for use right after purchase.
Also, accessories can be in the form of in-built features such as music and beats. If possible, you should buy a kit that has these in-built features. They ease the learning process of your child and make it fun.
Size
Size is very critical in choosing a junior drum set. Your child will have a hard time to reach full size professional drum sets.
Giving your child a 22-inch bass drum to play may not be appropriate. This full size kit will be very uncomfortable, and the child may not effectively play it.
Look for smaller-size junior drum sets, which are appropriate for the age of your kid. You can find junior kits with a bass drum of 16 inches.
Durability
You would not want to buy the best drum kit that would last only a few days. Consider purchasing one that will take a beating without caving in.
Always remember that your child will see the drum kit as part of his or her toys. Consequently, they are likely to treat it as such.
For that reason, take your time to carefully read the reviews for each drum kit before deciding what to buy. See what users have said about the drum kit.
One of the signs of a less durable drum kit is cymbals that crack easily.
​Number of Pieces
For kids drum set, you will find either 3-piece junior drum sets or 4-piece junior drum sets. You may also get a 5-piece junior drum set.
For a kid below three years, you can opt for the 3-piece kids drum set.
However, if your child is older than three years, a 5-piece kids drum set will be the most appropriate. Such a kit will be good for your kid to play for a longer time.
Types of Electronic Drums for Kids
If you are planning to buy an electric drum set for kids, you can consider three options:
Full Electronic Drum Kits
A full kids' electric drum set emulates the feel of a real acoustic drum. It comes in a design that aims at imitating the setup of a real acoustic.
Its drums and cymbals have multiple rubber or mesh pads, which come attached to the rack system. They also come connected to an electronic brain that holds all the sounds.
This type of children's electronic drum set is very beneficial to your child. It gives them the feeling that they are playing a real electric drum kit. They also do not have that excessive volume.
This electric drum set kid is ideal if your kid appears to have a great interest in playing drums. It is also perfect if your kid is already going through some drumming lessons.
The only downside with this type of drum is that they are relatively costly. Moreover, they are also quite bulky, hence occupy more space than the portable ones.
Desktop Electronic Drums
This Kids' electric drum set is more of a complete electronic kit. However, the manufacturers condense them to form a single portable unit that you can place on the desk.
They contain simple hi-hat and bass drum pedals, which are usually on/off buttons. The buttons are attached to the central unit using cables, and they sit on the floor.
If you have very limited space in your house, these types of e-drums are ideal. Again, if you do not intend to spend much, you can opt for this option since they come at a lower budget.
This kids' drum pad has no real cymbal pads like those of a full-size drum kit. However, the rubber pads trigger the cymbals sounds quite well.
You can also opt for this option as a starter kit. It will be good if you are not certain whether your kid will fully take to drumming. Later on, you can consider upgrading.
Portable Drum kits
This type of children's electric drum set is also called a Roll-up drum kit. They have similar features as those of desktop drum sets. However, they come inside a mat that makes it easy to roll them up for storage.
This type of electronic drum set for kids is ideal, especially when you are away. It helps to keep your child entertained as they practice.
It is also ideal if you have a small space in your house since it is compact.
Music Computer Games
This type of drum kit comes with computer games that are music orientated. The importance of the computer games is that your kid can play along with real songs.
Your kid is supposed to hit the color-coded drum pads when a similar color flashes on the screen.
Your kid should also follow the correct order in hitting the drum pads. The higher the rate of accuracy, the more points your kid scores.
The major drawback of this type of drum is that they are not the correct representation of playing drums. A drummer did not really design the patterns your kid plays. As such, they may be an ideal learning tool.
However, the games offer great fun of musical coordination challenge to your kid.
FAQs
Is an electronic drum set good for beginners?
An electronic drum set is good for beginner drummers, especially if you want to avoid loud noise. It allows your child to practice drumming even inside an apartment without disturbing the neighbours.
However, ensure you buy those that are meant for a beginner. An advanced electronic drum set may end up confusing your child.
What's a good drum set for beginners?
Several factors determine a good junior drum set.
Firstly, a good junior drum set should be smaller than that of adults. This makes it easy for your child to reach all the drums while drumming. A 16-inch bass drum is quite appropriate.
Secondly, it should have adjustable drum hardware. Go for a drum whose drum throne, snare and cymbals are adjustable. This feature ensures that your kid grows with the drum and also enhances comfort.
Thirdly, you will want your kid to have a feel like that of a real drum. As such, go for a junior drum set that is similar to an actual one.
Lastly, a good drum set for a beginner should be simpler than the actual one. It should not have many features that may confuse your child.
How much are electronic drums?
Electronic drums vary in prices based on their quality and the features they possess. In the market, you will find a variety of toddler electronic drums that cost below 50 dollars. On the other hand, drum kits for beginners' range between $200 and $300.
High-end electric drums for professionals are the most expensive. They come with advanced features and cost tens of thousands of dollars.
What amp is good for electronic drums?
There is no standard
amp for all electronic drums
. Amps differ in value, quality of sound, features, and portability. The choice depends on the intended purpose or use and budget.
Amps that have 80 watts of power or more have the loudest quality sound. For small gigs and rehearsals, go for an amp that has 50 or fewer watts of power.  
Is it Hard to Learn to Play the Drums?
No. drums are not hard to learn at all. Many people believe that you must be born with some special ability for you to play the drums well.
On the contrary, it is possible to learn a popular song in around 30 minutes. However, to gain a deep understanding of drums, it may take you around two tears.
To become a professional drummer, you may require between 7-8 years.
Read more in the article: Is it Hard to Learn to Play the Drums? 4 Recommendations
What Does Drumming Do to the Brain?
Drumming acts as a beneficial workout for your brain.
When you drum, you make use of the whole of your brain. As you drum, the rhythmic energy transmission helps to synchronize your brain's left and right hemispheres.
As such, drumming can make you smarter. Drumming is also helpful in retraining the mind in case of any damage or impairment.
Read more in the article: What Does Drumming Do To The Brain?
What age is a junior drum set for?
A junior drum set is most appropriate for kids between the ages of 6-12 years. Most junior drum sets have all the features that are found in an adult drum kit.
However, the drums are slightly smaller. The smaller drums make it possible for your child to reach all of them while drumming. Larger drums always prove difficult for your child to reach while playing.
What are drums for kids?
Drums for kids are designed to be used by toddlers and children. However, their appearance is more like those of adults.
Although they look like adult drums, they differ in various aspects. Their arms are shorter than those of adult drums.
Again, they may not produce high-quality sounds like that of advanced drum kits. Since children are still learning drumming skills, they can hardly make the difference between quality and low-quality sounds. As such, this does not matter much.
Kids' drums also lack the advanced features found in adult kits. This is because they are meant to highly affordable.
Mostly, junior drum sets are defined by how many pieces they have. Most of them are either 3-piece junior drum sets , 4-piece kids drum set, or 5-piece kids drum set. Each of this piece drum set is appropriate for different ages.
At what age should my kids begin playing the drums?
There's really no standard age when a child should start playing drums. However, younger is always the best when it comes to learning musical instruments.
If your child can hold a drumstick, then they may be ready to begin practicing drumming.
Tony Royster is a good example that a child can develop excellent drumming skills at a younger age. At three years old, his father began training him in drumming. By the time he was 12 years old, he had already become one of the greatest drummers.
Having said that, it is critical to understand that children are different. The appropriate age for starting to learn drums may differ from one id to another.
Again, some drum instructors advise that you wait until six or seven years before teaching them. However, there are kids who are ready much earlier than this.
Are there any benefits of my kid learning to play the drums?
According to scientists, there are numerous
benefits of playing drums
, especially for children.
Firstly, playing drums requires that children use their hands and feet in a coordinated way. This action is crucial in stimulating both parts of the brain concurrently.
Such stimulation is good for improving the IQ of your child. As such, it leads to better performance in academics.
Secondly, playing drums helps kids to develop fine and gross motor skills. This occurs as they continue to advance in their drumming skills.
These skills are critical in helping a child excel in tasks such as writing and sports.
Thirdly, playing drums is good for emotional therapy. Drumming is among the exercises that can help your child to address emotional issues.
Drumming involves physical stimulation that helps greatly to release emotions. Drum sounds permeate your child's body cells and help release stress.
Lastly, drumming is crucial for children, as it helps them achieve deeper awareness.
As your child learns how to drum, they develop the power to access unconscious information via imagery and symbols.
This action is crucial in promoting psychological integration.
Conclusion
In conclusion, the best electronic drum for a kid should be easy to use. It should be one that allows him or her to have an authentic feeling of how a real set feels like.
You should also look for a user-friendly drum set. A good set will have training software to guide the kids in their practice.
For this review, the Alesis Debut Kit electronic drum set is our winning set. It is very simple to operate; thus, a child takes no time in starting to drum.
Kids can also connect it to their computer and record their music. Most importantly, it comes with in-built training software.