A hi hat is an integral component in any drum set. The hi hat stand, on the other hand, is pretty much vital. Consequently, I need not emphasize the need to acquire the best hi hat stand.
Its quality and smoothness determine both the sound and pressure of your hi hat stand with cymbals. If you are using cheap stand models, then you're missing out big time.
In this post, we will:
Review the top hi hat stands (and give you our recommendation for the best one)
Walk through a complete buying guide for hi hat stands
Answer some frequently asked questions about hi hat stands
The best drum set hi hat stands should include an excellent mechanism. By this, they offer effortless and smooth playing. At the same time, they should deliver lots of dynamics to your playing experience.
Therefore, choosing the best stand is radical. Regardless of which type of hi hat drum stand you are searching for, I'm here to assist. Through this review, we'll cover all shades of choosing the top hi hat stands.
We will also look at some renowned brands focusing on the price range, build quality, and more. The selection includes what I find to be the best hi hat stands at the moment. Thus, go for a hat stand that won't strain your budget much. Let's rock!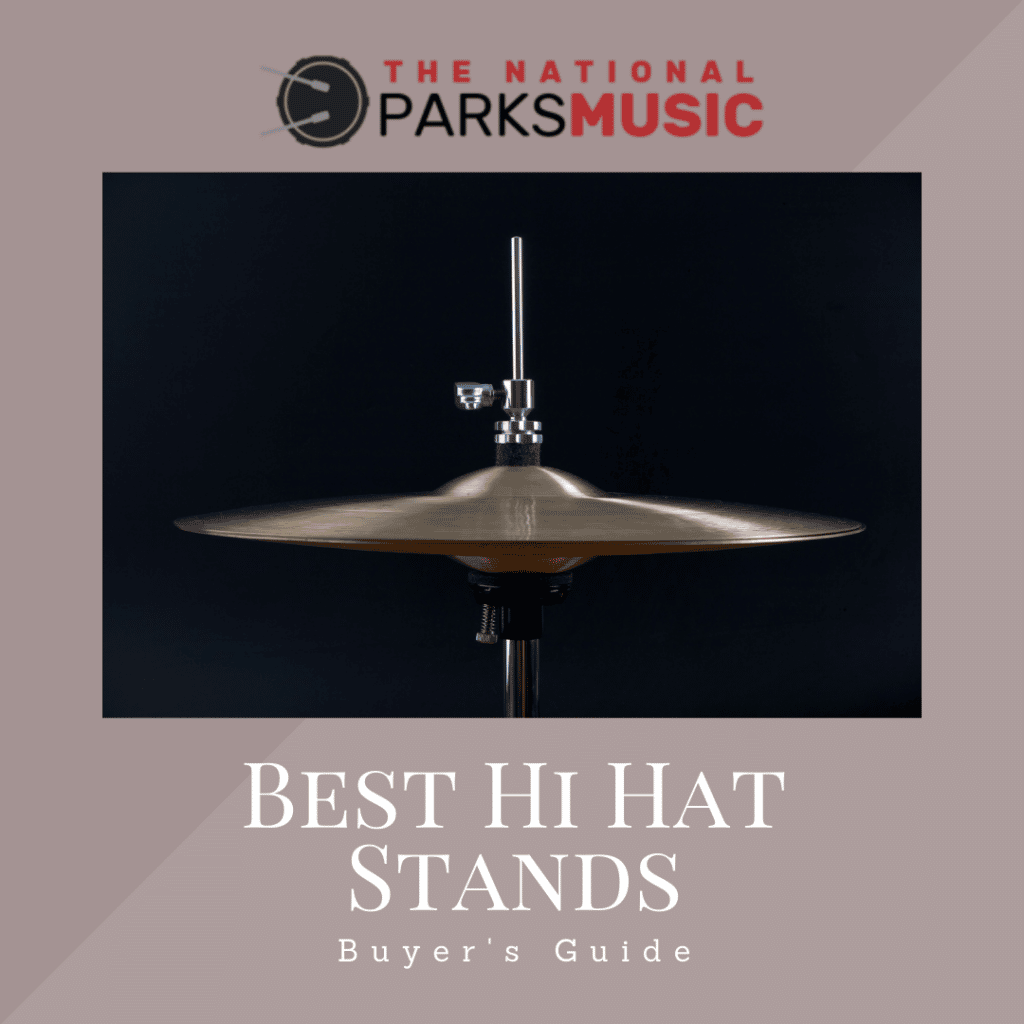 Best Hi Hat Stand Comparison Table
 IMAGE
 PRODUCT
 DETAILS
BUY

MY TOP PICK

 1. Pearl H930 Hi-Hat Stand – Best Durability

Highly durable hi-hat stand

Pearl Lifetime guarantee
Tripod with swivel function

2. Gibraltar 5707 Hi-Hat Stand – Best Value for Money         

Best budget

Very heavy construction

Liquid Chain Drive mechanism

3. DW DWCP3500T Hi-Hat Stand – Best Construction

Two-legged hi-hat stand

Sturdy footboard and baseplate

Great price for a professional stand

4. Tama Speed Cobra 310 Hi-Hat Stand – Best Response

Two-legged hi-hat stand

Modeled on flagship Speed Cobra range

6-Way tension adjustment

5. DW DWCP5520-2 Hi-Hat Stand – Best Design

Two-legged hi-hat stand

Ultra-sturdy and smooth

Renowned DW quality
Reviews of Hi Hat Stands
MY TOP PICK
Starting us off is the Pearl H930 Hi hat stand. Firstly, this Pearl hi-hat stand boasts robust construction. PEARL is very confident that it offers a lifetime guarantee on it.   
Second, hi hat stand Pearl has a straightforward design and highly effective at the same time. The product doesn't include any fancy gimmicks and tricks. For any play style, expect this Pearl hihat stand to be highly reliable.
Another thing besides its design and build quality is its smooth and fast playing response. Alongside its reliable chain drive mechanism, it's very much impressive. Unlike other stands, the Pearl 2 leg hi hat stand is surprisingly quiet. It also makes use of a double eccentric cam to increase the sensitivity of the footboard.
Even further, the Pearl H930 hi hat stand includes rubber leg tips for traction. The hi hat pedal together with the swivel function allows you to rotate the legs. By this, it can accommodate a double bass pedal. 
Also, using the hi hat spring tension adjustment dial, you can adjust the high hat pedal tension and lateral cymbal seat to your preference. For utmost reliability, this Pearl hi hat stand is the real deal. Unlike other drum kits hi hat stands, it doesn't wobble but stays firm at all times. 
The Pearl H930 hi-hat stand is a little bulky than most competitive counterparts. Even though it's not the most portable option, it delivers top-quality performance once you set it up.
---
This Hi hat stand is very much impressive. Not only regarding its price but also its features.  It is among the best budget hi hat cymbals. It delivers all aspects you'd expect to find in a hi hat stand except for one. While most drummers like a two-legged stand, the Gibraltar 5707 has three legs.
Another thing, this stand is quite substantial. As a result, it's very stable and can stand up to extreme punishing drummers. In other words, this product can withstand a real and rough beating. It also includes heavy-duty components, thus a robust high hat construction.
Talking about its operation, the Gibraltar 5707 delivers a smooth performance. It includes a top-notch direct lever pull. Alongside its Gibraltar designed Liquid Drive, it enhances its responsive feel.
Moreover, it provides accurate response and excellent control to the different dynamics of your feet. Other than its sturdy nature, it also offers unique pedal action. 
This hi hat stand Gibraltar is by far much better than other non-branded hi hat stands out there. So, if you're on a tight budget, this is an ideal pick.
---
Going ahead is the DW DWCP3500T hi hat stand. All DW products deliver excellent performance, and this hi hat and cymbal stand is no exception. Remarkably, it's affordable to boot. 
This DW two-leg hi hat stand delivers the utmost value for money. The product comes with high-end features at a reasonable price. For this reason, it's an excellent hi hat stand for developing drummers.
More importantly, it's a two-legged stand. For its price, this feature is a huge bonus. The reason being, it allows you to add a double bass drum pedal comfortably. Your feet won't interfere with each other. At the same time, this feature bolsters the stand's stability.
Besides its stability, the DWCP3500T delivers a smooth playing response. Equally important, it's a medium-weight stand model. It quickly folds away to enhance an effortless setup. It also comes with a short tension rod and a long one.
Also, this double bass pedal hi hat comes with heavy-duty hinged memory locks. These locks keep your lateral cymbals and make sure the settings are not only precise but also repeatable.
Its lateral cymbal seat features a top-notch design.  As such, it allows you to adjust the lateral cymbal seat angle to your preference. On top of that, the stand's quality is incomparable to most competitive models.
---
The Tama Speed Cobra 310 Hi-Hat Stand displays a heavy duty build quality. 
Just like the DW stand models, this Tama high hat stand is also two-legged. As such, it enhances a convenient setup. Also, this feature will allow you to add other cymbal stands or a double bass pedal.
The Tama Speed Cobra 310 hi-hat stand from Tama does not include a steel base plate. Instead, this product comes with a tiny stabilizer beneath its footboard. The stabilizer effectively shifts the strength and balance towards the player. 
Furthermore, lacking a baseplate will make the Tama hi-hat stand effortless to fold. It's also a medium weight model. As a result, this stand is not only highly portable but also easy to set up. 
Tama has a renown reputation for building top-quality drum machine hardware. Well, the Speed Cobra hi hat stand is an ideal example. At a reasonable price, this stand hi hat delivers as much as high-end hi hat stands. The Tama drum high-hat response is accurate and smooth to boot. 
The Tama 2 leg hi hat stand footboard, on the other hand, is heavy-duty. The iron cobra stand also allows you to adjust the hi-hat pedal spring tension.
You may be wondering how to adjust hi hat pedal tension. The Tama hihat includes six tension settings to accommodate different preferences. Furthermore, just to mention, adjusting the spring tension is pretty straightforward. 
---
The DWCP5520 is quite remarkable. The gimmick behind this hi hat hardware involves its slave pedal. First, it is a bass pedal. However, you can use it as a side pedal for playing hi hat percussion musical instrument, e.g. tambourine, cowbell, etc. In other words, this hi hat stand offers two functions in one piece.
The approach may not be revolutionary. Nonetheless, it's positively brilliant. With such an architecture, you save time when setting it up.
As for the stand's hi hat part, it's a pretty much reliable tool. One thing that most people like about this Drum Workshop stand is its compact design. For this reason, it's an ideal pick for people who don't have roomy rehearsing spaces. 
This product also has a sturdy construction. Then again, it's level of responsiveness is nothing less satisfying. The stand incorporates aluminium thus making it lightweight.
Nevertheless, here's a point to note. The stand's slave pedal is on the left side. Unfortunately, you can't change it. Therefore, right-pedalled drummers may need patience and some time to learn using the lever.
This model product from Drum Workshop also has excellent grip. But it tends to have some degree of internal friction though. This problem seems to arise from its linkage system. 
As a result, it makes it hard to play the percussions when using the bass pedal. However, it may work out if you have two bass pedals.
---
Buying Guide for Best Hi-Hat Stand
1) What is the ideal Weight of the Stand?
The robustness and weight of the hi hat and stand are very vital. The two factors mostly depend on the style you play.
For instance, if you play in a metal or rock band, you ought to consider a more robust and massive hi hat stand for drums. On the contrary, if you play chilled and soft music, a light hi hat stand model should do.
Then again, how much do you move? If you perform regularly and have to transport and set up or disassemble the hi-hat stand, buy a light cymbal stand.
Another question to ask yourself is, how heavy are your cymbals? Generally, a standard stand should be able to support most cymbals out there. If you find your cymbals to be quite heavy, make sure you invest in a sturdier cymbal stand.
2) How much swivel does my hi hat stand need?
All drummers can agree with me that a swivel is a crucial feature in any stand. Without an axis, it's impossible to adjust the stand's angle.
Also, it allows you to add extra pedals to your setup. Most of the two-legged and three-legged hi hat stands can swivel. Nonetheless, flat-base and no-leg models cannot.
The ideal hi hat with stand choice, in this case, depends on your playing style. A no-swivel legs model would do for drummers who like to keep it simple. On the contrary, a swivel is crucial if you expect to add extra pedals.
3) What's the best type of resistance for a hi hat stand?
Spring or resistance tension is also another critical feature in hi hat stands. The resistance controls the feel of your hi hat stand. As such, it influences your playing experience to some extent.
Nonetheless, different drummers prefer different amounts of tension. Therefore, it all comes down to your taste. Too much resistance, however, may cause you to tire quickly.
Fortunately, most hi hat stands will allow you to adjust the tension. Just fine-tune it to your preference.
4) Who makes the hi hat stand with the best build quality and durability?
In any element of drum hardware, the build quality is always a crucial factor. Well, the same applies when searching for an excellent high hat stand. Consider a model that features top-quality components and materials.
In most cases, you'll encounter two descriptions: The single braced and double braced hi hat drum set stands.
Single-braced hardware is standard (but not always) in medium weight hi hat stands. It's pretty stable as a hi hat stand for double pedal. However, it's somewhat less versatile.
If your budget allows, I'd advise going for a double braced legs. Why? For one, you can use your double braced hi hat stand as a double tom mount stand (pun intended).
Moreover, double-braced hi hat stands can not only take harder beatings but can also support more weight. Therefore, drummers who travel a lot should consider double braced hi hat stands for durability. But if you play soft rock, jazz, blues and such, a single braced hi hat stand is enough.   
5) How much should I plan to spend on a hi hat stand?
Lastly, as you try to identify the best hihat stand model for you, consider your budget. Ideally, tailor your budget to what you expect from a hi hat stand. If it's a kids high hat, you need not spend much. However, you may have to spend much if are to use it for professional purposes.
In the market, each hi hat stand comes with a different price, and the prices vary greatly. You will find a hi hat stand at a price below $100 while high-end models at over $600.
If best budget hi hats are what you are after, a simple and affordable cymbal stand should do. On the other hand, pricier options are ideal if you intend to gig regularly or add extra pedals.
6) Who is the best manufacturer of hi hat stands?
Word of advice: Never buy a piece of musical gear from an unknown manufacturer. Whether it's an acoustic guitar, a midi keyboard or a hi hat stand, it doesn't matter. Make sure your product is of good quality by acquiring it from a reputable manufacturer.
Take, for instance, manufacturers in this article. All of them have proven their worth. Not just by making top hi hat stands but also make some of the top-rated bass drum pedals, kits, and thrones to boot.
Frequently Asked Questions
How Do I Set Up A Hi-Hat Stand?
Have you previously set up a hi hat stand before? If not, it can be slightly confusing when you unbox your product. Well, it's understandable. Luckily enough, there's nothing to fret about as it's not complicated.
A typical hi hat stand can be set up promptly only if you know what you are doing. The process of setting up hi hat stand includes first loosening the bottom bolt.
Second, widen the legs of the cymbal stand and retighten the bolt. By this, you establish the bass. Make sure the readily attached pedal is facing the seat.   
Lastly, make sure the stand is in a comfortable orientation with other drums and the snare.
For best results on setting the height of the hi-hat, position the cymbals approximately 6-8 inches above the snare drum. 
How do you set up a Hi-hat cymbal?
Setting up hi hat cymbals and stand is not a difficult task. Below is a summary of the steps you can follow:
1.      Loosen the T-bolt then fold out the legs.
2.      Screw-in the rod
3.      Check the bottom cymbal washer and felt
4.      Slide your bottom cymbal onto the lateral cymbal seat
5.      Attach your top cymbal to the clutch
6.      After attachment, slide the clasp onto the rod
7.      Adjust the upper tube to your desired height
8.      Move the stand to achieve the best orientation with the other instruments.
Should I Buy My Hi-Hat Stand New Or Used?
Most drummers buy hi hat stands, second hand. In most cases, they do so to acquire professional-quality gear at a low price. 
However, I'd advise you against doing so. The reason being, a hat stand is just another piece of musical gear. In other words, it also wears out over time. Expect this, especially if the previous owner plays regularly and with enthusiasm.
A typical stand's foot pedal board is the most delicate. After several years of use, it may tend to stick.
How do I choose the best Hi-Hat?
Like any other product, different people like different hi hats. Nonetheless, hi hats are available in various sizes, weights and materials.
These factors directly affect the sound and pitch of your drum hi-hat cymbals. Smaller hi hats, e.g. 13" and 14" produce a more crispy and bright tone. Those with 15" or 16", on the other hand, create a warm and dark sound.
Further, hi hats come in different materials, mostly cast and sheet. Cast cymbal production is, in other words, the traditional way of making cymbals. Orchestral and Jazz players find cast cymbals to be prestigious.
Sheet cymbals, on the contrary, produce brighter sounds. As such, they may be more appealing to rock, pop and metal drummers.
2 leg vs 3 leg hi hat stand?
Most traditional hi-hat stands are three legged. It comes with greater durability and a solid base for holding any addition to the drum set. You can also altar the legs to fit various configuration.
The two legged hi-hat stand is a departure from the traditional model. It features two-winged rubber feet around the base footboard.
For enhanced stability, many drummers go for the three legged hi-hat stand.
Why does my hi hat keep becoming loose?
Check out this video for fixing a hi hat stand:
Conclusion
It doesn't matter your style of playing. The fact is, every drummer deserves a top-quality hi hat stand. Luckily enough, there are lots of top hi hat stands in the market today.
At different price tags, you can find a decent hi hat stand with a basic design. You can even come across a two legged stand at a friendly price.
Find the one pick within your budget as you pay attention to your play style. I believe you can find what you are looking for in our five best hi hat stands.
In this review, the winner are the Pearl hi hat stands. It's not only reliable but robust as well. Besides, it includes a lifetime warranty and has a smooth pedal action.
If you are looking for a hi hat stand for sale, you can go for any of those we have reviewed here. And also check our article about Big List About Drum Hardware.
AMAZON BESTSELLER:
No products found.