Roland is a fantastic brand, famous for its high-end drum kits. Its TD-25KV electronic drum set is not different.
It is an excellent mid-level V-drum far beyond others of the same category. It is suitable for playing at home or at the studio.
Roland TD25KV has excellent playability and delivers a superior drumming experience. Thanks to its superb sound engine and top-notch technology.
The best thing about this kit is that you can customize it to suit your preferred playing style.
It comes with a large center dial, which allows you to select kits based on the music style you are playing with much ease. 
Also, this electronic drum kit comes with USB/ MIDI ports. As such, you can connect a memory stick or other audio devices and play along with your favorite tracks.
It also has a recording feature that allows you to record your performances and playbacks.
If you are looking for a silent electronic kit, Roland TD-25KV is a perfect choice. Thanks to its natural mesh-head pads. This review has everything you need to know about this incredible V-drum.
You can never go wrong with the TD-25KV electronic drum set. It is worth every coin you invest in its purchase. It is a high-quality electronic kit that produces excellent sound.
You can use it in a shared apartment or residence any time of the day or night since it's incredibly silent.
The design of this drum kit resembles that of an acoustic set. As such, it gives you the real feel of playing an acoustic kit. Its cymbals and pads are more prominent as compared to similar drums.
Also, the kick pad of this drum kit is big enough to support double bass pedals.
Roland TD-25KV Kit Review
The recent changes in the Roland V-Drum lineup birthed the Roland TD 25 mid-level kits.
This electronic drum kit uses similar technology and sound engine as Roland's TD-30 flagship. However, it is less expensive than the TD-30 series.
Roland TD25KV is a 10-piece electronic kit with high-end playability for home and studio use. The drum kit comes with a module that gives it a streamlined interface for easy personalization. You can use it for practice or performance as it provides an ultimate drumming experience.
Who is this kit best suited for?
This electronic drum is an undisputable choice for professional drummers. It has high-end features, a wide array of sounds, and numerous choices of kits.
The drum pads and cymbals have incredible dynamic responses.
The mesh-head pads give that natural feel of an acoustic drum set. TD-25KV comes with an in-built recording function.
As such, you can capture and share your performances with ease. Also, it has fantastic ghost notes on the snare pads.
The kit is best suited for anyone willing to invest in a high-quality electronic drum. Nonetheless, due to its advanced features and high cost, it is not recommendable for beginners.
What is in the box?
Usually, the Roland TD-25KV ships in two boxes. One box contains the module and pads while the other carries the MDS-9SC stand. The total weight of the box is 52 lbs. Its length, width, and height are 28 inches, 15 inches, and 31 inches, respectively.
The box contains:
1 x PDX – 100 10" mesh-head snare pad
1 x PDX – 100 10" mesh-head tom pad
2 x PD85 8-inch Mesh-head tom pads
TD-25 sound module
VH-11 hi-hat pad
MDS-9V drum stand
KD-9 kick pad with cloth head
A 13" CY-13R ride cymbal with edge, bell or bow triggering and natural swinging motion
2 12" CY-12C crash cymbals with edge or bow sensors, natural swinging motion and choke control.
Hi-hat stand (not included)
Drum throne (not included)
Kick pedals (not included)
Features of Roland TD-25KV Compare to TD-27KV
This drum kit comes with 36 different drum kits, as well as multi-effects and reverbs. It aims at giving the user a remarkable playing experience. Below are some of the outstanding features of this Roland kit.
Sound Quality and Expressiveness
The TD-25KV uses SuperNATURAL technology coupled with Behavior Modeling. As a result, it produces a high-quality sound, which gives an unrivaled drumming experience.
The sound engines in this drum respond naturally, thus providing a dynamic and interactive feel.
Also, the drum has ghost notes, positional sensing, rim shots, and rolls on the snare. All these works together to enhance the natural feel of playing an acoustic drum.
High-end Playability and Feel
The playability of this drum kit rivals the world's best premium V-Drums.
The mesh-head pads and the positional sensing on the snare pad promote natural tonal changes. The tones vary depending on the pad struck.
The cymbals support edge, bow, and edge sound on the ride and bow/edge sounds on crashes. They also have choke controls and natural swinging motion. 
Module and Call Up Kits 
This electronic kit allows you to play different types of music and sounds right away.
Its sound module has a large center dial that enables you to select kits based on your preferred music style quickly.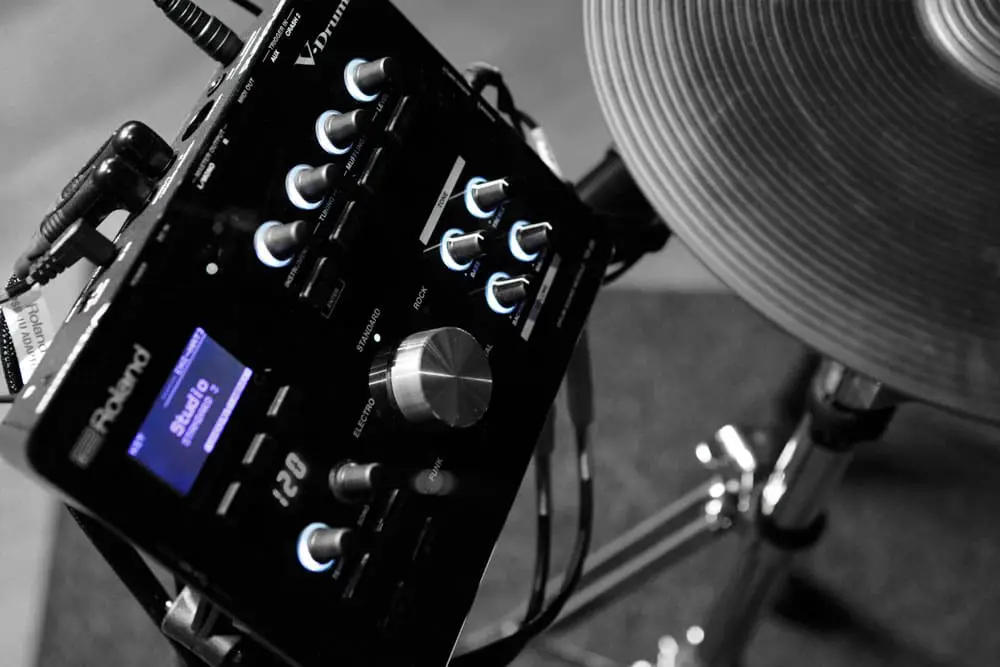 What makes this feature more desirable is that you can operate the module while holding a stick.
The drum's module comes with 18 pre-set kits. These kits fall under jazz, rock, electro, metal, funk, or standard genres.
After selecting the style of your choice, press the dial button to toggle between different kits. Then, you can start playing.
You can hear your playing by using headphones, which you connect directly into the module via a quarter-inch adapter. Alternatively, you can rout the drum's brain to an external monitor. In this case, you use the right or left quarter-inch output on the module.
Customizable Kits
Customization is one of the most outstanding features of TD-25. You can edit sounds to suit your desired style of music.
To do this, you need to hit a pad to display its current sound. Then, using the panel knobs, select instruments. From here, you can change muffling, tuning, and levels.
You can also use handy shortcuts, which is a faster way to edit toms. With this, you can change muffling, tune all the toms, and assign sounds at one go. The module saves all the changes you make automatically.
You can also undo the tweaks and return the kit to its original state.
Play-Along Tracks and Recording
The play-along feature gives drumming a memorable experience. With this kit, you only need to load your USB memory stick with MP3 records and start playing.
Besides the usual playback, you can slow the playback speed. Doing so allows you to grasp articulations and fast fills quickly. You can also loop the sections that need extra practice.
Instead of a USB, a smartphone is also a good alternative. You only need to plug it into the audio input to access the songs in your music library or directly from the web.
This drum set also supports recording. You can record your drumming session and playback music in the form of audio for retrieval. As such, you can monitor your drumming progress and share your performances with friends.
The drum's sound module comes with a USB port and 5-pin DIN MIDI output. As such, you can record your performance to a DAW of choice. The USB facilitates the easy upload of songs to play along or record live performances.
X 1 mesh-head 10" V-Pads for Toms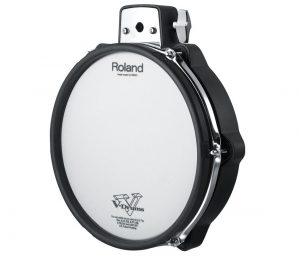 The x 1 tom pad features dual triggers on the rim and head. It helps enhance rimshot depth and dynamics.
The two-way mount makes horizontal or vertical mounting possible. You can mount it on a pipe tom stand or a Roland MDS series stand. The sensors on these pads detect every nuance of your performance.
Dual-Zone 8" V-Pad
The PD-85 drum pad is compatible with all sound modules of the TD-series. It uses dual-triggering technology. Doing so facilitates perfect and consistent sensing between the head and the rim.
The drum is large enough, thus a perfect fit for a tom drum. Its sound varies according to the strength of the stroke. It has a guarantee of longevity due to its sturdy construction.
10" Mesh V-Pad for Snare
The x 1 PDX-8 is a high-end snare pad. It uses dual-trigger technology for head and rim separately. Its 10-inch rim promotes realistic performance due to its quiet and comfortable rimshots.
VH-11 Hi-Hat
The drums Hi-Hat comes with a floating cymbal pad and a fixed base. These features promote the natural feel of playing a two-piece hi-hat.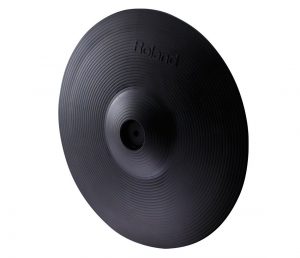 The floating design of the Hi-Hat encourages quieter performances since there are fewer moving parts. The Hi-Hat is easy to transport and assemble. It mounts perfectly on a standard acoustic hi-hat stand.
It has dual triggers, one on edge and the other on the bell. The purpose of these triggers is to make the sound as real as possible.
CY-12C Cymbal Crash
The 12″ Roland cymbal crash comes with two zones, one at the bow and the other at the edge. It is purposely suited for Roland's V-Drum series. The cymbals mount to the MDY series mount.
CY-13R Cymbal Ride
The 13″ V-cymbal ride comes with three zones, at the edge, bow, and bell. It is also unique to the V-series Roland electronic drum kits. You can mount the cymbals on the optional MDY series.
KD-9 Kick Pad
This Roland kick pad aims at providing solid playability and great feel with a single or double pedal. It comes with a cloth head to enhance dynamic response and realistic feel while playing. It is easy to set up and has a sturdy construction.
Alternatives to the Roland TD-25KV
If you find the price of Roland TD-25KV strenuous, we recommend buying the Yamaha DTX DTX720 Series. It is the closest alternative since it has similar features as the TD-25. Also, it is relatively lower in price as compared to its counterpart.
Another excellent option is the Alesis Strike Pro Kit. (Read full review) Besides being cost-effective, it has additional features and is fit for both beginners and professionals.
Frequently Asked Questions
Does the Roland TD-25KV e-kit come with a kick pedal?
No, the kick pedal is not among the items in the box. Also, the hi-hat stand and drum throne are not part of the purchase. Therefore, you need to buy these accessories separately.
Do you need an amplifier alongside this kit?
Well, that depends on the drumming agenda. If you are playing alone, you don't need an amplifier or speaker. You can use in-ear monitors or headphones.
However, in a studio or during a gig, you need an amplifier so that other people can hear what you are playing.
Is the Roland TD-25KV drum worth it?
Yes, this V-drum is worth the money you spend on it. However, you must have your priorities right to avoid wasting money on features you don't need.
This kit comes with high-end features that are best suited for pro drummers. If you are a beginner or want something to train with, you can look for a cheaper option.
Can I use Roland TD-25KV V-Drum in an apartment?
Roland V-series e-kits are exemplary quiet. All their tom and snare pads have mesh heads, which promotes quieter performance.
Also, the floating design of their hi-hats further enhances quietness. You can play it in an apartment or shared accommodation without inconveniencing other people.
Does Roland TD 25KVs come assembled?
No, you are to do the setup yourself. The entire kit comes in a large box with two smaller boxes when you buy from an online dealer.
One box carries the module and pads while the other one carries the MDS-9SC stand. The setup is straightforward and fast. Check the instructions in the user's manual.
Can I expand my TD-25 by adding accessories?
Yes, expansion of the kit is possible. However, you should have a clear picture in mind of how exactly you want your kit to appear. Doing so helps you to know which parts to buy.
For instance, purchasing an additional MDS-9 or MDS-12V enables you to mount extra cymbals. It is recommendable to buy second-hand parts as they are cost-effective.
Conclusion
To sum it all, Roland TD-25KV is one of the best electronic drums in the market today. It takes after the popular Roland TD-30 series in technological advancement and sound engine. As such, it has top-notch playability and sound quality.
This kit comes with premium features and design, which are best suited for advanced players. It is one of the quietest e-kit because of the mesh heads and rubber pads on its toms and snare.
It has a natural feel of a real acoustic drum, and it has in-built training features. Also, you can play along with your favorite songs via a USB or smartphone. It supports MIDI connections, thus allowing you to record your performances.
The kit is also customizable to suit your personal preferences of music styles. Though it is a bit pricey,
it is worth every cent and will serve you for a long time. The extra accessories you need alongside this kit like a hi-hat stand are very affordable. Make you are playing memorable by buying your kit today.
Find more great products like this by checking out our guide to the 11 Best Electronic Drum Sets