The External Line Return or the XLR cable is an often slipped-on component of an audio signal chain, though it plays a crucial connection role.
There are several terminologies around XLR cables, from conductivity, to balanced or unbalanced, low impedance, and so on. But, The NationalParksMusic is here to help you debunk these meanings and choose the best XLR cables for your microphones.
We're going to do this by highlighting:
What Are The Different Types of XLR Cables for Microphones?
How Do XLR Cables for Microphones Work?
What Do You Look For In The Best XLR Cables for Microphones?
Our comprehensive list covers XLR cables with different budgets, values, performance, and longevity. So, shall we?
Our Top 10 XLR Cables for Microphones
Since XLR cables work on plenty of audio equipment, companies make them at different preference points.
We've used XLRs for a long time, and with our experience and expertise, we'll introduce you to some of the best XLR cables for your microphone. From high-end pieces to affordable cables.
Decent build
Connects to other devices
Lightweight and flexible
Affordable
Long-lasting cable
Impressive wiring technology
Advanced bass control conductor
Gold plated contacts
Low impedance protects interference
Affordable
Sturdy rubber casing
Industry-standard Lo-Z shielded cable
Tri-grip and rubber strain relief technology
24 AWG copper conductor
Long-lasting materials
Decent 92% shielding
Corrosion-resistant gold plating
98% braided shield
Top-quality materials
Hi-Fi sound quality
Extremely long cable
Flexible design
4-pin connection
Rugged design
Lifetime warranty
Easy to clean
Long 50-foot cord
Dual shielding

What Are XLR Cables for Microphones?
An XLR cable is used on many audio applications, from professional recording sessions to live shows. They consist of three pins and an outer connector. The three pins have two signal wires and a ground wire, hence the name balanced cables.
XLR cables are used to relay sound signals over long distances depending on the length of the wire, such that the sound signal is exactly as it is without external interference. You can think of this cable as a microphone cable.
What Are The Different Types of XLR Cables for Microphones?
XLR microphone cables come in different builds, and the main types are categorized in size and number of pins. There are 3, 4, 5, 6, and 7-pin XLR cables, but we're going to look at 3 and 7-pin XLR cables since the rest are only available on intercom headsets.
3-pin XLR Connector
This is the most popular type of XLR cable used in professional microphones and as cables for speaker connections. 3-pin XLR cables in condenser microphones act as phantom power that doesn't interfere with your audio signal. As mentioned earlier, the three pins are contact pins where:
Pin 1 – signal wire (+)
Pin 2 – signal wire (-)
Pin 3 – ground wire
7-pin XLR Connector
7-pin XLR cables are only used in tube condenser microphones. While the specific wiring selection is important, they're different depending on the type of tube microphones. Generally, there are standard arrangements of these cables including:
1 ground wire
2 wires for the heater circuit
2 wires for DC voltage
2 signal wires with audio
Of the 3-pin XLR cable, there are two types: mini XLR and regular XLR.
Regular-sized XLR
The standard 3-pin XLR cable is considered normal size since it is widely used in audio connections. So, at any point the term XLR is used, technicians refer to the standard size XLR connector.
These regular-sized XLR cables are used to connect speakers, microphones, mixer boards, and other music equipment.
Mini XLR
The Mini XLR is a smaller version of the standard 3-pin XLR cable, although it still has the same functions as an XLR. We see the main difference in size at the connector since it is smaller than the regular XLR.
Mini XLRs are used in instances where there is smaller audio equipment like home music mixers or studio recording headphones. It is mainly used in mixers to connect condenser microphones.

How Do XLR Cables for Microphones Work?
XLR cables have four main components that allow them to transmit sound signals from one source to the other.
The shielding provides cover for the signal so that no interference occurs.
The conductors are the main wires that carry the audio signal.
The outer jacket provides an extra layer of protection and holds all pieces together.
The connectors act as transmission points where the cable connects with other equipment or device.
Most XLR cables will have a 3-pin setup to provide minimum noise or interference. These pins have two signal wires and one ground wire that dictates the quality of sound projected.
Due to the extremities of weather and the external environment, we recommend, if possible, an XLR cable with gold-plated connectors to avoid oxidation.
What Do You Look For In The Best XLR Cables for Microphones?
In so many instances, the poor performance of an XLR cable has a significant effect on the sound output. People often spend a fortune on sound equipment and connect them all up with a cheap cable.
If you're looking for the best value for your XLR cable, there are a few considerations to keep in mind.
XLR Cable Sizes
When looking for the best size for your XLR cable, ask yourself these questions:
Where do you want to use your microphone? Is it at home, studio, or in a live concert?
How far away is your microphone from the mixer and other recording instruments?
These questions will guide you to consider which XLR cable will suit your needs. The cables come in different sizes, from 3 feet to 50+ feet. You need to have a clear idea of your sound setup to get the right size of XLR cable.
Remember, a cable that's too short won't be functional, and similarly, too long of a cable can crowd your performing/recording area.
XLR Cable Pin Count
Since we're purchasing XLR cables for microphones, it is crucial to know the number of pins in a particular XLR cable. The cables come in 3-pin, 4-pin, 5-pin, 6-pin, and 7-pin variations.
XLR connectors with three pins are the best and main ones used in microphones. Any other connector with more than three pins serves other equipment, such as intercom systems and lighting equipment. So, make sure you go for the three-pin variety for your microphone connection.
XLR Cable Materials
The cable materials largely affect the sound quality of your connection and the longevity of your cable. In that sense, we can look at XLR cable materials in three components:
Conductors Of XLR Connector
The conductors play a direct role in how sound will be relayed to the connectors. You might want to look for conductors with oxygen-free quality, meaning they are resistant to oxidation. These recommended conductors are generally oxygen-free copper conductors or gold-plated conductors.
An oxygen-free conductor produces better sound clarity and is typically more durable than oxidation-prone conductors.
You could also look at the number of cable conductors in a particular XLR. The two main cable conductor options are two copper wires and four copper wires. The two copper wire conductor is standard and less expensive, while the four copper conductor has better sound quality, but at a higher price.
XLR Cable Shielding
Generally speaking, there are two main types of cable shielding in XLR cables.
Foil shielding comprises a thin layer of aluminum laminate or copper tightly placed to cover the conductors and prevent interference. It provides full coverage of the conductors and thrives when recording sound with higher frequencies.
Since foil shielding uses readily available materials, it is an affordable option and common in modern XLR cables. But, it is also highly susceptible to wear and tear as it has little flexibility.
Braided shielding uses a spiral braid of copper or tin wires to protect the conductors. It is a more classical approach, and you can find copper braided shields in most microphone cords. Braided shielding is still used today because it is strong, durable, and relays sound signals in all conditions.
The only caveat to this type of cable shielding is that it only provides 75% to 95% coverage, meaning minimum sound leaks in the transmission process. The cables also tend to be bulky and may not be ideal for smaller settings.
Outer Jacket Material
The outer jack is put in XLR cables to protect them from factors such as UV rays, heat, and moisture. Most XLR cables come in a PCV jacket as it is easily available, low-cost, and can be made in different finishes.
While you may find other materials for the outer jack, we recommend PVC due to its many benefits. Other materials may be used for specific shielding purposes but will not make sense in general preference. For instance, thermoset polyolefins are melt resistant and have an excellent memory. But do you really need a melt-resistant XLR cable for your microphone?

Best XLR Cables for Microphones Reviewed
Our top pick had to be the Cable Matters 2-Pack XLR cable. It features tons of goodies for audio enthusiasts. It is 25 feet and comes in a pair to connect two microphones. They also come as connectors to speakers, preamps, and stage lighting, which makes them indispensable.
The Cable Matters XLR comes in oxygen-free copper conductors and gold-plated XLR pins; so much for longevity! When you look at the inside of the cable, they have both copper braided shielding and foil shielding to provide excellent sound quality.

Pros
Decent build
Connects to other devices
Cons
Somehow questionable sound quality
The AmazonBasics XLR cable is an affordable option with pretty decent features. It is a balanced cable with cleaner sound processing than most cables on the market. The AmazonBasics XLR cables have an entry-level 6mm PVC jacket housing which is good enough for this price.
The connector is strong enough to withstand some bit of punishment as it is made of zinc alloy. If you want cables that do the job and you're really on a budget or have no budget at all, AmazonBasics is your preferred choice.

Pros
Lightweight and flexible
Affordable
Cons
Not ideal for professional use
A bit noisy for live sound
An XLR cable has to be of great value if you're willing to spend an extra buck. That's what the Monster Prolink Studio XLR cable is all about- quality. The XLR cable is built for the professional who appreciates precision and pristine sound reproduction, thanks to its Time Correct wire networks.
Inside the cable is excellent craftsmanship of connections from mid-frequency windings, microfiber dielectric shields, carbon-infused dielectric shields, and a duraflex jacket to protect the entire cable.

Pros
Long-lasting cable
Impressive wiring technology
Efficient noise canceling
Advanced bass control conductor
Cons
Monoprice Premier Series XLr cable is one of our top picks as it offers top quality at a fraction of what you'd expect. It is a professionally built cable with an ABS plastic outer jack that keeps the wires together.
Plus, the 104752 XLR has a high impedance rating that gives better sound quality and noise canceling. The gold-plated contacts also help produce rich sound and reduce corrosion of the inner parts. These cables are suitable for microphone connections in broadcast systems and band instruments.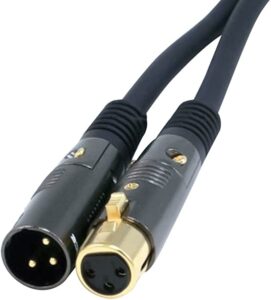 Pros
Gold plated contacts
Low impedance protects interference
Affordable
Cons
If technology is the only factor to regard in this list, GLS Audio would thrive on top. Its design and engineering are packed with innovations and modern technology to ensure the sound quality exceeds your expectations.
It comprises a heavy-duty rubber outer jacket that covers the high-grade connectors and the patented Lo-Z shield. The GLS cable has a standard 3-pin connector with hand-wired and soldered ends to ensure A1 performance.

Pros
Sturdy rubber casing
Industry-standard Lo-Z shielded cable
Tri-grip and rubber strain relief technology
Rubber gourmet on the female end
Cons
Not solid enough for long hours of performance
Blucoil offers decent cables for the price as they stand up to regular use. The Bluecoil Audio XLR cable offers excellent sound as it uses 24 AWG oxygen-free copper conductors to transmit sound from the microphone. The thick gauges ensure little to no signal is lost during transmission.
It also features a 3-pin connector compatible with most microphone brands, such as AKG, Nady, Audio-Technica, and more. The balanced XLR cable connectors are made with Neutrik-equivalent zinc alloys to guarantee durability.

Pros
24 AWG copper conductor
Long-lasting materials
Decent 92% shielding
Cons
The LyxPro XLR is a decent cable for recording, and we recommend it for its high performance in live settings. The double conductive PVC shield has 98% noise protection thanks to the cotton yarn wrap system. It barely has any static noise and shows a high-frequency response.
The braided shield also makes it an ideal cable for lighting applications at concerts and live stage performances. With three gold-plated contact points, the cable is free from oxidation and provides a stable connection with the self-locking connectors. Plus, these cables are long enough to transmit sound up to 30 feet.

Pros
Corrosion-resistant gold plating
98% braided shield
Top-quality materials
5-year warranty
Cons
Not solid for a professional setting
When looking for a professional set of microphone cables, we always recommend Mikiz. It comes in a staggering 50-foot length for an extremely reasonable price. The cables are made of 22 AWG copper conductors padded with a PE shield for sturdy insulation.
Quality oxygen-free connectors optimize the audio signal and protect the wire from corrosion due to external factors. The MIKIZ premium XLR cable flaunts a dual shield of copper and foil, which balances out Hi-Fi transmission and lowers static.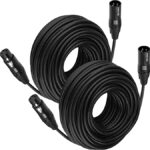 Pros
Hi-Fi sound quality
Extremely long cable
Flexible design
Cons
The cable's length may snarl-up
Mogami is a well-known brand in Japan, and the name has sentimental value to the country's heritage. They are also known to produce top-quality XLR cables, and the Gold Studio is one of three tiers.
These cables are 10 feet in length, great for live performances, and are exceedingly perfect for studio work. The rugged design allows it to take some bit of punishment with no wear or tear. Mogami Gold stage cable uses 4-pins instead of the standard 3 pins. This means you'll get better sound quality and as much as 95% noise reduction during recording.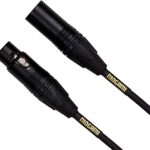 Pros
4-pin connection
Rugged design
Lifetime warranty
Cons
Price is a little bit high
Most folks who talk about premium XLR cables mention EBXYA at some point. And it's no surprise. The anti-slip cord is suitable for use on the go, and its 50-foot length is best for concerts or a big gig.
The cable is compatible with several devices including microphones, equalizer, voice effects box, speaker system, preamplifier, and more.
The EBXYA is well-shielded in an oxygen-free copper conductor and aluminum foil to ensure it is fit for live performances or in the studio.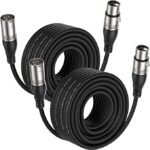 Pros
Anti-slip cord
Easy to clean
Long 50-foot cord
Dual shielding
Cons
Final Thoughts On XLR Cables For Microphones
So, there you have it! An articulate list of top XLR cables and everything you need to know about using XLR cables for microphones.
These multipurpose cables provide sound over long distances without distorting the sound quality or allowing noise interference. Of course, our top pick, The Cable Matters 2-Pack XLR cable is an excellent choice that provides quality sound and has a durable construction.
If you like this and want to continue to expand your music knowledge, be sure to come back for more refreshing articles!