Buying any drum set is expensive. So, what do you need to know when buying an electronic drum set? You have to know what you want. So, get an electronic drum set that fulfills your practicing and production needs. Moreover, it should ideally last you for a few years at least.
To help you find a quality electronic drum set and make an informed decision, I wrote this guide. This guide will tell you what to know when buying electronic drum set. Carefully read the guide before making a purchase.
What you will learn:
hide
What to Know When Buying Electronic Drum Set
The features listed below are essential to any electronic drum set. If the model you are about to purchase lacks these features, move on and look for other products. Here are the essential features: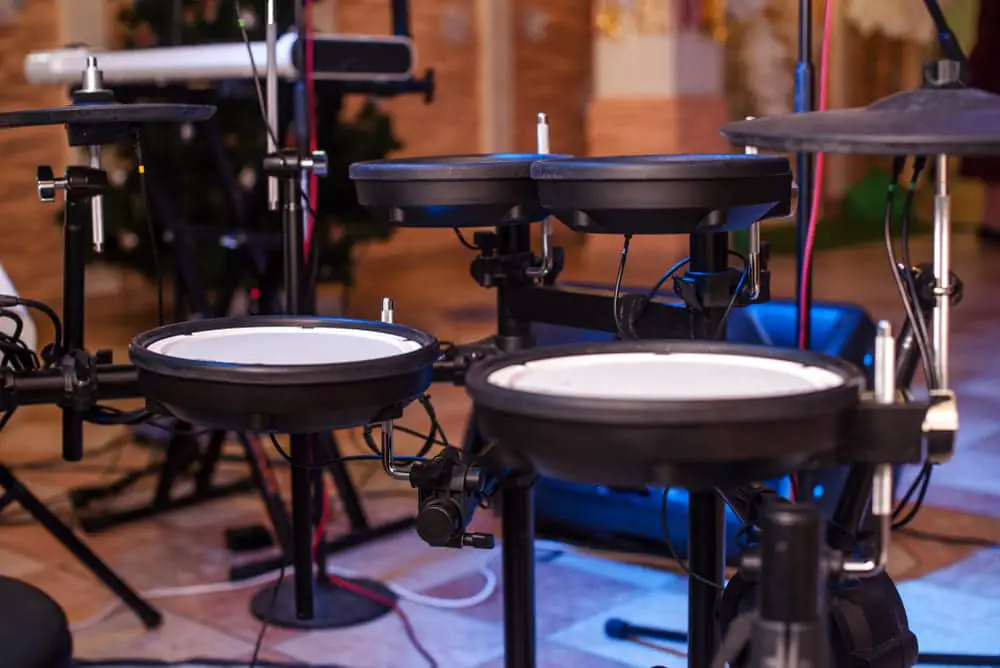 1. The Right Size
Start with measuring the area that you intend to allocate to setting up your electronic drum set. Once you know how much space you have at your disposal, look for a drum set of similar size. Ask for the footprint size before buying the set.
2. Kit Content
Most electronic kits these days come with all the essential hardware included. They include basic gear like modules, rack, pads, hi-hat, and cables. But, they may lack other gear like kick pedals, thrones, headphones, and sticks. So, before making a purchase, check for the items included.
3. The Pads
Electronic drum sets come with two types of pads- rubber pads and mesh pads. Rubber pads are relatively cheaper than mesh pads but sound rubbish. I always recommend my readers to shell out extra money and go for a mesh pad only. Mesh pads sound more authentic and realistic than their rubber counterparts.
4. Drum Modules
A module is the brain of an electronic drum kit. It produces all the sounds based on the triggers you provide it with. It is the module that allows you to practice different genres like jazz, rock, hip hop, and many more. Make sure your module comes with a wide selection of sounds.
5. Headphone Compatible
This is a super important feature to look for if you live in an urban area. Electronic drum sets can be very loud sometimes.
This will only irritate your neighbors and may slow down your practice. So, make sure your electronic drum set allows you to connect a headphone with it. This way you can do long practicing hours without bothering anybody around.
6. Sound Quality
Gauging sound quality depends on your wits solely. It is a subjective feature to look for but it makes all the difference. Before you buy your electronic drum set, listen to a few different notes played by it. Make sure the sound does not feel robotic but realistic. This will give beats a more acoustic feel.
7. Extra Input
As your skill grows, you will feel the need for upgrading your electronic drum set by adding more drums to it. You will also feel the need for attaching the drum module with your laptop to do some post-editing. This makes it crucial to ensure beforehand that the kit comes with extra trigger inputs and a MIDI input. The two types of input slots will provide you with a lot of flexibility to improve your drum set.
What's Next
Now you know more than an average joe about what to know before buying an electronic drum set. Follow the guide to make your next purchase and you will make good use of your money.
Also, the list is in no way exhaustive. These are the most important features that a quality electronic drum set should possess. Thanks!