Whether you're a beginner at playing drums, or a seasoned drummer, drum practice pads do everybody good. They are easy to carry around, aren't as loud, and help you improve your drumming immensely. Even finger drum pads have become quite popular these days. This article will talk about drum pads in detail and answer the questions:
What are drum practice pads?
How do they work?
What are the best drum practice pads?

Our Top 5 Drum Practice Pads?
Movement Drum Co. 4-in1 Pad (Our Top Pick)
Offworld Percussion Practice (Best High-End)
RealFeel by Evans Practice Pad (Best Budget)
Vater Chop Builder Practice Pad
Ahead Wicked Chops Practice Pad
What Are Drum Practice Pads?
Drum practice pads are very similar to drums, except they have no shells. This makes them easier to carry, and you can play them anywhere. The pads have a playing surface very similar to a drum head and can be played by themselves or as a set.
Since drum pads have no snares, tension rods, or shells to amplify the sound, they aren't loud. This makes them ideal for practicing. You can also do all drumming moves, moves including drum rolls, on them.
What Are The Different Types of Drum Practice Pads?
Drum pads can be made to suit a lot of purposes; there are pads made to mimic the sound and experience of a drum, for example. Drum pads are all made the same way, except for the playing head on top. This is made of a bunch of different materials, and each player has their preference.
Mesh
Drum practice pads can have a playing surface made of fine mesh. The mesh is stretched over the frame and once taut, is hit using drumsticks.
Mesh is popular because it is lighter, cheaper to replace, and isn't as loud as the other materials. It can also be easily loosened or tightened for a player to get a varied experience.
Rubber
Rubber drum pads are common for drummers and are readily available. The rubber head, however, both produces a louder sound and requires more effort to play. This trains the drummer's muscles for a real drum set. Many electric drum pads are made of high-quality rubber too.
Read Also: 11 Best Electronic Drum Sets in 2021
How Do Drum Practice Pads Work?
A drum pad works by replicating the feel and sound of a real drum. It is a pad of material, mesh, or rubber, that is held over a frame for stability. This pad can then be placed on the drummer's knees, a flat surface, or a drum stand.
You can either use a single drum pad or take a couple of them and arrange them like a drum kit. Some drummers even place drum practice pads on top of their drums to mute them.
Using a drum pad helps a drummer build speed, get acquainted with the sound of the drums, build stamina, and even understand core drumming principles. A drum pad also allows you to track your progress better because you can hear the metronome clearer than when you use real drums.
Here's a video on using drum practice pads that'll help you further:
https://www.youtube.com/watch?v=6ChOzgjgSts

What Do You Look For In Drum Practice Pads?
A drum practice pad is an important tool in a drummer's arsenal. It will help you hone your skills, and since you're going to play it often, you want to put serious thought into which one to buy. Here's what you need to consider before you buy a pad, so you make sure that you get one you'll like.
Playing Surface
Drum practice pads can be both single and double-sided. Double-sided pads have a tougher and denser side and a softer side with less rebound. The tougher side is meant to replicate a drum that is tightly tuned and helps the drummer balance the rebound of the drumstick with their finger.
The softer side is less responsive and is perfect for learning wrist control, and you can alternate between the two as you wish. For a single-sided drum though, you need to decide which surface to choose.
The playing surface is either rubber or mesh and the pad has either wood or plastic in the middle. If you want to train your muscles and want something cheap, go for rubber. However, if you're looking for a more realistic feel, go for mesh.
Size
Drum practice pads come in a variety of sizes you can choose from. If you're looking for a pad you can set up and practice anywhere, a smaller size is the obvious choice. You'll be able to set it up on stands and even keep it between your knees.
However, larger pads are closer to a real drum, and we recommend those over a smaller size if you have a place with more room to practice.
Quality
The playing surface of the pads is glued to a frame in the middle. Look for a pad that has a wooden frame, and one to which the rubber is firmly glued. Don't go for a cheap chipboard frame, because that won't feel as good and isn't durable either. Good-quality chipboard is durable but isn't easily found. A good pair of drumsticks is important for the best experience too.
Read Also: 3 Best Drumsticks for Electronic Drums
Best Drum Practice Pads Reviewed
The most versatile drum practice pad on the market, this double-sided pad weighs 4.41 pounds and measures 12 inches in diameter. The drum has four different playing surfaces—two built-in, and two inserts. You get a realistic top surface that has medium volume and a snare drum feel, and a bottom surface that has a tighter snare and more volume.
There are two inserts: a laminated surface that improves clarity and lets you hear the accents of each stroke, and a conditioning surface that reduces volume from the hits.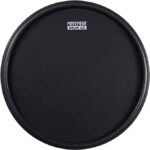 Pros
Four different hitting surfaces for versatility
Easy to clean
Lightweight
Cons
A little on the pricier side
Measuring 14 x 14 x 2 inches, the Invader V3 by Offworld Percussion is one of the best practice pads on the market. The pad weighs 5 pounds and is made to be portable and to fit inside a snare drum perfectly.
The playing surface is a dark matter polymer that replicates a drum's kevlar head flawlessly. Alongside the edges is a metal patented rim which makes the pad durable, and allows a real snare-like effect. The pad can take strong hits making it perfect for marching drummers too.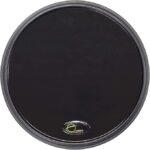 Pros
Patented rim makes it durable
Sleek design
Has great rebound
Cons
Louder than other pads
The snare isn't really clear
This is one of the best affordable drum practice pads on the market. Available in three sizes: 6 inches, 7 inches, and 12 inches, as well as single and double-sided surfaces, this pad is very versatile.
The playing surface is made of gum rubber and provides just the right amount of rebound for an acoustic pad. It is made to be resistant to wear and tear and is constructed to be silent when played.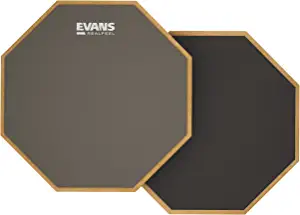 Pros
Multiple sizes
Durable gum rubber playing surface
Cons
Does not have a strong snare effect
Another double-sided practice drum pad, the Vater Chop builder measures 12 inches in diameter. Both the playing sides are responsive and provide great rebound. The softer side is easier to play, while the harder side is perfect for training your hands for intense playing sessions.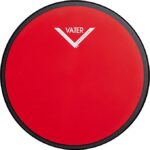 Pros
Responsive and has great rebound
Double-sided
Not too loud and portable
Cons
More expensive than other options
Measuring 5.2 x 4.9 x 3 inches, this pad is made into a cylindrical shape and can fit into your pocket. The pad needs to be mounted on a stand but is perfect for improving the accuracy of your hits because of the small playing surface.
The pad weighs 0.40 pounds and has an aluminum body and a durable gum rubber playing surface.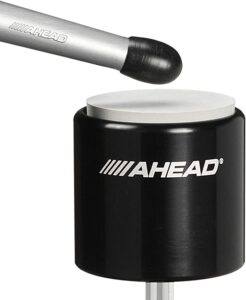 Pros
Pocket friendly
Improves accuracy of hits
Durable
Cons
Final Thoughts On Drum Practice Pads
The market for drum practice pads has always been a big one, and companies have brought a lot of innovation to their models. You'll find drums of varied designs and materials, and you need to decide what suits your needs best.
A drum pad is used often, so invest in a good quality mesh or rubber playing surface, and consider the size you need carefully. Also, remember that these aren't the same as electronic drum pads. If you have more questions about the difference between the two –
Read Also: 9 Best Electronic Drum Pads