Alesis Strike Pro SE and Roland TD-27KV are high-end electronic drum sets that have won many drummers' hearts. They have impressive reviews and ratings from drummers of various levels, thanks to their versatility and responsiveness.
The toms and snares of these kits come in standard acoustic drum sizes. As such, they feel natural and sound great. However, there are significant differences between the two kits, which will prompt you to choose one over the other.
Below is an in-depth comparison of both kits, announcing the winner after each feature discussed.   
Table could not be displayed.
Breaking it down
A detailed comparison of the two electronic drum kits will guide you in making the right buying decision. We will base our comparison on the following factors:
Sound Module
Feel and Playability
Connectivity
Sound Module
Often referred to as a drum module, the sound module is the brain of an electronic drum set. It contains the drum kits, instruments, and play-along songs. The features and complexity of a module differ from one drum kit to another.
Before purchasing any electronic drum kit, ensure that you check the contents of its module. Your drumming level or needs will guide you on the essential features you need to prioritize. Let's compare the contents of Alesis Strike Pro SE and Roland TD-27KV modules.
The Strike Pro module has a vast sound library that includes 136 custom kits and 1800 multi-sampled drum/ percussion instruments. Amazingly, the kit has an onboard sampling capability for palette expansion and a 16GB SD card storage which can store up to 45,000 sample sounds.
These sound options give you endless sonic exploration.
Another fantastic feature of the Strike Pro module is the Strike Software editor. It allows you to tweak custom sounds directly from the module.
The module also has a 4.3-inch color LCD that lets you edit the sounds with ease.
Winner:
Undoubtedly, these two drum kits have great sound modules.
However, the Alesis Strike Pro SE is the winner.
It features a vast sound library with numerous custom kits and a huge SD storage capacity.
Roland TD-27KV
The TD-27 module has the best dedicated knobs and hands-on interface in the Roland lineup. As such, saving custom presets, tweaking sounds and browsing kits is straightforward. Muffling and tuning have individual controls, while the jog wheel comes with buttons to guide you through the sub-menus.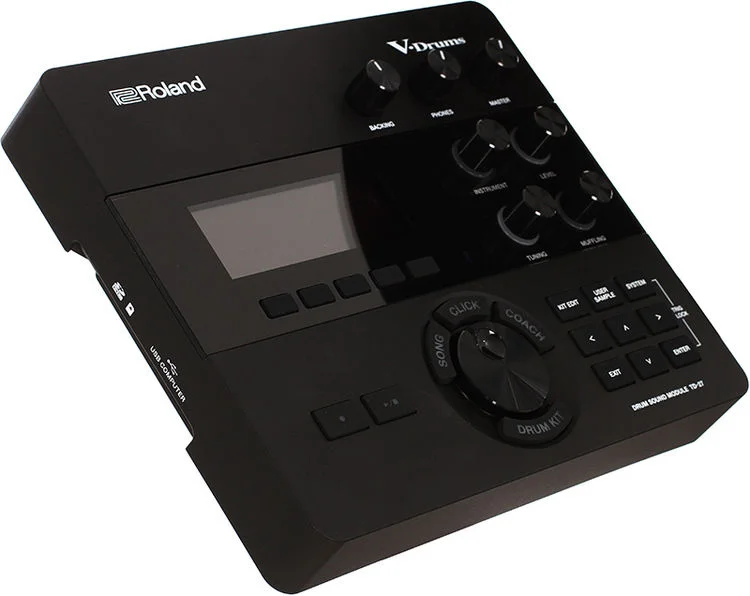 Moreover, the interface features knurled knobs and rubberized selectors for a comfortable feel in the hands.
All the onboard kits within the TD-27 module sound great without tweaks, thanks to the Prismatic Sound Modeling. It gives you control over each; cymbal size & liveliness and drum shell tone & tuning. You can also control virtual mic placement.
The TD-27KV features a unique PureAcoustic Ambience Technology. This technology creates a natural and immersive soundstage and allows you to dive deeper into sound tweaking.
The module also has room for expansion with three additional analog trigger inputs.
Winner: Tie
Feel and Playability
Drum kits feel and playability is dependent on the type of snare, toms, and cymbal pads used. High-quality pads produce premium sound and have a more realistic feel and natural response.
Alesis Strike Pro SE
Alesis Strike Pro SE is a 6-piece electric kit designed to respond and look like an acoustic set. It combines superior sound, natural response, and dramatic aesthetics, giving you a unique drumming experience.
Every feature of the Strike Pro SE inspires brilliant performance as it immerses the drummer to the moment.
If you plan to transition between an electric and acoustic kit, we highly recommend the Strike Pro SE. This kit minimizes the disparity as it features a 20-inch kick drum, which replicates the feel and response of an acoustic drum kit.
The kit comes with modern tunable mesh heads and premium wood shells, which promote quiet practicing. The mesh heads also deliver incredible responsiveness as they pick up accents and subtle ghost notes.
It also has unique black hardware, giving it a gorgeous look. The Strike Pro SE features a 3-zone ride, three crashes with choke, and a hi-hat to add more realism.
Roland TD-27KV
The TD-27KV features a 14-inch digital snare with eight sensors across the head and rim. The large diameter enhances easy transitioning between an acoustic kit and back. Tuning is also easy, thanks to the snare's 8-lug design and 3-ply mesh head.
Roland's 18″ CY-18DR ride plays like a real cymbal and brings an acoustic touch to the kit. It features multiple sensors across the playing surface and multi-touch technology.
Roland TD-27KV comes with three 10-inch mesh toms and two 12-inch & 13-inch V-cymbals. The kit also has a stand-mounted VH-10 hi-hat which comes along with a clutch and trigger base for mounting.
The VH-10 dual-trigger system can capture every detail of your performance, unlike most electronic kits. Its textured playing surface helps to reduce acoustic volume, thus keeping practice sessions quiet.
The kit's tower-style bass pad features an adaptive playing surface. It responds like a real acoustic drumhead, thus providing realistic feedback.
Winner: For feel and playability, we recommend Alesis Strike Pro SE.
Connectivity
Connectivity ports are paramount in an ideal electronic drum set. MIDI, USB, and audio connections allow you to communicate with your samplers and virtual instruments.
Alesis Strike Pro SE
The Strike Pro SE comes with eight direct outputs for studio-quality recording and editing. It supports MIDI and USB connections, making it possible for your kit to communicate with virtual instruments and samplers.
The kit comes with mixer faders that allow you complete control of your mix into speakers or headphones. It has an onboard sampler for capturing organic sounds from the module and a Strike Software Editor to import drum sounds into the module.
Amazingly, the Strike Pro SE features an SD/SDHC Card Slot with a maximum storage capability of 64GB. The kit is compatible with Mac and PC.
Roland TD-27KV
The TD-27KV supports Audio over USB connection. With this, you can export 28 drum tracks simultaneously to your PC over a single cable. It also supports MIDI over USB whereby, you can capture your performance with virtual instruments.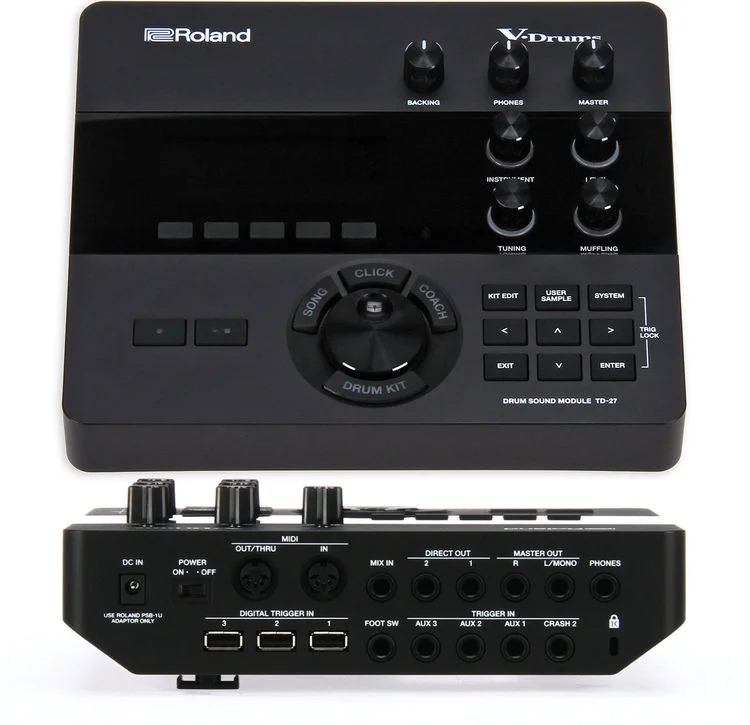 The kit comes with an SD/SDHC Card Slot to ease the importation of WAV files. It also has Stereo and 2″ analog outputs to allow you to export kick and snare tracks separately.
With onboard wireless Bluetooth, you can stream audio tracks from your phone to the kit. You can also maximize your playing potential with the built-in metronome and other practice features.
Winner: Alesis Strike Pro SE is the winner in this category.
Final Recount
IMAGE
PROS
CONS
RESULT
SHOP

Alesis Strike Pro SE

The kit looks and responds like an acoustic set
Wood shells
Tunable mesh heads
Industry-exclusive 20" kick drum

Hi-hat stand not included

Missing kick pedal

Roland TD-27KV

The kit comes with room for expansion

Bluetooth connectivity

Highly portable

Metronome and other practice features

Pricey

No snare and hi-hat stand
No kick pedal
Final Verdict to Alesis Strike Pro SE vs. Roland TD-27KV
Kindly note: These two electronic drum kits are great and the difference in the features is only minimal.
If you are looking for build quality and reliability, and you are using the superior drummer 3, we recommend the Roland TD-27KV.
However, if you are looking for a professional drum set with great sound quality and lots of options, we recommend the Alesis Strike Pro SE.