Using an overhead mic is essential for recording the clearest sounds from your kit. Elevating the mic over the kit allows you to catch the best of all your instruments, so, having the best quality drum overhead mics is important. The better your mic, the better it'll pick up ambient sounds and transients.
This article will discuss overhead mics in detail and answer questions like:
What are drum overhead mics?
What makes a good overhead mic?
What are the best drum overhead mics?
Our Top 5 Drum Overhead Mics?
Shure KSM137/SL Stereo Pair (Our Top Pick)
Røde M5 (Best Budget)
Neumann KM 184 MT (Best High End)
SE Electronics – sE7
Lewitt LCT 040
What Are Drum Overhead Mics?
Overhead mics are mics that are elevated over an acoustic drum kit using stands. Unlike keeping them on the ground on one side of the kit, keeping them overhead ensures the mics catch the total sound the drum set is producing.
These drum mics can be used in live sessions too, however, they are commonly used in studio recordings and in drum rooms.
Read Also: How To Soundproof a Drum Room
What Are The Different Types of Drum Overhead Mics?
Condenser mics are used as overhead mics for drums because they can pick up the most delicate sounds. A condenser mic has a diaphragm that vibrates because of sound pressure. Since the diaphragm is very sensitive, the mic is very sensitive to even the lightest sounds.
Three types of condenser mics can be placed over a kit in multiple arrangements.
Cardioid Mics
Cardioid mics are very sensitive to sounds, but from one direction only. They pick up only on-axis sounds: sounds only from where they are pointed. Their receptiveness is decreased on the sides of the mic, and there is a blind spot on the back.
Cardioid mics are good as overhead mics when they are pointed downwards towards the kit. Players revere these mics because they ignore the surrounding noise and provide clear output.
Omnidirectional Mics
Omnidirectional mics pick up sounds from all directions equally. The head of an omnidirectional mic is usually round so that it can record sounds from anywhere.
These mics are good if you're recording in a band with multiple instruments. However, recording sessions with drum kits might pick up a lot of room noise.
Bidirectional Mics
Bidirectional mics record sounds from both sides of the mic. The mic follows the 8-figure pattern and is equally sensitive from the front and back while blocking out sounds from the sides.
These mics are useful when you need to focus on one instrument and want to isolate it from the others.

How Do Drum Overhead Mics Work?
Overhead mics are held over the drum kit with the help of stands. These stands can be placed together in several arrangements, all of which have their benefits. There are four common arrangements for overhead mics:
"A-B" Spaced Pairs
This arrangement works best with cardioid or other unidirectional mics. In this, the mics are held over the clusters of cymbals on each side of the kit.
These microphones face each other towards the middle, with the heads tilted downwards. This allows the mics to successfully zone out noise, and get the clearest sound from the kit.
This arrangement catches the clearest sounds from the crash and ride cymbals, while hi-hat cymbals normally have their own mics, especially in a studio setting.
Read Also: 5 Best Hi Hat Mics For Recording
"X-Y" Coincident Pairs
This method works with a pair of unidirectional or bidirectional coincident mics. These are held above the kit with their capsules as close as possible without touching, with a 90-degree angle between them.
Performers and producers prefer this arrangement because it produces stereo music. Both the mics output different signals and stereo sound is produced by panning them together.
Glyn Johns' Method
Glyn John's method uses three or four mics that are arranged both over and besides the drum. There is an overhead mic that records the entire kit, a mic near the floor tom, and a mic on the bass drum. If you're using a fourth mic, it will be pointed at the snare.
This arrangement allows the individual drums to catch the best parts of your kit: the bass drum, the snare, and the floor tom. The overhead mic catches the cymbals and other drums.
Recorderman Technique
The Recorderman Technique can be done with any pair of microphones. All it says is that the pair of mics should be placed at an equal distance from the snare and bass drum. This allows the mics to catch the best of both instruments and prevents one from overpowering the other.
Here's a video that'll help you arrange your overhead mics the right way.
https://www.youtube.com/watch?v=q2ccgv4jaiE

What Do You Look For In The Best Drum Overhead Mics?
Type of Mic
There are two basic types of mics available in the market: dynamic and condenser mics. Dynamic mics are cheaper but their sound quality isn't the best. Condenser mics are heavy on the pocket, but record the clearest sound, so we recommend you go for them.
In condenser mics, unidirectional or bidirectional mics work best. They record the sound you want and ignore the noise from the surroundings.
Sensitivity
You can check the sensitivity of the mic in the specifications section of the product. The sensitivity of the mic is how well it reacts to, and records the sounds produced. A more sensitive microphone will record even the lightest of sounds.
Sound Quality
A mic is only as good as the sound it produces, so you always need to check the reviews to understand how the mic sounds. Your mic should be high fidelity so that it records all the instruments right.
Durability
An overhead mic is a pretty expensive investment, so you want to make sure you're a making purchase that'll last. Also, make sure your mic comes with all required accessories like windscreens and mic clips. They might also need XLR cables, but you'll need to purchase those.
Read Also: 5 Best XLR Cables For Microphones
Best Drum Overhead Mics Reviewed
Shure is famous for its mics, and this pair is worth the hype. These microphones are available both single and in pairs, and the pair comes with a carrying case, two windscreens, and an adapter.
Their thin, mylar diaphragm makes them sensitive to the lightest sounds, and their preamplifier boosts their response time. They also include a subsonic filter that eliminates all sounds produced by mechanical buzzing, while still maintaining mic sensitivity. Gold-plated internal and external parts make the microphones durable, and perfect for both outdoor and indoor use.

Pros
Incredibly sensitive to sound
Durable
Not that costly
Cons
Do not come with shock mounts
Can be loud and overpowering
Costing a total of $189 for a microphone, this is one of the more affordable overhead mics on the market. Measuring 16 x 5 x 12 inches and weighing 0.35 lbs, this light, and compact mic is perfect for recording drum kits.
The microphones have a sensitivity of 1 dB, and their small diaphragms make them perfect for acoustic settings too.
Pros
Metal body makes them durable
Compact in size
Affordable
Cons
Extremely sensitive to wind and other noise
Very directional so need to be positioned carefully
With an audio sensitivity of 50db, Neumann's KM 184 MT microphones are some of the most expensive overhead mics on the market, but you get what you pay for. This pair of cardioid microphones are known for producing crisp sounds and works great for studios and live performances.
The microphones are built to produce very less self-noise, so they produce clear and transparent sound output.
Pros
Clear sound
Visually unobtrusive
Very sensitive
Cons
sE7 by SE electronics is one of the best unidirectional pairs of microphones on the market. Measuring 3 x 8 x 10 inches and weighing a pound, this pair of mics is not only affordable but also has amazing sound quality.
The set comes with windscreens, adaptors, and mic clips which can be used to mount the mics on the stands. sE7 mics cut out unnecessary noise, and their compact size makes them easy to carry.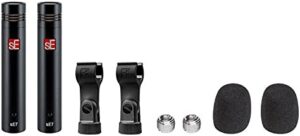 Pros
Compact in size
Affordable
Reduced self-noise
Cons
Available either as a single mic or a pair, these microphones by Lewitt are a customer favorite. The Lewitt LCT pair comes with a mic carrier bag, two mic clips, and two windscreens. The mics have a capsule that is customized to be extremely responsive.
They are made with a small diaphragm which causes them to have a neutral sound, making them perfect for all instruments, including drums. Extremely lightweight and sturdy, these mics are perfect for positioning overhead.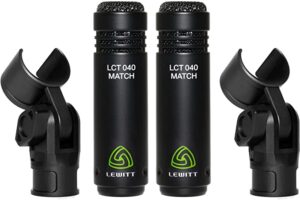 Pros
High sound quality
Lightweight and compact
Cons
Final Thoughts On Drum Overhead Mics
Companies come out with new and improved models for overhead mics every year. It can be difficult to choose the right one, so always check the durability, sound quality, sensitivity, and price of the mic. A more expensive mic may have more features, but you'll find that cheap options have amazing sound quality too. You just need to find out what suits your needs best.