Cajon drums are perfect for people looking to create quality beats, but unwilling to invest in an expensive drum set. Cajones are versatile, and anybody can learn how to play one.
Read Also: 11 Best Electronic Drum Sets in 2021
All you have to do is choose a drum that is beginner-friendly. This guide will tell you how to pick the best Cajon and answer questions like:
What are Cajon drums?
How do Cajon drums work?
What are the best Cajon drums for beginners?
Our Top 5 Cajon Drums For Beginners?
Meinl Percussion cajon Box Drum (Our Top Pick)
Meinl Stained American White Ash Headliner (Best Budget)
Schlagwerk CP404 2inOne Series Snare cajon (Best High End)
Meinl Pickup Slaptop cajon Box Drum
Meinl Bongo cajon Box Drum
What Are Cajon Drums For Beginners?
Cajon drums originated in Peru, but have since gained vast popularity all over the world. These versatile instruments aren't all that hard to play if you have a Cajon that is beginner friendly.
A Cajon is normally made of hardwood, with an additional sheet of plywood attached to the longer side. This plywood, when struck with the hand or fingers, makes that classic sound associated with a Cajon.
Tapping the lower end of the Cajon produces a bass sound, and hitting it near the top produces a sharper and higher tone. The hole in the Cajon is where the sound escapes from, and this is facing behind you.
These were the components of a classic Peruvian Cajon— the oldest version of the instrument to exist. Since then, cajones with snare strings and other features have gotten famous.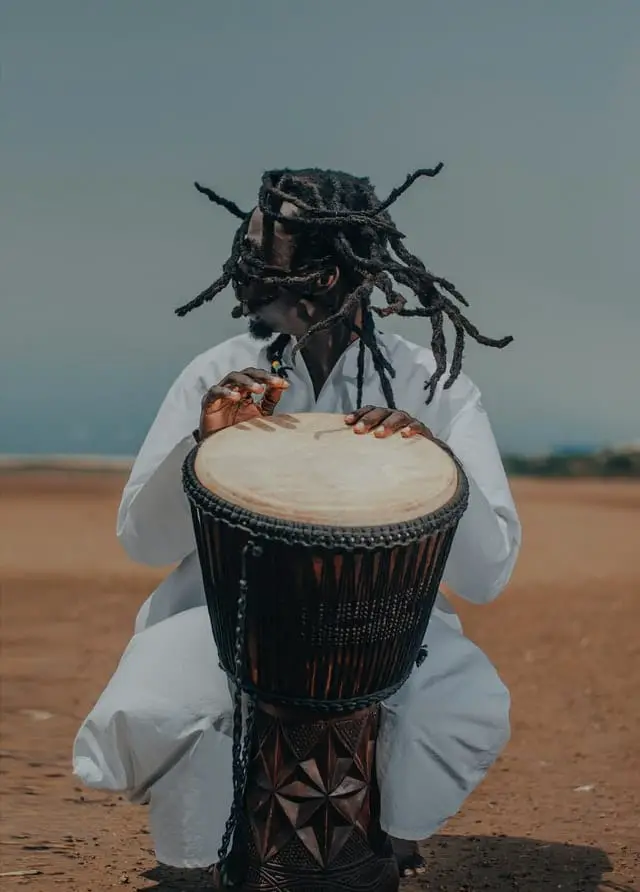 What Are The Different Types of Cajon Drums For Beginners?
There are six different types of Cajon drums you can get your hands on. These are the Peruvian cajon, Cuban cajon, Flamenco cajon, Snare cajon, Bongo cajon, and Bata cajon.
The Peruvian drums are the oldest in this list and have neither strings nor snares. Instead, they focus mainly on the sound the wood makes once struck. Cuban Cajones are made to be handheld and produce a more resonant sound.
Flamenco and snare Cajon both have snare strings but sound different. A flamenco Cajon sounds like a guitar, whereas the snare Cajon sound similar to snare drums.
Finally, there are the bata cajones and the bongo cajones. Bata cajones had two faces on either side with stretched bata that produces sounds when struck. Bongo cajones are a fusion between bongos and cajones.
How Do Cajon Drums For Beginners Work?
If you're a beginner wondering how to play a Cajon, you need not worry. It's very straightforward and even children can play it. Unlike drums, Cajones need no sticks or other accessories to be played. You simply use your hands to strike the tapa or face of the instrument.
The biggest challenge is to understand where to strike the Cajon to produce a specific type of sound. You'll be able to play the Cajon flawlessly once you come to identify all these sounds and learn to switch between them with ease.
Here's a video you might find useful.
https://www.youtube.com/watch?v=n0NVB-Yt3gE
What Do You Look For In The Best Cajon Drums For Beginners?
The most famous cajones these days are those that come with a snare effect. This is because not only is the sound cleaner and louder, but the snare allows you a lot more diversity too.
There are a lot of other factors you need to consider when buying your perfect instrument. Here's how to choose a good beginner-friendly Cajon.
The Wood
Cajones are made of wood, but the quality of the wood goes a long way in ensuring not only the best sound but also longevity. You should go for a Cajon that is made of either birch, mahogany, or oak.
Avoid cajones made of pressed food, plywood, or other materials. These won't last as long and their sound quality won't be the best.
Birch is a very common choice for cajones and produces a mix of high and low sounds. Mahogany normally produces sounds that are on the deeper side.
Oak, especially Siam Oak, produces a louder sound but the wood is brittle. Not only will it take a little time to get used to, but it will also require special care.
Read Also: 8 Best Amplifiers for Electronic Drums
Snares or No Snares?
If you're looking to play traditional songs on the Cajon, choose one with snares. However, if you're looking to mix the Cajon with modern instruments skip the snares.
The Specifications
The first thing to do is to choose whether you want a slap-top Cajon, or if you're looking for a traditional box Cajon.
A slap-top Cajon is usually placed on your lap or a table when played. Box Cajon on the other hand demand that you sit on them while playing.
If you're looking for a box Cajon, you need to check if the instrument is large enough to accommodate you on top. Also, check if your Cajon is safe with your weight.
The Tone
Music shops allow you to check the instruments before purchase, and this is a very good way to check the tone of the Cajon. If you're placing an online order, look at the reviews to give yourself a clear idea.
Pricing and Warranty
A good Cajon can cost anywhere from $70-$250. If you're a beginner it is best to aim for the lower end of the spectrum.
Read Also: Top 5 Cheap Drum Sets Under 100
We also recommend buying cajones from big companies that offer a warranty. You'll appreciate the quality and warranty in the long term.
Best Cajon Drums For Beginners Reviewed
Made with 100% Baltic Birch wood, Meinl's Percussion Box Cajon is perfect for acoustic settings. The snare Cajon has strings built into the system, that make sounds similar to those made by a snare drum.
The Cajon is made for easy travel and measures 10 1/4″ wide x 15″ tall x 10 1/4″ deep. Four silicone feet protect the Cajon from damage and buffer out unwanted vibrations.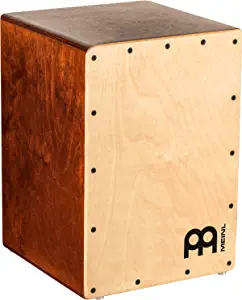 Pros
Compact and lightweight
Clear sound and snare effect
Affordable
Cons
It may not fit people with larger builds
Snare strings are unadjustable
This is a classic pick when it comes to people that want something a little more special. Made of American white ash, this Cajon from Meil comes with adjustable snare strings for premium sound quality.
Measuring 11 ¾ inches wide, 12¼ inches deep, and 18 inches tall, this Cajon is perfect for people wanting something bigger. The micro-coiled snare strings produce the clearest sounds, and the rear port is perfect for microphones.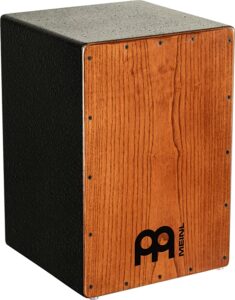 Pros
Adjustable snare strings provide the best sound quality
Ashwood responds well to touch
Very affordable
Cons
Difficult to carry
The body is made of modern composite except for the ash wood face
This Cajon by Schlagwerk is made of birch with a beachwood face that produces superior quality sounds due to the snare strings inside. The 40 snares inside the Cajon can be easily removed if you want to go without snares.
Weighing 10.5 lbs, and standing at 11.8 x 11.8 x 19.7 inches, this Cajon is perfect for beginners.
Pros
Has a deep bass sound
Removable snares make it versatile
Cons
Expensive
Subdued snare effect
Constructed in a T-shape and made to sit comfortably between your legs, the Meinl pickup slap top is very easy to play with and carry. The comfortable playing position prevents back pain in the long run.
The Cajon measures 18.5 x 9.5 x 14.25 inches, and 9 lbs. With a walnut front plate, it is incredibly sensitive to touches making it easy to play. Strings on the inside produce a snare sound at the ends, and bass in the middle.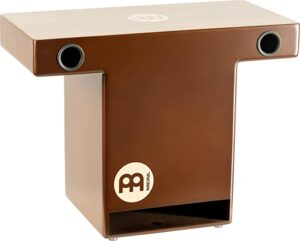 Pros
Comfortable playing position
Lightweight
Responsive playing surface
Cons
A fusion between bongo drums and cajones, this instrument is made to rest comfortably on your knees. Weighing 3.2 lbs and measuring 7.68 x 7.68 x 15.94 inches, it is perfect to carry with you.
Made of hardwood, and set with dual sets of snare strings on the inside, this auto-tuned Cajon is perfect for beginners. The underside is hollow to amplify the warm sounds produced by the wood and the crispness of the snare.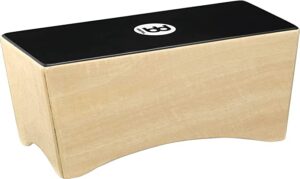 Pros
Never goes out of tune
Lightweight and comfortable
Inexpensive
Cons
Has a bit of a learning curve
Final Thoughts On Cajon Drums For Beginners
When buying a beginner-friendly Cajon drum, the first thing to consider is the price tag. You want something affordable, but also made of good quality wood so it's sturdy.
Then you need to consider where you're using the Cajon, and whether you want something adjustable or tuned in advance. Companies produce a lot of beginner-friendly cajones, but it is up to you to choose one that fits you right. You can even try and make your Cajon.