If you've got a potential young drummer in the family, a kids drum set will be a very good investment to make. A good kids drum set is almost identical to an adult one, just not as high-end and built on a smaller scale. If you're searching a market for a set, look no further. This article has everything covered and will answer questions like:
What are kids drum sets?
What should you look for in a good kids drum set?
What are the best kids drum sets on the market?
Our Top 5 Kids Drum Sets?
Roadshow Jr. 5-piece Drum Set (Our Top Pick)
Ludwig Questlove Pocket Kit Drum Set (Best High-End)
Mendini By Cecilio Kids Drum Set (Best Budget)
GP Percussion GP50MRB Complete Junior Drum Set
TAMA Club-Jam Shell Pack
What Are Kids Drum Sets?
A kids drum set is built the same way as a normal drum set, except it stands on a smaller scale. The main players and target audience are kids (of course), so the drum throne and all the drum and cymbal stands are made to accommodate players smaller than 5 feet.
Since the drums are made for kids, there is little emphasis on sound quality. The drums may or may not be tunable, and the cymbals are usually steel instead of brass.
Apart from that, the sets have all the equipment professional drummers have—a bass drum, a snare drum, tom drums, cymbals, and a drum throne.
Read Also: 11 Best Electronic Drum Sets in 2021
What Are The Different Types of Kids Drum Sets?
Kids drum sets, like any other drum sets, come with two, three, or five pieces. This is the number of drums in the set, which are followed by two or more cymbals, and all other hardware.
If your kid isn't all that interested in drumming, a two or four-piece kit may be okay for them. However, if they look serious or you want them to properly learn about playing drums, invest in a five-piece kit.
One note: If you want your kid to be a drummer, why not buy a set that makes them feel like one? As a child, for instance, my father wanted me to play the guitar, so he bought me a nicer than normal kids guitar. Now? I play guitar weekly in front of other folks. Something to keep in mind as you're making your decision.

How Do Kids Drum Sets Work?
Any good five-piece drum kit has the following drums: a snare, two high toms, a bass drum, and a floor tom. The bass drum is set on the floor, mostly in the center of the kit, and is operated by a bass pedal. Once the drummer steps on the pedal, the beater hits the center of the bass drum.
The other drums are all set in their respective stands and are made to complement the size of the drum throne. These drums and all the cymbals are hit using a drumstick, except for the hi-hat cymbals, which are also operated using a foot pedal.
Ideally, a kids drum set is built for children from the age of 4 to 10. However, you could stretch the age limit a little if your kid is a bit on the smaller side.
Technically, even an adult can use a kids drum set to learn how to drum, but you'll need to either get an adjustable drum throne or switch it out for a bigger one. Also, the sound quality will likely disappoint.
What Do You Look For In Kids Drum Sets?
It might not be a professional drum set, but you still need to put careful consideration when purchasing your kid's kit. Not only should it sound as good as it can, but it should be durable too. Here's all you need to check before you make the purchase for your kid's drums.
The Material
Most kids drum sets are made of plastic or metal, however, if you put some effort into searching the market, you'll find some that have wooden drums. These are the sets you want to invest in. Wooden drums are more resonant and produce warmer beats.
Professional drum makers all over the world use woods like maple, oak, birch, and hickory for the shells of their drums. However, for a kid's set, drums made of poplar wood will do just fine.
Cymbals are usually made of brass: an alloy of copper and zinc, but steel cymbals are common for kid's sets.
Read Also: 3 Best Drumsticks for Electronic Drums
The Drums
Drums need to be tuned—even though they have no definite pitch—to be able to produce clear sounds. A kid's drum set might or might not have its drums pre-tuned. We recommend getting a kit only after checking the reviews to see if the drums are easy to tune. This will be helpful in the long run and produce clearer beats.
Here's a video that'll help you in tuning your drums:
https://www.youtube.com/watch?v=Rp-yIg8NAQE
Height
Not all kids' drum sets are made for the same height. Check the height of all the stands and drums to check if they suit your child. Some kits are made for kids under 10, while others accommodate teenagers too.
Leading brands even produce special kids drum sets that have different sizes available for all their models. You might even find sets adults can use.
Hardware
Drums aren't the only thing in a good set. You want quality pedals, stands, drumsticks, and a good drum throne for your kit to be great. All of these can be slowly replaced, but they'll just cost you extra. You also need a drum key for tuning your drums.
Best Kids Drum Sets Reviewed
We judged five drum sets from different brands for all the factors above. We also considered the cost of the set, to whittle down our list of the 5 best kids drum sets on the market.
Costing a total of $389, this drum set is our first pick for the best kids drum set on the market. The set has five basic drums made of white poplar wood shells. These include a 16" bass drum, a 13" floor tom, two 10" and 8" toms, and a 12" snare drum.
It also includes a 13" crash cymbal and 10" hi-hat cymbals made of stainless steel. The drum set is made for kids aged 10 and under and has adjustable stands for cymbals and snare drums.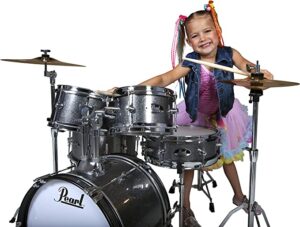 Pros
Durable body
Premium sound quality
Adjustable stands
Cons
Comparatively expensive
Only for kids under 10
Ludwig is famous for its drum sets, and the Questlove set does not disappoint either. The kit measures 20.2 x 21.2 x 21.2 inches and weighs 61.8 pounds. It has four drums: a 16″ bass drum, a 10″ tom, a 12″ snare, and a 13″ floor tom.
It also comes with crash and ride cymbals and all other hardware, including stands, pedals, drumsticks, and a drum key. All of the stands have memory locks so the kit will be easy to assemble even without assistance.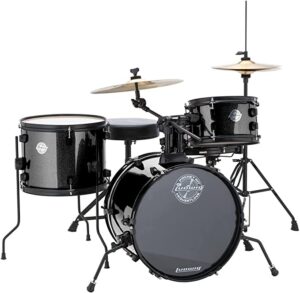 Pros
Durable and lightweight
Portable
Can be used by adults too
Cons
Expensive
The drumheads could be better
A five-piece drum set is not only cheaper but also lighter than the other sets. Measuring 19 x 24 x 20 inches and weighing 42 pounds, this set costs $250 and has five classic drums. All of the drums are made with 4 lugs that are easy to tune.
The set comes with an adjustable throne, a pair of wooden drumsticks, and all the required equipment. You'll find the kit in four different sizes, catering to kids from the age of 3 to even adults.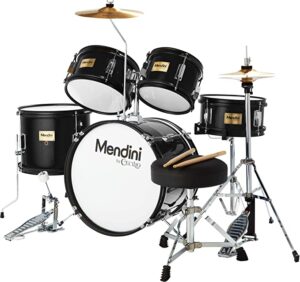 Pros
Available in four sizes
Cheaper than other models
Lightweight and portable
Cons
The sound quality isn't as great
Measuring 36 x 36 x 36 inches and weighing 34 pounds, this set has only three drums in it. You get a bass drum, a tom drum, and a snare drum. The set also has a 10" cymbal & hi-hat with stands, the bass drum pedal, the throne, and the drum key.
This kit is perfect for kids between the ages of 10 to 15 and is not only easy to assemble, but also to tune.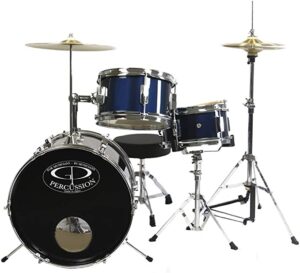 Pros
Lighter than all other models
Easy to set up
Cons
Lacks a floor tom and one tom drum
Not as durable
Tama's kids drum set has four drums made of a Mersawa/poplar hybrid, and comes in aqua blue. The set has a bass drum, a tom, a floor tom, and a snare drum.
The complete set measures 22 x 15 x 28 inches and weighs 44.4 pounds. However, the set does not come with cymbals and cymbal stands. It also doesn't include drumsticks, and you'll have to purchase all hardware, including the bass drum pedal, separately.
Read Also: 5 Best Bass Drum Pedals in 2021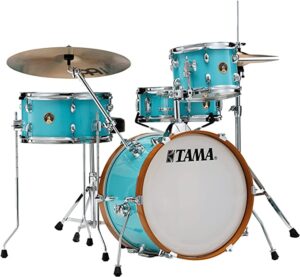 Pros
The drums sound incredible
Compact size
Drums are easy to tune
Cons
Very expensive
Doesn't include cymbals or drumsticks
Final Thoughts On Best Kids Drum Sets
Drums can be a tricky purchase to make, so always look through the reviews from customers to get a good set. We also recommend a drum set that is adjustable, because that'll last long and grow right alongside your child. Finally, while you should certainly consider the price, don't compromise on quality.