Introducing your kid to drumming is really a challenging thing yet fun. Like we know, the earlier the better can be implemented when it comes to learning a drumming kit. However, choosing the right one for your kid is a real headache.
Whether electronic or acoustic drums for your kid is a question that needs proper attention. In this write-up, I will try to suggest the kind of drum you can get for your kid as per their age range. As the younger kids will play with it rather than in a mood to learn whereas little older kids will be in a state of understanding the notes and accessories.
Therefore, without stretching it any further, let's start from the basics so that we can independently make the right decision as per our situation and requirements.
Electronic Drum Sets
The electronic drum sets are small, compact, and feature a lot of advantages when compared to acoustic drums. Electronic drums are more preferred as they produce quite lower sound levels because of the design of the pads.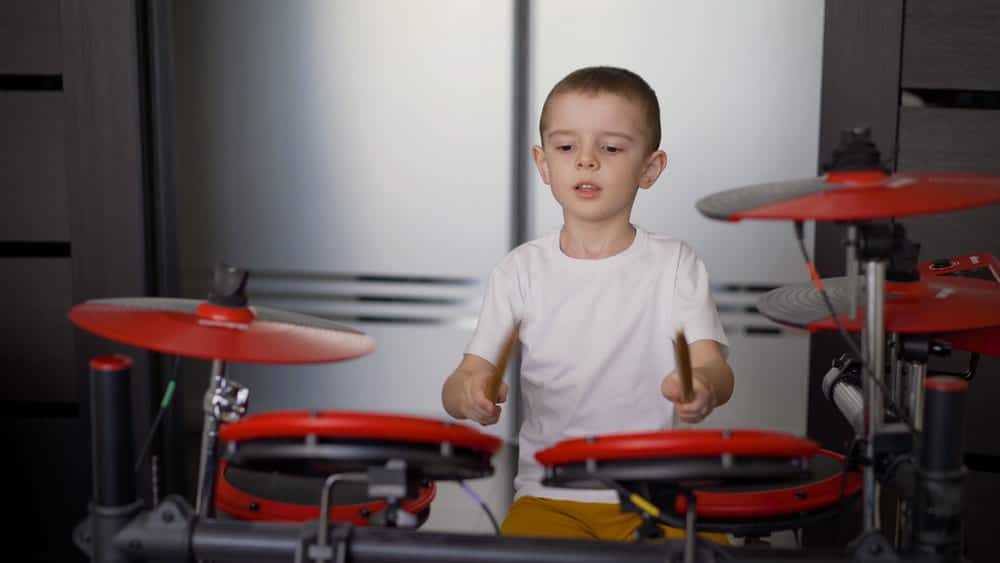 Also, if your kid is a beginner then you can use electronic drums as a practice tool while keeping down the noise levels.
Advantages of Electronic Drum Sets
Limits Noise 
If you are living in a compact space and you don't want to disturb your neighbors then electronic drums limit the noise, however, you can play as loud or silent you want your sound to be.
To totally remove the scope of disturbance, you can use headphones and even practice your notes late in the night. Thus, you can teach some good manners to your kids while taking the benefits of headphones.
Rubber and Mead Pad Heads
The drum pads are made out of rubber or mesh. Rubber pads are like conventional practice pads and feature rebounding attributes. They are cost-effective, consistent, compact, and available in many improved designs.
Whereas mesh pad heads are firmly woven surfaces that make it an acoustic drum head and it is highly responsive. As a drummer, you can use a drum key to align to the needed tension. Mesh's heads are costlier than rubber heads. However, mesh heads are realistic, more sensitive, and easy to tune.
Fit in Small Spaces
Normally, kids' rooms are unorganized and compact. A drum set that can easily fit in such a room and still leaving a lot of space for your child to play will certainly be a grace. Thus, electronic kit sets are manufactured to keep where space constraints are a major issue.
Furthermore, the impressive feature here is that electronic drum sets electronically to produce the sounds so they don't have to be large like acoustic drum sets. Compactness is another reason which again leads to portability than the acoustic set. 
Acoustic Drum Sets
Acoustic drum sets are designed in the combination of cymbals and drums such that they can be played as a single instrument. A regular drum kit comprises snare drum, bass drum, hi-hat cymbals, set of tom-toms, crash cymbal, ride cymbal, etc. In this, the sound is generated by striking the cymbals and drums with the help of a mallet or drum sticks.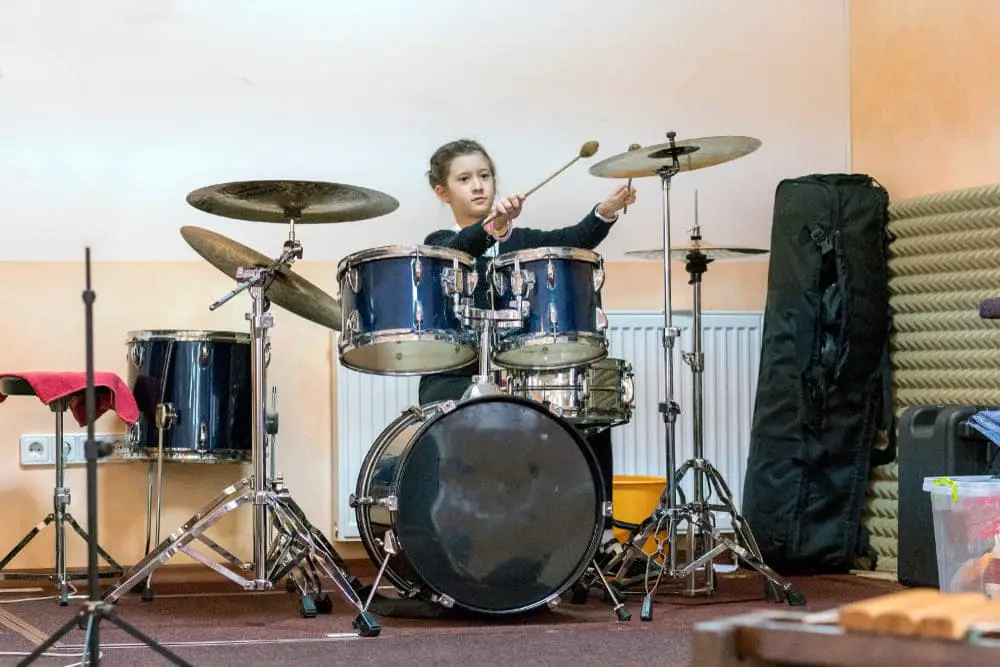 Advantages of Acoustic Drum Sets
As I have given a detailed explanation of the advantages of electronic drum sets, I will give the major benefit pointers for the acoustic drum sets.
These are perfect for big rooms and even for your dedicated musical spaces.
Ideal for most of the acoustic styles of music such as blues, jazz, funk, rock, pop, etc. also, if you want high energy and loud music, acoustic sets are apt for you.
These drum sets are highly responsive however, these require more skill than their electronic counterparts. 
[Related Article: 11 Best Drum Set for Kids / Junior / Toddler]
Acoustic vs Electronic Drum Sets
Noise: The acoustic drum kits have a noise like a show-stopper that is loud, energetic, and vibrant whereas electronic sets incorporate volume adjustments and are silent drums to own for their kids.
Portability: As kids are restless and impulsive souls, e-drums are manageable, portable, and come with a flatpack arrangement. Whereas, the acoustic drum kit needs different cases for each drum, two separate for cymbals. So, portability is definitely an issue in the case of acoustic sets.
Space: the e-drum set is one such option that lets you take them even in compact spaces. They can be stacked in a rack, even the small pads are easy to fit in regular spaces. In the case of acoustic drum kits, even if it is the smaller one, it will be bulky and comprises various components, each demanding a separate space to live.
Affordability: while there are acoustic drum sets that are pricey and affordability is out of the question for many people. At the same price, you will get a high-end electronic drum kit for your child. Definitely, if you have a budget and your child has the skill and passion to outgrow, you should invest in an acoustic drum kit.
Factors You Should Consider Before Deciding the Type of  Drum Set For Your Child
You must check that the drum size must compliment the age and size of your kid. It implies that you get the perfect-sized cymbals, drums, sticks, and throne. If you have plans then you can see whether you will teach them drumming at home or you have planned some music training for them.
Thus, these are small but crucial pointers you should keep in your mind, before making a final decision. I have given some of the suggestions as per the age of children, you can see what is suitable for you.
Children of around 6years of Age
You can easily find the drum sets for all sizes and ages of kids. If you want to start early and your kid is up to 6 years, plus if he or she is in a state of playing and exploring things then pick a drum set that matches his interests.
These are like starter drum sets and apt to get started but they are not so stable and sturdy. However, I don't think anyone should make big investments for such a small kid. Also, the drum sets are generally plastic and you don't have to see whether they are electronic or acoustic. Plus, get a drum kit once your child crosses 4 years of age.
Children Between 7 to 12 Years
Now, the kids who are older than the above age slab and they are loving their toy drum set, can be promoted to the next level. There are acoustic drum sets comprising 16 inches of bass drums and 6, 8, or 10 inches of toms. Such smaller-sized yet complete drum sets will make it convenient for your child to hit each drum.
Children Beyond 12 years
Now, if you are in this stage, then you can invest in a full-sized drum kit. Though I haven't seen many kids of 12 years or older playing full-sized drum sets, however, exceptions are always there and they should be promoted.
Moreover, there are provisions in even complete drum kits, where you can adjust the height and structural parameters to match the size and reachability of your kid. Like you can lower the drum throne, even snare drums featuring stands can be lowered. Additionally, you can reposition the cymbals and toms as per the required height.
How Kids Drum Kits are Different from Adult Drum Sets?
If by any chance you are under this impression that there is hardly any difference between a kid drum set and an adult drum set, then you need to get complete knowledge regarding this topic.
Do not think that if you are spending on a good kids drum set you will get the finest sound or quality, however, you will definitely get a starter kit for your child to hone his drumming skills. It will also give you a clear picture of the seriousness of your kid regarding drumming as a professional or a hobby.
Be prepared for the frequent replacement or repair of drum heads. Since the drum sets for kids are made of low quality and thin heads, the drum sets are not as durable as the adult drum sets. So, the handling matters a lot to the longevity of the kit you are investing in.
Not only this, due to rough and repeated usage, foot pedals, cymbals, and even sticks are the common elements that often get damaged.
Before You Go…
Finally, I would suggest you don't be emotional to fulfill the desires of your child. The best way is that you should analyze the potential of your child. See if it is feasible for your child to play the drum set. 
Introspect if they can make it as a hobby, it is just like making holes in your pocket if they haven't shown any interest or passion towards drumming. I have explained all the major pointers you need to verify before investing in a drum set.