An acoustic drum kit is a phenomenal instrument but it can be loud for a home studio setup. The idea of electricity generating percussive noises brought a new age of electric drum pads and they're the preferred alternative for modern drummers.
If you're here to learn about the best drum pads for your home studio, stay on.
In this TheNationalParksMusic.com guide, you'll learn:
How do drum pads work?
What are the different types of drum pads?
What do you look for in the best drum pads?
Our Top 5 Drum Pads For Your Home Studio?
There are tons of drum pads online, and we've decided to relieve you of the burden of endless Google searches. Our comprehensive list carefully selects drum pads in terms of functionality, price point, and value.
Multiple sound effects
9 pads
Great value
70 percussion sounds
50 play-along songs
4 velocity-sensitive pads
32GB storage
Soft pads
Lighting
Easy to use
Phrase-looping functionality
Four dual-trigger inputs
50 in-built sounds
Modifiable sounds
Can be used as a MIDI controller
What Are Drum Pads?
Drum pads are an ingenious innovation in the drumming realm. Simply put, a drum pad is a virtual drum with pads containing pre-recorded audio samples of hi-hats, percussion, and other synthesized drum sounds.
When you hit the rubber pads, it replicates the sound of drums allowing you to use it just like you would in a typical acoustic drum kit. Electronic drum pads have cut across all levels of professionalism, from beginners to pro drummers. Plus, they are compact and perfect for use in home studio setups.
What Are The Different Types of Drum Pads?
Drum pads have plenty of functions, and manufacturers release different models each year. We can generally group these drum pads into three main categories; percussion pads, sample pads, and drum synthesizers.
Percussion Pads
A percussion pad is loaded with multiple percussive textures you'd find in a full drum kit. The pads are well colored to enhance recognition, though you can't import samples. If you like exploring different genres, percussion pads offer sounds from all kinds of world music.
Creativity has brought more than drummers utilizing this equipment. Live DJs are now interested in percussion pads to spice up their mix in a live audience. Perhaps it is because you can layer in multiple effects and loop the sounds while you play something else.
Sample Pads
The initial purpose of a sample pad is to access pre-recorded samples and trigger each in different assigned pads. However, they are also used as drum kits and are excellent enhancements in a modern drummer's home studio setup.
Sample pads have allowed drummers to extend their level of expression through a myriad of synth lines, groves, and backing tracks. So, for instance, if you find an interesting bird chirp during your vacation, you can live record this sound and program it to the sample pad without moving the kit.
Essentially, sample pads have multiple functions and are great at incorporating electronic elements into music.
Multipads
Multipads are simply a way of describing drum pads with multiple functions. Each multipad has different functions and qualities quite different from a sample pad and percussion pad.
The Alesis Strike 9-pad multipad is an excellent example that boasts up to 32GB of storage files and supports finger and hand drumming.
How Do Drum Pads Work?
Electronic drum pads have two main components; the brain and the transducer. As the name suggests, the brain is the core function area of the drum pad. It is responsible for adding presets, adjusting sounds, and runs of the core features of the kit.
The transducers are typically the triggers or trigger pads. They produce the beats you play when you hit the pad by sending signals to the brain. Once it reaches the brain, it interprets what kind of sounds to produce, including the corresponding notes.
Most drum pads have about five triggers like the traditional acoustic drum kits. However, advanced models may give more trigger pads to offer flexibility and creativity. Drum pads have a 1.4-inch input to plug an mp3 device or smartphone if you want to play along.
It may also have a headphone input so that you can enjoy the perks of drumming without a knock from the neighbors.
What Do You Look For In The Best Drum Pads?
Modern electronic drum pads started flooding the market in the late 90s. You can imagine how many are available today. If you're planning to buy a kit, quality should be the core consideration.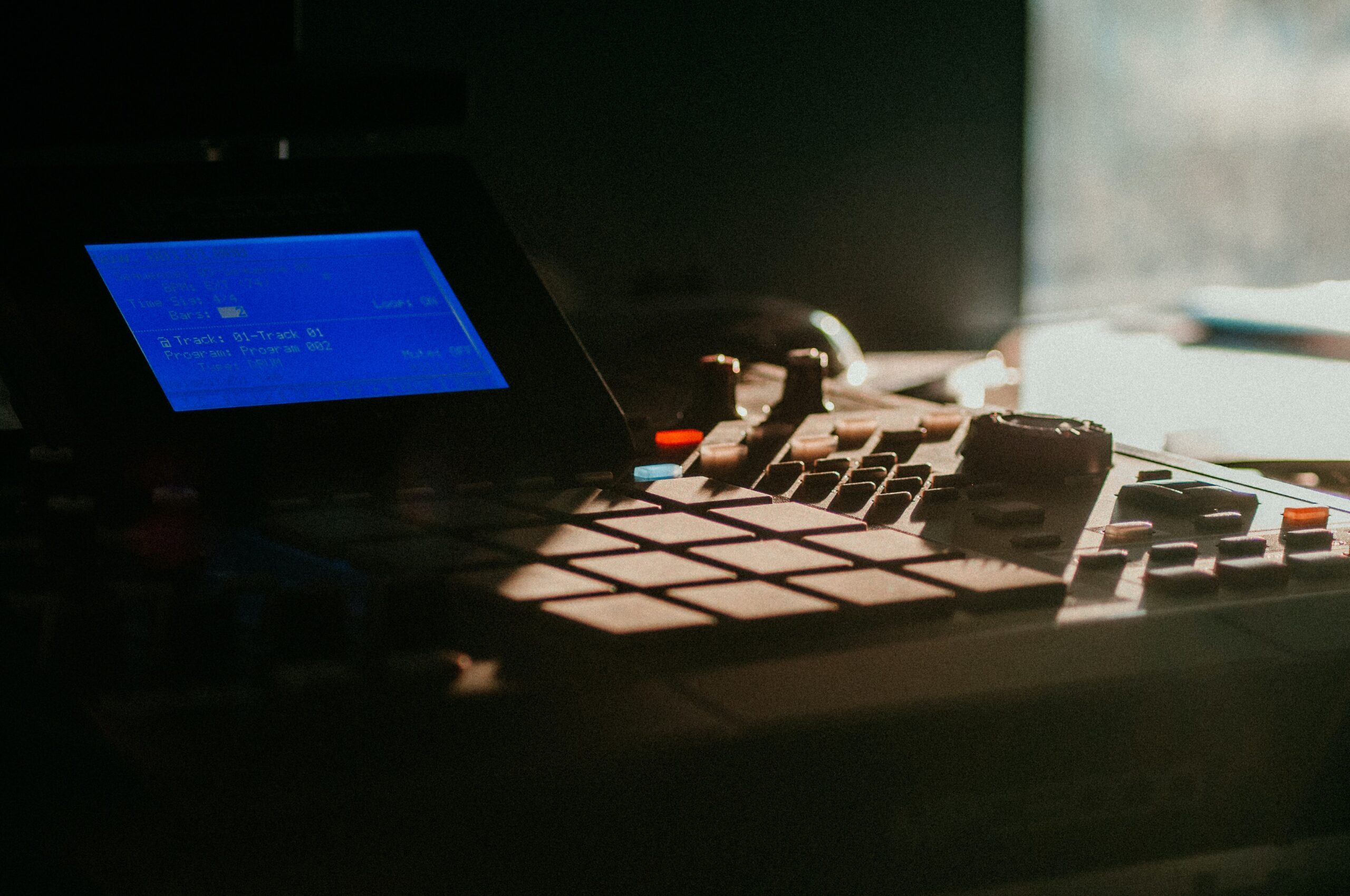 Drum pads are made of high-quality materials and deliver state-of-the-art performance. But, you need to know other considerations to help you make a smart buying decision. Luckily, we have everything set up and developed buying criteria so you can choose your most preferred drum pad for your home studio.
Capability
You need to figure out if the overall capability of your instrument is worth the price. That's because manufacturers make drum pads for different purposes.
It may not be wise for beginners to buy drum pads geared towards pro drummers. Most features will be new, and you'll probably not use them for a while. Plus, you may be too distracted by them that you fail to learn the basics.
Alternatively, pros may find it uncomfortable to buy kits for beginners as they don't have enough features in them.
So, always choose drum pads that can handle your creative capabilities. Some drum pads are well suited for home studios, while others are made for music creation on the fly. Study your music creation habits, and you'll know what drum pad to buy.
Number of Pads
Perhaps the most crucial factor in finding the best drum pad is the number of pads. Of course, it depends on the type of music you're making and the controls available. If you create sound effects with a fader, look for drum pads with this feature.
You can start with a drum pad 4 to 6 if you're starting. It is flexible and easier to learn. Just ensure the drum pads have at least four knobs to control the kit's output.
Models with 12 to 16 pads are recommended for advanced users. But if you feel you're up for the task, why not?
Velocity Sensitivity
Another cool feature to look for is the velocity sensitivity of the drum. It allows you to control the sound of the drum pad with the intensity of your strike. Simply put, velocity sensitivity helps create a more realistic feel when you play.
Advanced drum pads have pressure-sensitive pads that take drumming to a whole new level. The pads replicate acoustic drums to an accurate level which helps create electrifying music with so much detail.
It's good to watch out for these features whenever you're buying drum pads if the budget allows.
Layout
The layout is important as you need to visualize the space in which your setup will be. Most musicians prefer minimalist setups with no internal processor and at least 8 pads and 8 knobs. Drum pads are made to remove the bulky nature of drum sets as they are compact and lightweight.
You need to ensure the knobs, system, and all controllers are accessible from where you sit. Any constraint to access means you may experience pain after long hours, hindering creativity.
Drum pads are generally compatible with any software, and you can choose standalone types or the ones needing a computer connection. Standalone drum pads can produce sound without connections and are more popular than computer-dependent controllers.
Inputs and Outputs
Before buying an electronic drum pad, you ought to know how to power it. Most models run on USB connections and use the USB bus as a power source. It is considered the best setup because you can use it on the go, in a studio, or at home. All you need is a computer to connect to, and you're good to go!
Nevertheless, there are drum pads with an external power supply and others with rechargeable batteries. We'd lean towards the USB models because they are versatile, and we know standard controllers transmit sound (MIDI) via USB.
You may come across controllers with sophisticated input/output connections that can connect headphones, mics, or other options.
Best Drum Pads for Your Home Studio Reviewed
Our top pick is the Avatar by HWX PD705 Percussion Pad. It has decent pre-loaded samples, well-builts, and triggers accurately. The percussion pad comes with 9 velocity-sensitive pads that allow you to experience drumming at a surreal level.
The HXW PD705 has multiple input/output connections with 2 USBs, MIDI DIN connections, stereo audio inputs, and headphone out. That's enough to facilitate a home studio without purchasing extra devices.
With a straightforward menu, the percussion pad is easy to control with multiple options for tuning, pitch, velocity curves, threshold, etc. We'd recommend this pad for anyone stepping into drumming or enthusiasts.

Pros
Accessible menu controls
9 velocity-sensitive pads
Multiple input/output connections
Cons
Importing samples is a bit tiresome
Drum kicks are not pre-configured into pads
One of the easiest electronic drum pads to use is the Alesis Compactkit 4. It has a solid construction, and the price tag is attractive for beginners. Despite a lower price, it still has quality features with 70+ percussion sounds and 10 effects.
The LCD is right in the center of the set where you can see everything you're playing. It is battery-powered and portable; you can use it in home studios or on the go. The Alesis Compactkit 4 is an excellent choice for beginners as you can start drumming right after unboxing.

Pros
70 percussion sounds and 10 effects
Easy to use
Low price
Cons
Lacks foot pedal
Limited to 4 drum pads
This model from Alesis is truly an advanced and futuristic version they've ever made. It boasts soft pads, slightly larger than the previous SPD-SX. The multicolored display is cool and enjoyable while drumming.
The Multipad 9 Percussion Pad is perfect for pro drummers as it comes equipped with a mini electronic v-drum set composed of hi-hats and external triggers. Plus, there is an option to layer zones and effects.
Strike Multipad has two headphone inputs, so it eliminates the use of adapters or extra connections. Its professional build makes it suitable for a home studio setup.

Pros
Soft pads
Cool lighting
Wide display
Cons
Buttons are hard to press
Metronome not accurate
If you want a drum pad with multiple percussion sounds and plenty of customization, the Roland SPD-30 Octapad is your preferred gear. It is an updated version of the SPD One with 8 built-in pads and 4 external pads.
The Roland drum pad has an incredible triggering technology that successfully mimics the sounds of high-quality drum sets. It is compatible with other drum sets and allows you to build a hybrid kit for your home studio.
The build quality of this kit is impressive and will serve you for a long time. You can sync the SPD-30 with a metronome for easier harmony, particularly when using other instruments.

Pros
50 drum kits
Four dual-trigger inputs
New percussion instruments
Cons
You can't add samples
Foot pedals are sold separately
Expensive
The KTMP1 is a compact drum pad perfect for home settings or in places where you can't find enough space. It has 4 rubber pads and sounds that can be modified according to volume, pitch, pan, and reverb.
The drum pad can be played with both hands or sticks and doubles up as a MIDI controller. This means you can use VST to get multiple drums and percussion sounds from DAWs. At slightly over $100, this set is presumably the cheapest model of electronic drum kit you can find on the market.

Pros
50 in-built sounds
Modifiable sounds
Can be used as a MIDI controller
Cons
No internal/external memory
Feels unidimensional
Final Thoughts On Drum Pads for Your Drum Studio
Electronic drum pads are great additions to your home studio setup. They are competent MIDI controllers and open up a new world of endless possibilities. The various types of drum pads allow you to use an array of percussion sounds, increasing your likelihood of adding dynamism to your music.
Our top choice for this list had to be the Avatar by HWX PD705 Percussion Pad. It has a manageable price point with plenty of features anyone with a drum studio would fancy.
Hopefully, this guide will help you narrow down the top drum pad for your drum studio.