Choosing the right drum head goes a long way in ensuring your drum produces sounds of superior quality. An exceptional drum head will not only last longer but will also eliminate unwanted overtones.
Since a good drum head is crucial for an excellent drum, choosing the right one can be challenging. However, with proper guidance, you too can select the one that'll best boost your drum's potential. This article will discuss drum heads in detail, and answer questions like
What are drum heads?
What to look for in the best drum heads?
What are the top drum heads on the market?
Our Top 5 Drum Heads
Remo Powerstroke P3 (Our Top Pick)
Evans G2 Tompack (Best Budget)
Remo Emperor X Coated Snare Drum Head (Best High End)
Aquarian drum heads Super-Kick II
Evans EMAD Coated White Bass Drum Head
What Are Drum Heads?
The fabric that is stretched on both the open ends of the drum are called drum heads and are where the drum is struck to produce sounds.
The top and bottom head—also called the batter head and resonant head—vibrate once the drum is struck. This vibration creates a sound, which is further amplified by the shell and sometimes the snares.
Some drums like Dhols can be played from both ends, however, for most, only the top head is meant to be played. For snare drums, the snares—metal wires inside the shell— sit against the resonant/bottom head.
These are drum heads used for classic or traditional drums. Electronic drums have heads too, but those are beyond the scope of this article.
Read Also: 9 Best Electronic Drums Pads for 2021

What Are The Different Types of Drum Heads?
For the longest time, drum heads were made of cleaned and processed animal skin. However, with the advent of technology and advancements in the industry, mylar and polyester have gained fame.
When compared to animal skin, mylar and polyester prove to be both louder and more durable. Additionally, where animal skin was stretched as a single layer over the drum shell, mylar and polyester are arranged in several ways to create different types of drum heads.
Single-Ply drum heads
Single-ply drum heads are made from single sheets of mylar or polyester. Mylar is more common out of the two, and its sheets come in thicknesses ranging from 7mil-10mil.
Single-ply drum heads work great for jazz drumkits because they produce crisp sounds, and amplify the drum's natural overtones.
Double-Ply drum heads
Made of two sheets of mylar laid over one another, double-ply drum heads produce booming sounds that are perfect for rock drum kits. They produce more bounce, reduce the overtones produced by the drum, and have more attack.
They are also more durable than single-ply drum heads, which makes them perfect for taking heavy hits required in rock music. Their fast bounceback makes them perfect for music styles like R&B and metal, which require rapid drumming.
Coated Heads
Drum heads can be both coated, or clear, and both produce different types of sounds. Clear heads produce sharp, clear beats, while coated heads produced more muffled and deeper sounds.
Dotted Heads
For players looking to further kill overtones and clear the sound, dotted drum heads are the way to go. The dot in the middle improves sound quality and brightens the drum's beat.
Specialty Heads
Drum manufacturers create special heads for their products which are more durable and sound better. Kevlar is used to make the best specialty drum heads on the market, because it produces booming sounds, and is very durable. Calfskin drum heads are also considered specialty heads.
How Do Drum Heads Work?
Drums are played by striking the top or batter head with a heavy instrument. This instrument may be a drumstick, mallet, or brush.
Read Also: 3 Best Drumsticks for Electronic Drums
Once the top head of the drum is struck, the air behind the drum head is compressed. This compressed air, in turn, presses against the bottom or resonant head of the drum. Once the resonant head changes shape, the change is transmitted to the shell from where it bounces back.
This continuous bouncing of the air particles creates vibration, and vibrations in the air are called sound. This is why you can hear a thumping sound when you strike the drum head. Striking the drum head in rapid succession creates the beat that we use in music.

What Do You Look For In The Best Drum Heads?
Type of Head
What purpose are you looking to use your drum head for? If you're going to be using it in a jazz kit, go for a single-ply one because it creates a brighter sound. If your drums are used to play rock or heavy metal music, a more durable double-ply head will work wonders.
If you want to buy a dotted head for a brighter sound, choose a clear one, because dots on coated heads kills the sound.
Material
Mylar and kevlar are two of the most common materials used for making drum heads, as both are durable and loud. However, if you want a heavy-duty head and don't mind the price tag, kevlar is what you should choose.
When compared to mylar, the kevlar heads allow more tension, which gives them an additional boom. However, mylar defeats kevlar heads when it comes to sustaining notes. Since kevlar allows for a lot of tension, it has a lot of bounce which produces dry, short beats.
Durability
Kevlar and Mylar are both durable, and a drum head made from either can last about six months if regularly played.
Calfskin drum heads are still sold in the market, and players like them because they produce a specific type of sound. However, they are susceptible to damage, which may cut their life short.
Weather conditions, especially humidity, can not only affect the way the drum heads sound but can also cause mold to grow on them.
Sound
By rule of thumb, the thinner the drum head, the more overtones will be present in the sound produced. Thin drum heads produce sharper, thinner sounds once stuck. For a deeper sound, you can either choose a thicker single-ply drum head or go for a double-ply one.
Type of Drum
Not only do different drums require specific types of drum heads, but sizes vary between drums too. A drum head for a snare and a drum head for a bass drum will look very different.
Best Drum Heads Reviewed
The Remo Powerstroke P3 series has drum heads for all the components of a kit. The drums are made of single-ply, 1-mil clear film, that is made to produce a clear sound. They also come with a 10-mil inlay ring for bass drum heads, and 3-mil inlay rings for tom and snare drum heads.
P3 drum heads are available in sizes ranging from 6" to 36". The 22" bass drum head weighs 1.6 pounds and measures 23.1 x 23.1 x 1.4 inches.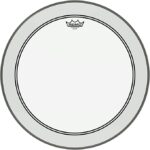 Pros
Available for all drums
Available in multiple diameters
Cons
Single-ply drum heads aren't durable
The Evans G2 Tompack comes with three, double-ply, coated drum heads that produce excellent sounds. The pack comes with drum heads for three classic tom drums that measure 12 inches, 13 inches, and 16 inches respectively.
The heads are coated in white paint and are made of two layers of a 7-mil film which reduces overtones and increases durability.

Pros
Come with drum heads for all three toms
More affordable than the P3
Double-ply makes it more durable
Cons
The snare head isn't included
Made of premium quality mylar, the Remo Emperor X measures 14 inches in diameter. The head is made of two 10-mil mylar films which make the drumhead strong enough to take heavy hits.
The drum is coated in white paint and features a reverse dot for improved sound quality. Although made to be a snare drum head, it can also be used for a tom drum.

Pros
Can take heavy hits
The dotted head improves sound quality
Cons
Only one size
A little expensive for just one drum head
Made especially for bass drums, the Super-Kick II is a hydraulic head made of two 7-mil sheets. The sheets are built to float over a felt ring, which helps muffle the sound of the drum.
Weighing 1.9 pounds, and measuring 22", the Super-Kick II is super loud because of its hydraulic build. It is also very durable, with the felt rings keeping the drum head safe against hits from the bass pedal.
Read Also: 5 Best Bass Drum Pedals in 2021

Pros
Can take heavy hits
No additional muffling needed
Very loud
Cons
Made of a single-ply 10-mil film, this drum head is perfect for jazz drumkits. Measuring 22 inches in diameter, the drum head comes with an adjustable damping system, that allows you to adjust the sound of the drum as needed.
The drum head is available for bass drums ranging from 18 inches to 22 inches, with little price difference.

Pros
An external damping system allows more control
Available in different sizes
Cons
Final Thoughts On Drum Heads
A good drum head can define a drum kit's potential, so you want to make sure you're getting the best in the market. Although some premium drum heads are expensive, you can also find a lot of durable ones at cheap rates. Just make sure the drum head suits your needs, and check the reviews for other people's experiences.