Drummers use several techniques when playing music, and one of them is producing a frisky, swishy sound with drum brushes. They are predominantly used in Blues and Jazz music, but you can basically play any genre with them.
If you want to add drum brushes to your set, you're in the right place!
We'll give you a comprehensive list and guides to questions like:
What do you look for in the best drum brushes?
How do drum brushes work
What are the different types of drum brushes?
And more!
So, sit tight as we unravel the top drum brushes for your drum set.
Our Top 5 Drum Brushes For Your Drum Set?
Excellent finish
Standard 5A size for drummers
Easy to carry around
Retractable brushes
Easy to play
Lightweight
Incredibly durable
Quality metal bristles
Retractable
Good value for money
Additional velvet case
Durable
Affordable
Leaves no mark on the instrument
What Are Drum Brushes?
Drum brushes are custom brushes made to produce bright sounds while sweeping across a drum or snare cymbal. They were first used for playing Jazz, but have since grown into other genres.
Since drum brushes are fairly new, there is a lot to be explored apart from the usual sweeping and tapping techniques. These tools are widely available in music stores and online vendors.
What Are The Different Types of Drum Brushes?
There are a couple of different types of brushes to look for. Here are the common options.
Nylon Brushes
Nylon brushes are made of nylon which naturally produces a soothing and lower-toned sound than other types. The thickness of nylon also helps get more slap, particularly when going for a strong backbeat.
Due to its material, nylon brushes do not affect the coated snare heads. For instance, metals tend to snag the coated snare, causing wear and tear. Nylon brushes also have a lesser chance of getting caught on the head of the drum.
Wire Brushes
The most common type of drum brush is made of metal. They bring a metallic, bright sound to your playing, and you can almost feel it's louder than most types. But it's the thickness of these wires which brings plenty of variations and possibilities to music production.
Wire brushes can snag newly coated heads. But manufacturers like wires that are bent upwards to prevent this from happening. Some wire brushes have a small tip to produce a snappy sound when sweeping on cymbals and drums.
Retractable
For retractable brushes, you can pull back the wire or nylon and keep it away from bending or entangling with other gear. You also get the flexibility of controlling what sounds to play. For instance, you can pull them closer together to produce a weighty attack.
The biggest pet peeve for retractables would be the mechanism eventually getting worn out. It damages the brushes, and jamming can be a nuisance, particularly if you're on a live stage. So, fixed wires may prove to be slightly better in durability.

How Do Drum Brushes Work?
The technique of playing with drum brushes is as interesting as playing any other instrument. The brushes produce sound through sweeping action across drums or cymbals which give bright to ambient sounds.
The easiest techniques include muting and unmuting sounds you can achieve by placing the brush in contact with the drum head. You can prolong the ring by letting go of the brush as you sweep across the drum.
What Do You Look For In The Best Drum Brushes?
When playing with brushes, the goals might be different for each drummer. But essentially, you want a softer sound than drumsticks and, at the same time, add color to music with its different sound.
So choosing the right brush is important to achieve such heights. You want to ensure your brush lets you achieve what you want to play and things like weight, sound, and response should be on the check list.
Let's look at them.
Handle Material and Size
The drum brush handle may not necessarily affect the sound but will change how you feel on your hands. Lighter materials like rubber reduce bulk and may offer a better grip. A drummer may prefer wood because of its natural and classic feel.
Some people prefer longer brushes because of the length of their hands. Others may go for short sticks if they feel they have better control of the drum brush. All in all, it's about your preference, and it is better to try out as many as you can.
Brush Materials
As mentioned earlier, brushes are mostly made of nylon, rubber, wood, or wires. The wire brush was the first to roll out and it brings the classic feel to the music with its signature swish sound. Rubber or nylon brushes are lighter and produce subtle and quieter sounds. Yet they can also produce a louder tone if you strike them strongly.
Most drummers prefer nylon brushes in larger venues as they can control the volume and switch to louder sounds immediately. Plastic brushes may be a solid choice if you're looking for something durable, as it doesn't rust.
Catch
Another crucial consideration is the contact between the brush and the drum head, also known as catch. Coated drum heads have a better catch than clear drum heads as there is more friction between them.
Wire brushes will bend after use, and you might experience different sounds depending on which side its bends. If it bends upwards, you'll have more surface area and a fuller sound. Plus, the tip rarely gets caught in the drum head when it's bent upwards.
If it bends downwards, it will have a louder sound when you swish, and it might be a better option for larger rooms.
Additional Features
Drum brushes may not have a lot of extras in the bag, but some manufacturers try to add something for drummers. A common inclusion would be a bag for carrying around which is essential for wire brushes, so they don't get tangled.
You may also find some brands with cool packaging, luxurious case, or extra replacement parts. Always be on the lookout for extra features as it increases the value of your purchase.
Best Drum Brushes for Your Drum Set Reviewed
The Vater Drum Brush is a dainty, yet noisy brush that interestingly made it to the top of our list. We like it because it has a wooden handle and a metal frisk brush. These materials are classic and are what most drummers are looking for.
They come in 5A size and have a metal rivet at the tip of the handle to help produce different sounds. This version is not retractable, and you'd have to find a suitable storage location. But they're lightweight and easy to carry around.

Pros
Excellent finish
Standard 5A size for drummers
Easy to carry around
Cons
Most cheap products are considered low quality, but not this one. Musiclilly's Retractable Jazz Drum Brushes have a rubber handle and plastic brushes ideal for long hours of play. Plus, they are retractable, so you can alternate the sounds as you wish.
This pair is probably the best choice for beginners and intermediate drummers. It's affordable, well-balanced in build, and produces great sounds. The Musiclily may not be a suitable choice if you're playing for larger crowds as it lacks a few professional adjustments.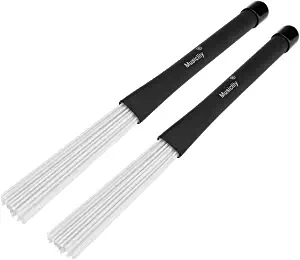 Pros
Retractable brushes
Easy to play
Lightweight
Cons
Plastic brushes are not the best quality
Feels cheap
One of the best combinations of drum brushes is a wooden handle and retractable mechanism. And Vic Firth did it perfectly. They have a strong grip, are well-weighted, and you can tell it is made from quality materials.
The medium gauge wires in this brush are well-spaced and allow you to adjust the length with precision. Metal wires are naturally durable, and drummers can use them for years. Some people may not find the wooden handle attractive, but it is all about a matter of preference.

Pros
Incredibly durable
Quality metal bristles
Cons
Retractable mechanism too stiff
Another brush perfect for beginners is the Pangda drum brush. It has a solid design and comes with a free velvet casing for easier storage. Unlike most cheap brushes, it has wire bristles, which is an appealing feature to most drummers.
Thanks to its retractable technology, you can alter the loudness or quietness of sound as you play. The rubber handle is comfortable and can endure drumming sessions for a couple of hours. We find this brush less percussive, but it is still an excellent addition to your drum kit.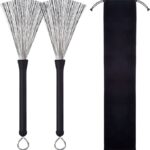 Pros
Retractable
Good value for money
Additional velvet case
Cons
The Meinl percussion brushes are one versatile pair. They are foldable and designed to fit your Cajon with laser precision. Its nylon brushes ensure you leave no dents on your instrument, and it is a longer-lasting material than wire.
If you have a home studio or practice in a small venue, this one is for you. Plus, the price is fair enough to encourage anyone willing to explore their drumming experience.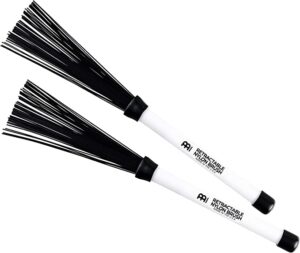 Pros
Durable
Affordable
Leaves no mark on the instrument
Cons
Final Thoughts On Drum Brushes for Drum Sets
As we conclude, we would like to encourage you to try out a mix of brushes for a wider variety of sounds. One pair is just not enough. Drum brushes are generally affordable, and drummers should take the time to invest in a few pairs.
However, you must choose reputable brands to ensure you get quality products that will give you the sound you want to produce.
Of course, we were most impressed by The Vater Drum Brush as it had a sweet combination of price and value. The 5A size is standard for all drumsticks, so you won't have a different feel when using them. But, check out the other choices as well. It's better to be prepared!