Are you a proud owner of an electronic drum kit and looking forward to increasing your cymbal options? Search no further than the Alesis Nitro Cymbal Expansion Set.
Please note that this set delivers a great feel and response for a natural drumming experience. It is easy to set up and comes with everything you need in the box.
Below is everything you need to know about this set.
Alesis Nitro Cymbal Review
There is no better way to enjoy a broad range of sounds from your drum module other than having an expansion kit.
If you have an Alesis Nitro Mesh kit, you are assured of effortless compatibility with your drum module and mounting rack. However, if you get a one-and-a-half-inch rack clamp, it will help in making it compatible with all other electronic nitro kits.
Who is this product for?
The Alesis Nitro Mesh Kit is popular among drummers as one of the best entry-level electronic kits. If you own the Nitro mesh kit, you will need this expansion pack.
It will help you to increase your cymbal options. This pack is also good for those who own other drum products. You can use it with products such as DM Lite Kit, DM 10, DM 6, or DM 5 e-drum sets.
What is inside the box?
When you buy this expansion cymbal, you will find the following in the box: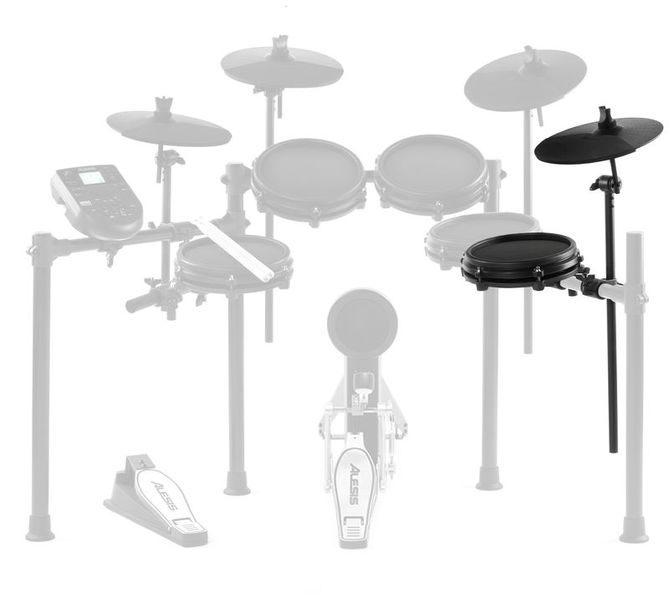 ·        10 inches Nitro Cymbal
·        Rack clamp
·        22-inch cymbal arm
·        Felt Wingnut
·        10ft TRS Trigger cable
What are the key features of this pack ?
This set comes with some of the best features of a cymbal. These features help make the drumming experience more realistic and enjoyable. Some of these include:
Choke-able
This expansion pack comes with a choke function. This feature is crucial for drummers.
This feature will help you to quickly stop the sustain of a cymbal. You will mostly need it to help you during the break of a song.
Holding the cymbal with your hand helps to stop it from sounding. You can also achieve the same effect by squeezing the edge of the cymbal after hitting it.
The choke-able feature also allows you to produce punchy accents as you desire.
[irp]
Compatibility
Compatibility is a crucial feature of any cymbal. It would please you to know that many cymbals allow for cross-compatibility from one brand to another.
This expansion pack is one of the highly compatible products. It is compatible with virtually all e-percussion products, thanks to the TRS cable.
For a drummer who already has a Nitro kit mesh, you need not search further, for you have a guarantee of compatibility. This cymbal will automatically be compatible with both your module and mounting rack.
Moreover, this expansion pack is compatible with the Nitro mesh kit, DM Lite Kit, and Bust Kit. It will please you also to know that it is compatible with DM 10, DM 6, and DM 5 e-drum sets.
You can also increase its compatibility if you get your 1½-inch rack clamp. If you want the rack clamp, you need not search for long. Please get it from the many available vendors.
Zones
Like most crashes, this pack comes with the single playable zone. That means you have one different area that you can hit to trigger sound.
This cymbal allows you to trigger sounds from the edge and bow triggers. The single playable zone makes this e-cymbal more expressive and realistic.
Shape
The shape of a cymbal is critical when it comes to sound production. It determines whether the cymbal will produce a low or a high pitch.
This Nitro cymbal from the Alesis brand is round. It will please you to know that this shape enhances its playability and producing a high pitch.
The shape also helps distribute the weight evenly, allowing the cymbal to react and move more naturally.
Size
Another crucial feature of a cymbal is its size. The diameter of a cymbal always has a big impact on how it plays. Bigger cymbals tend to have a more realistic feel and a more natural response compared to smaller ones.
The Alesis Nitro kit from the Alesis brand has a diameter of 10". There are other cymbals with larger diameters. However, a 10" diameter is still great enough to give you the best playing experience.
[irp]
Alternatives
If you feel that the Alesis Nitro Cymbal expansion set is not the best for you, you can search for other options.
The Roland CY-5 Electric Drum Splash is a 10-inch cymbal, which good, especially if you are on a budget. It is a quality cymbal with great features such as dual zones and chokes function.
No products found.
Another option is the Roland CY-8 V-Cymbal Dual-Trigger Crash, which is 12 inches. It is an absolute workhorse with a dual-zone and a choke function.
No products found.
Conclusion
In conclusion, the Alesis Nitro cymbal expansion is definitely worth buying.
It comes with all the best features of a cymbal. Moreover, it is compatible with the Alesis Nitro Mesh kit and other kits as well.
No products found.