Snare drums used for marching bands are one of the most expensive investments any participant or band can make. These are professional instruments that can cost hundreds of dollars. So you want a very good idea of what you want before your purchase.
We've compiled this guide for anybody looking for a good marching snare drum. It answers important questions like:
What are marching snare drums?
What you should look for in a good marching drum?
What is the best marching snare drum for marching bands?
Our Top # Marching Snare Drums For Marching Bands?
Pearl Competitor Marching Snare Drum (Our Top Pick)
Mapex Quantum Mark II Snare Drums (Best Budget)
Yamaha MS-9414 Series Marching Drum (Best High End)
Pearl Championship Maple FFX Marching Snare Drum
Dynasty Dfz Custom Elite Marching Snare Drum
What Are Marching Snare Drums?
There are a lot of marching percussion instruments, but marching snare drums are the heart of any marching procession. Snare drums are drums with a set of snare, or strings built on the inside. Due to the presence of these snares, once hit, the drum produces a sharp staccato sound.
Marching drums are different from the common drum-kit snare in a lot of ways. First, there's the depth of the drum, which is almost twice as large as the normal snare. The increased depth gives the drum a lower pitch.
The drumhead for marching drums is made of kevlar or other such strong materials, so it produces a sound that carries over the rush. Additionally, snares in these drums drum are thicker, and they are also tuned much higher so the sound travels and is more resonant.
While it may be possible to use a normal snare drum for small marching processions in schools or such, tenor drums or marching snare drums stand in a league of their own.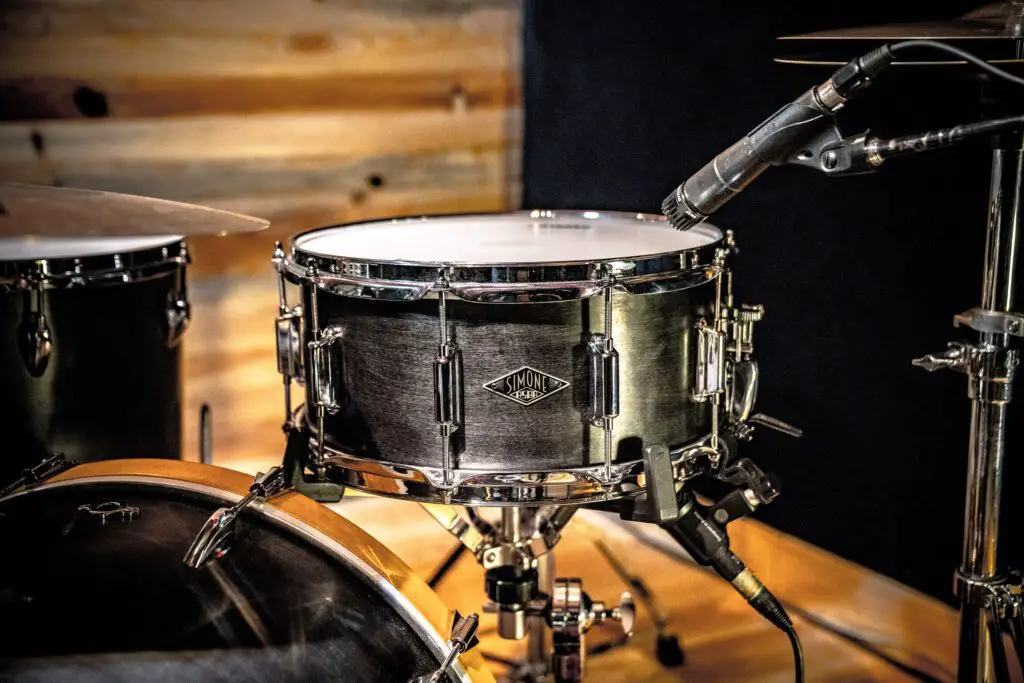 What Are The Different Types of Snare Drums?
There are seven basic types of snare drums available today, all of which provide different types of music. The first is the classic drum-kit snare, which is used by drummers all over the world. Then there is the orchestra snare, which is used for classical music. Its build is similar to a drum-kit snare, but its head is made of calfskin.
A tarol is another type of snare drum, which has snares resting against the top head rather than the bottom. A piccolo snare is smaller in size and creates a sharper sound. Box snares or Caixa malacacheta have their snares at the top too, but the drum goes over the drummer's shoulder from the harness.
There are also tabors, that have one or two drumheads, and are some of the oldest snare drums in existence. You can also find snare drum pads for electronic drum sets.
Read Also: 11 Best Electronic Drum Sets in 2021
Finally, there are marching snare drums that are taller and have a tougher drumhead.
How Do Marching Snare Drums Work?
Marching snare drums are worn with a harness around the neck, with the head of the drum facing upwards. The player strikes the head of the drum with his stick, which produces a sharp sound, almost like a tabletop being struck.
Snare drums get their name because of the stiff metal wires arranged inside the body of the drum. These snares are made of silk strings covered with coiled wires. Inside the shell of the drum, the wires rest against the lower head. Once the top is struck, these snares vibrate and create a buzzing, amplified sound.
At the side of the drum is an air vent that prevents the sound of the drum from being muffled. Snare drums also allow you to tune the snares using the fine-tuning adjustments and the bottom hoop.
What Do You Look For In The Best Marching Snare Drums?
When playing for something as grand as a marching band, your instruments must be top-notch.
Snare drums are a very important percussion instrument, and bands look for only the best. However, what are the characteristics of the best marching snare drums for marching bands?
The Shell
Snare drums have shells that are made of either metal or wood. Metal shells are more durable, however, professional marching snare drum players prefer those with wood.
Drums with a wood shell produce a deeper and warmer sound. Metal shells, on the other hand, produce a more resonant, and constant beat.
The Build
The height or depth of the drum is another factor to consider. The deeper the snare drum, the better and louder the sound it produces. You also need to consider the build of the drummer and the weight of the drum, or there can be problems in the long run.
The Snares
A single set of snares is perfect for most situations, however, bands at the state level sometimes use drums with double snares. This may or may not be something you're looking for. You can put on a good with standard snares if you practice a lot too.
Read Also: How To Soundproof Drum Room Cheaply?
Best Marching Snare Drums Reviewed
Amazon URL: https://www.amazon.com/Pearl-Competitor-High-Tension-Marching-Midnight/product-reviews/B001G7J23C
Available in two different sizes—14″x12″ (13.9 lbs) and 13″x11″ (12.9 lbs)—and made to be lightweight and durable, the Pearl Competitor marching snare drum is the best on the market. The shell of the drum is made of 6-ply poplar and has an aluminum frame that makes it able to last years without wear.
The 12-strand snares built inside the gut make for a loud and clear snapping sound, which makes the drum a leader in marching percussion instruments.
Pros
Lightweight and durable
Easy to control and tune snares
Affordable
Cons
Some people don't like the drum head
Made of a blend of maple and birch for the shell, the Mapex Quantum Mark II Series drums are superior to others in the game. The shell of this drum is made of 6-ply wood, with the innermost two being made of birch, and the outside four made of maple.
Measuring 14″x12″ and weighing 17.6 lbs, the drum features 12 metal lugs and a choice between different batter heads. It is also very easy to tune and remove the snares.
Pros
Easy top and bottom drum head changes
Detachable snares
Cons
Heavier than competitors
Low responsiveness
Constructed to be lightweight and durable with a maple wood shell, the Yamaha MS-9414 marching drum is another crowd favorite. The maple shell makes the drum produce a deeper and more resonant sound while making it easier to carry.
The drum measures 14″ in diameter, and 12" in depth, and weighs a total of 15.2 lbs. You can also get variations of the MS-9414 with a depth of 9 inches. The hoop of the drum is also available in both aluminum, and chrome-plated versions.
Pros
Lightweight and comfortable
Increased hoop size prevents damage to drumsticks
Increased airholes make snare more responsive
Cons
Featuring a shell made of 6-ply 100% maple wood, the Championship Series is a market leader for marching snare drums. The two models of the drum, the FFXM1412/A, and FFXM1311/A come in two sizes. They can measure either 14″ x 12″ or. 13″ x 11″.
The standard Championship Maple Drums come with aluminum hardware for durability, however, Pearl does offer chrome hardware on order. Built with 6 snares and a free-floating design, the drum makes quite the statement.
Pros
Easy to tune snares
One-touch snare strainer
Easy to clean
Cons
Upping the marching drum game with a 10-ply, 100% American Mapel shell and 16 strand snares, the Dynasty Dfz is perfect for contemporary marching processions. The aluminum hardware provides the shell with stability, and all the snares are individually tunable.
The drum weighs 16.4 lb, and measures 14″ x 12", making it one of the lightest marching snare drums on our list.
Pros
Customizable shell color
Lightweight
Individually tunable snares
Cons
The drumhead isn't as impressive
Best Drumsticks for Marching Snare Drums
To create loud, clear, and resonant sounds from your marching snare drums, it is important to have a good pair of drumsticks. They will minimize strain on your hands and protect your drumhead too. Here's our list of the best drumsticks you can buy.
Read Also: 3 Best Drumsticks for Electronic Drums
Final Thoughts On Marching Snare Drums
Buying marching snare drums is tough because of how expensive they are as an investment. However, companies like Pearl, Yamaha, Mapex, and Dynasty are market leaders and their drums are used by marching bands all over the world, including US Military bands.
These companies are constantly working to update their models to make them perform better. With so many new and old options on the market, in the end, it is your choice to choose what fits you best.