Every electronic drum kit needs particular drum sound system accessories for it to be complete. The most vital accessories include; drum amps & speakers, headphones, drum machines, drum modules, in-ear monitors, and drum mics.
Unfortunately, most drum kits come with one or two of these accessories upon purchase. You will need to buy the rest individually.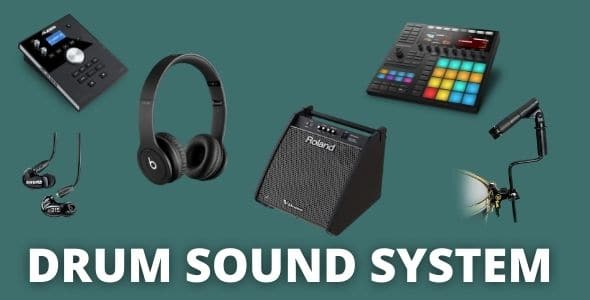 Sound system accessories are essential in enhancing the quality of your performances, whether during practice or on stage. However, you should ensure that every unit you purchase is up to the standards to avoid compromising your sound quality.
Below is an in-depth analysis of each accessory and the critical factors you need to consider while purchasing them. This review will furnish you with information on what you need to consider before buying these accessories.
It will also discuss the critical features that make up these accessories. If you are a drummer or a music producer, this article will significantly help you to achieve the best in your music.
1. Drum Amps and Speakers
Amplifiers are essential in showcasing the power and versatility of your electronic drum set. So, while choosing the best amp for your electronic kit, it is crucial to check some essential features.
The amplifier's strength is essential. It enables it to provide a high-quality tune for your kit. You can use an amp from any manufacturer. But, you should make sure it is compatible with your kit before purchasing it.
It would be best if you used drums amplifiers for the best results. Although bass and guitar amplifiers work for drum kits, they don't give the perfect sound.
The passive speakers require an amplifier for them to produce great sounds. When using your kit for professional purposes, you need a passive speaker and an amp. This combination gives you tune control.
So, it would be best if you always made sure the two are compatible.
Powered speakers are also an option. They have in-built amplifiers; hence you need a lesser set up. Also, you will have to deal with fewer cords while using such speakers.
Besides, you don't have to know about modifying the amplifier setting for the perfect sound. But, active speakers are ideal for beginners or while playing for fun.
Again, consider the portability of your amp. Having very heavy and bulky amps can significantly jeopardize your movements, especially if you are a band.
Heavy and bulky amps will also add to your cost when traveling. As such, it is critical that you go for an amp that has a moderate weight.
---
2. Headphones
Choosing the best headphones for your electronic drums can be challenging. In the current market, there are many product lines and brands. For you to choose right, you should consider various features.
Frequency response is vital for drums' headphones. It helps you separate professional headphones from standard ones. For a fantastic experience, you need a headphone that can handle a range of 10-22,000 Hz.
Such headphones help you hear more chord details. Besides, they assist you in mixing, recording, and mastering the drum tracks. Moreover, when doing live sessions, such a frequency range will assist you in setting up the EQ.
Durability is crucial, as well. While drumming, most drummers are always on the move. As a result, you need a pair of durable headphones that can handle such. You should check for headphones with sturdy cups that won't crack after falling. Also, detachable cords are essential for easy replacement when they spoil.
Checking the headphones type is vital since they vary in their performance. The difference in performance affects your sound experience. Over-ear headphones are ideal for all-purpose use. But, on-ear headphones are suitable for jam sessions or lengthy practice routines.
Your headphone's driver size has a significant effect on the tune they produce. Big drivers capture a more comprehensive chord spectrum. As a result, you can enjoy composing music more.
Besides, your headphones should be comfortable and portable. These two features will make your headphones more convenient.
---
3. Drum Machines
Every drum machine is different from the other. As such, it is important to understand the particular specifications of an individual drum machine before purchase.
Having correct facts about drum machines eases your selection process. Below are some key factors to consider when buying the best drum machine.
When buying any musical instrument, sound quality is a paramount factor to consider. Sound is the heartbeat of the best drum machines.
An analog drum machine has complex circuits which allow the user to create percussion sounds. A digital drum machine, on the other hand, has an internal library that stores sound. However, the sound features of each machine differ based on whether it is beginner-friendly or professional.
Some units come with filters to tweak sounds, while others replicate sound automatically and accurately.  
Whether you are an analog or digital enthusiast, ensure that your drum machine meets your sound needs. Analog units feature a superior electric sound, while digital ones are versatile and easy to customize.
However, unlike analog units, digital drum machines offer more parameters, thus producing different outputs. They also have a vast sound library and straightforward navigation features.
For a beginner, any drum machine appears sophisticated and challenging to operate. In such cases, it is recommendable to go for a machine that has simple features that favor beginners.
As you continue advancing in skills and experience, complex drum machines will be easy to operate.
Some drum machines are incredibly easy to tweak according to your needs, while others are not customizable at all. When considering the best machine to purchase, it is recommendable to go for one that allows you to add sounds.
An ideal drum machine should be programmable and have built-in effects to refine sounds. A digital drum with assignable knobs and pads is also a plus. It enables you to personalize the controls and determine the output.
---
4. Electronic Drum Modules
An electronic drum module is a crucial digital device for any electronic drum kit. It serves as the central processing unit of any drum kit.
An electronic module has two key responsibilities.
It enables you to have complete control over your drum sounds. A lower sample library will have less than 100 sounds, but this type is mainly for beginners. High-end sample libraries will have more than 1000 sounds. These are ideal for professional drummers.
Secondly, go for a drum module that is easy to use. Some drum modules feature a touchscreen, which makes it effortless to select and adjust your sounds.
When choosing the best electronic drum module, you will also need to consider the number of trigger inputs you will need. My advice is that you go for a module that has more inputs than you think you need. This will allow you room for expansion of your set in the future.
If you an advanced drummer, the output channels available will be essential in sending out audio channels for mixing.
One of the best electronic drum sound modules you can find in the market is the Roland TD-50. This drum sound module boasts a Prismatic sound modeling and an advanced processor.
Moreover, it also features an Onboard EQ and over 30 in-built multi-effects.
If you are able to find a suitable electronic drum module, it will go a long way in helping you come up with unique sounds. A good drum module also takes your drumming experience to a completely new level.
---
5. In-Ear Monitors
Having a pair of good in-ear monitors is an invaluable addition to your electronic or acoustic drum kits. They are crucial in facilitating proper coordination and maintaining focus while playing.
In-ear monitors are also essential in helping to protect your ears from the effects of noise. You do not want to have your ears aching after a studio production or a stage performance. As such, I cannot overemphasize the importance of going for the best ones.
Remember, in-ear monitors can be either wired or wireless. Each of these has its merits and demerits. Again, your needs will determine which of these best suits you.
High-quality wired in-ear monitors are highly reliable and less expensive than their counterparts are. The only major downside of the wired type is that it will confine you to a limited position.
On the other hand, a wireless in-ear monitor will offer you flexibility and mobility. You can move from one point of the stage to another. It is also very space-efficient.
When buying an in-ear monitor, you should also consider its sound quality and noise insulation. The standard types have a frequency response of up to 25,000 Hz. On the other hand, that of the premium types can go up to 40,000 Hz.
To achieve optimal noise isolation, ensure that the ear tip fits perfectly into your ears. In-ear monitors with ear tips of different types are the best. A good example of best fit and high-quality in-ear monitors are the Etymotic Research ER4SR monitors.
Advanced models of in-ear monitors come with microphones and remote controls. These two additions will, of course, push the price a bit higher. However, they are worth the investment.
With these two features, you can control your music with much ease.
---
6. Drum Mic
One of the most critical pieces of equipment for any artist or music producer is microphones. Microphones make it possible to listen to your most loved song and even record your unique tunes.
Likewise, drums also require their unique microphones to ensure that the sound is not drowned in the studio. Such an occurrence will prevent you from capturing the varying and complex sounds of your drum kit.
Drum microphones form part of a drum microphone set. This set includes a tom, dynamic microphones, and a condenser. Buying the set spares you the hustle of buying each item separately.
Several factors are worth considering if you are to buy the best drum mic.
Consider the type of drum you are going to use with the microphone which you are buying. Drum microphones are specific for different drums. As such, you need to ensure that you get the right mics to get the right sound.
Drum mics are also of different types.
If you want mics for use in your studio, condenser microphones would be the most appropriate.  They will offer you a high-frequency range and are highly sensitive. Sensitivity is critical in ensuring that you avoid lag when doing production.
For high-pitched recording sounds from cymbals, dynamic mics will be the most appropriate. They work well with both toms and snare drums. Their frequency is above-average mid-range. They are also pre-tuned, which enhances sound quality.
If you desire to filter ambient sound from both sides, ribbon microphones will be the best. They will also be the most appropriate for high-frequency sounds.
You can also consider using Omni-directional over-head condenser drum mics. This type does not require a prior setting. However, they have a tendency to pick even the background noise.
---
Last Words To Drum Sound System
Advanced drummers and music producers will agree that music is not just music. You need to get the best of the sound to fully enjoy your music.
All these may not be possible without having in place the appropriate drum sound system. You need a complete set that will ensure that each sound from every drum strike comes out clearly.
As a producer, you will need to also ensure that you can hear clearly every sound that is produced by all instruments.
Drum amps and speakers will ensure that your audience also gets the best from your performance. Drum mics will also ensure that your sound is correctly projected from your drum kit to reach your audience.
On the other hand, headphones will offer you a chance to practice your drumming even inside your house. As such, you will not need to worry about disturbing your neighbors.
With the information in this article, you have all you need to make the best out of your drumming or production.
Go for it today!